Glimmers Of Truce As Israel-Gaza War Rages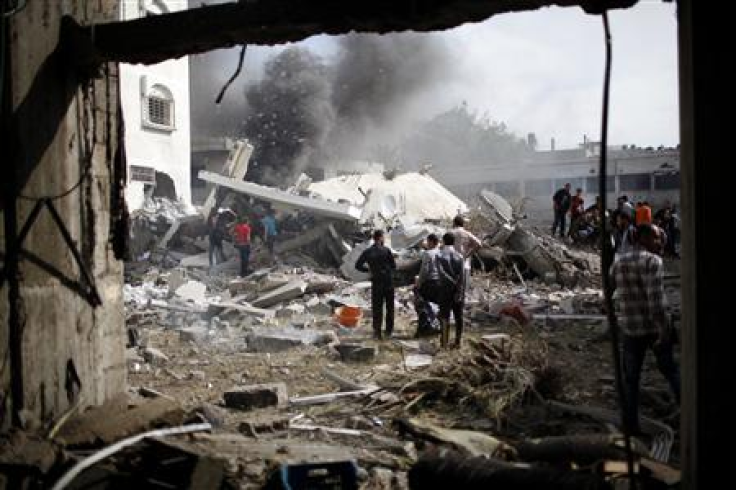 Al-Jazeera reported Sunday that Hamas spokesman Razi Hamed confirmed that Israel and Hamas have agreed on "90 percent" of a ceasefire deal in Egypt.
The report was relayed by Israel's Ynet News.
Earlier Sunday, an unnamed senior Israeli official arrived at the Cairo airport and was taken to talks with Egyptian authorities, Egyptian security officials told the Associated Press, speaking on condition of anonymity.
Egyptian President Mohamed Morsi has said there were "some indications" a ceasefire could be reached between Israel and Palestinians.
His comments came after the Arab League announced it will send a delegation to Gaza in a show of solidarity with the Palestinians.
Hamas' prime minister, Ismail Haniyeh, said Hamas it would end its rockets barrages if it is guaranteed that Israel will stop targeted assassinations of its leaders and that border crossings policed by Egypt and Israel reopened, Egyptian news media reported. Israel has said a cease-fire can happen only if Hamas ends its attacks.
Nabil Shaath, an aide to Palestinian President Mahmoud Abbas, who also was in Cairo, confirmed the Israeli's arrival and said there are "serious attempts to reach a cease-fire." Shaath was headed to Gaza Sunday to work on cease-fire efforts.
Turkish Prime Minister Recep Tayyip Erdogan, speaking before he departed for Egypt to meet with Morsi Saturday, said Hamas is ready to halt missile attacks if it is given guarantees by the U.S. that Israel also will stop firing.
Palestinians in the Gaza Strip fired more than 30 rockets toward Israeli cities Sunday, adding to the roughly 500 it has fired since last weekend. Israel's Iron Dome missile defense system has intercepted about a third of the rockets, including two in the Tel Aviv area. The Israel Defense Forces said it hit 70 targets in Gaza on Sunday, USA Today reported.
An Israeli missile killed at least 11 Palestinian civilians, including four children, in Gaza Sunday, medical officials said, in an apparent attack on a top militant that brought a three-story home crashing down.
A spokesman for the Hamas-run Interior Ministry told Reuters 11 people, all of them civilians, were killed when an Israeli missile flattened the home of the Dalu family. Medics said four women and four children were among the dead.
Israel's chief military spokesman said Yihia Abayah, a senior commander of rocket operations in the Gaza Strip, had been the target.
The spokesman, Yoav Mordechai, told Israel's Channel 2 television he did not know whether Abayah was killed, "but the outcome was that there were civilian casualties."
Prime Minister Benjamin Netanyahu said earlier that he had assured world leaders that Israel was doing its utmost to avoid causing civilian casualties in the military showdown with Hamas.
"The massacre of the Dalu family will not pass without punishment," Hamas's armed wing said in a statement.
Earlier, a rocket from Gaza struck a car in the Israeli town of Ofakim, injuring an unspecified number of people, the IDF said. Another hit a woman's carport while she was inside her house in Ashkelon.
Israeli missiles hit two buildings used by both Hamas and foreign media in the center of Gaza City, injuring several Palestinian journalists, the Associated Press reported.
Militant rocket fire into Israel resumed Sunday morning after an overnight lull, with three rockets fired at the nearby coastal city of Ashkelon, Reuters reported, citing the Israeli military. Palestinian militants fired at least two more long-range rockets at Tel Aviv, the fourth day in a row which the Israeli heartland has come under fire.
Israeli Strategic Affairs Minister Moshe Ya'alon said Sunday the IDF is continuing to call up soldiers in preparation for a possible ground offensive, the Jerusalem Post reported.
"We are satisfied by the mobilization of the reservists. They are ready, keen to participate," he said.
"If we don't achieve our goals from the air, we will have to enter by ground,'' Israeli Defense Ministry director Udi Shani told Israeli Army Radio. ''I hope in the coming days it will be decided.''
Netanyahu also kept threatening a ground invasion Sunday.
"The IDF has attacked over 1,000 terrorist targets in the Gaza Strip and continues to do so in these moments," he said at the Cabinet meeting, adding that Israel "is prepared to expand its operations in Gaza."
An Arabic-language recording was repeatedly broadcast over the radio stations of Hamas and the Islamic Jihad militant group, apparently by the IDF, warning the people of Gaza to stay away from Hamas installations and personnel.
"To the people of Gaza, Hamas is playing with fire and gambling with your fate," said the message, which was broadcast every five minutes. "The Israeli Defense Force is moving toward the second phase of its operation. For your safety, you should stay away from Hamas infrastructure and personnel."
Though it wasn't clear what the "second phase" was, thousands of Israeli troops are stationed near the Gaza border apparently awaiting orders for a ground invasion.
Meanwhile, Israel shelled Syrian fighters after gunfire from their civil war spilled over to the Israeli-occupied Golan Heights, the military said Sunday.
In recent days, Israeli troops have fired into Syria twice before, responding to what appeared to be stray mortar shells exploding in Israel-held territory. On Sunday, an Israeli military spokesman said soldiers fired artillery toward the source of gunfire late Saturday night, the Associated Press reported. He did not know if the targets were Syrian government forces or rebels.
Speaking in Bangkok Sunday, U.S. President Barack Obama said Israel has "every right" to defend itself against missile attacks from Gaza but warned that escalating the offensive with a ground invasion could undermine any hope of a peace process with the Palestinians.
"Let's understand what the precipitating event here that's causing the current crisis and that was an ever-escalating number of missiles that were landing not just in Israeli territory but in areas that are populated, and there's no country on Earth that would tolerate missiles raining down on its citizens from outside its borders," Obama said at press conference in Thailand at the start of a three-nation tour in Asia, NBC reported.
"So we are fully supportive of Israel's right to defend itself from missiles landing on people's homes and workplaces and potentially killing civilians."
He added: "Israel has every right to expect that it does not have missiles fired into its territory. If that can be accomplished without a ramping up of military activity in Gaza, that's preferable. It's not just preferable for the people of Gaza. It's also preferable for Israelis, because if Israeli troops are in Gaza, they're much more at risk of incurring fatalities or being wounded."
Obama also had words for the leaders of Egypt and Turkey, who have spoken out for the Palestinians. "Those who champion the cause of Palestinians should recognize that if we see a further escalation of the situation in Gaza than the likelihood of us getting back on any kind of peace track that leads to a two-state solution is going to be pushed off way into the future," he said.
Gaza health officials said 69 Palestinians - about half of them women and children - have been killed in Gaza since the Israeli offensive began, with hundreds wounded.
The Israeli military said 544 rockets fired from Gaza have hit Israel since Wednesday, killing three civilians and wounding dozens. Some 302 were intercepted and 99 failed to reach Israel and landed inside the Gaza Strip, it added.
© Copyright IBTimes 2023. All rights reserved.