Israeli Boys Kidnapped: 20 Palestinians Arrested As Netanyahu Claims Terror Group Behind Abduction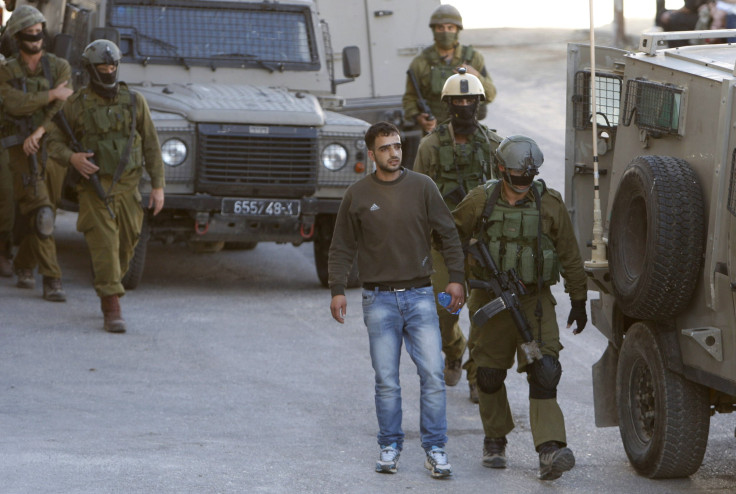 Israeli troops arrested more than 20 Palestinians Saturday in connection with the search for three teenagers who were believed to have been kidnapped by militants in the West Bank.
Israeli army spokesman Lt. Col. Peter Lerner told Al Jazeera that the Palestinians were detained "in an attempt to close in on the inner circle of people involved in this."
In a statement delivered on Israeli television Saturday night, Prime Minister Benjamin Netanyahu didn't discuss details of the search, saying he "can only say that our boys were kidnapped by a terrorist organization."
The boys, 16-year-olds Naftali Frenkel and Gil-Ad Shaer and 19-year-old Eyal Yifrah, were believed to be taken Thursday while returning near their religious schools in Gush Etzion, a West Bank settlement between Jerusalem and Hebron. Frenkel is an American citizen.
Two of the boys were believed to have been trying to hitchhike to Modi'in, a city halfway between Jerusalem and Tel Aviv, according to the Israeli newspaper Haaretz. A burnt, stolen Israeli vehicle was found near Hebron, and Israeli security sources told Haaretz they think the kidnappers may be heading toward Jordan.
Netanyahu blamed the Palestinian Authority for the boys' predicament.
"Israel sees the PA as responsible for the well-being of the kidnapped," read a statement from the prime minister's office, according to Haaretz. In response, the Palestinian Authority said they are "not responsible for the security of settlers." A PA spokesman said the area where the boys were taken is "under Israeli security control."
Israeli forces have been conducted house-to-house searches in the West Bank for the missing teenagers. In the largely Palestinian city of Hebron, the arrests were viewed as business as usual.
"It's normal," resident Marwan Qafishi told Al Jazeera. "They'll come back tonight and arrest a hundred people for these three boys."
© Copyright IBTimes 2023. All rights reserved.