Israeli Susya Demolition Plans Under Fire As Palestinian West Bank Village Draws Rare Show Of International Support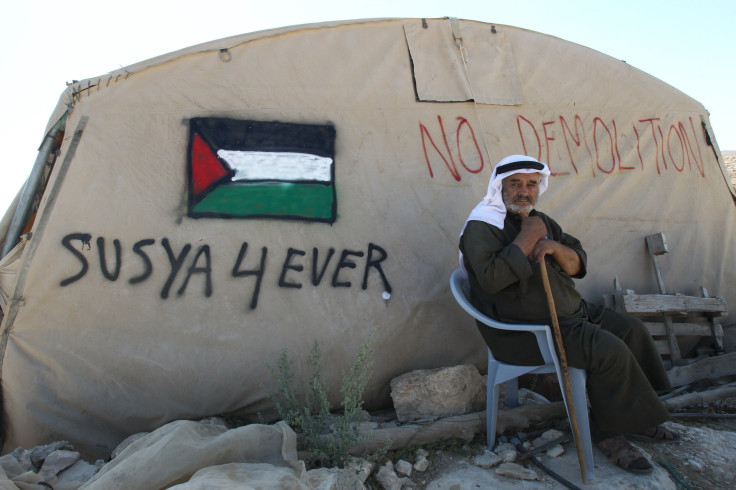 Houses and tents in a generally quiet West Bank village have already been mapped out and measured by Israeli authorities, and they're unlikely to remain standing against the bulldozers that are expected to roll in at any moment. Residents' fears have grown considerably since military representatives visited last week and announced a portion of the structures were slated for imminent demolition, a possibility that has been feared for years.
Susya, an agricultural village of roughly 350 Palestinians, has grown symbolic of Palestinian determination to desperately hold on to their land. Residents have been engaged in a protracted legal battle over plans to raze their homes, but when Israel's high court in May rejected a petition filed on their behalf by the Israeli group Rabbis for Human Rights, the door opened for Israel's military to move in. Since then, Palestinians have amplified their calls for international support to help save their homes.
Israeli and international supporters have responded by staging protests around the clock, and they have campaigned heavily to see the razing orders lifted. While it remained to be seen whether the international campaign has delayed or overturned Israel's plans, human rights groups suspect the village would have been demolished long ago had it not received widespread support.
"Without a doubt, this place is a symbol," Rabbi Arik Ascherman, of Rabbis for Human Rights -- which has strongly advocated on the village's behalf -- told International Business Times. "And there's no doubt in my mind that this place would have been wiped off the map if it were not for international concern."
In rare and stern separate statements, European Union and United States politicians demanded that Israel's military reconsider its demolition plans. John Kirby, a U.S. State Department spokesman, warned that any demolition of structures in the village would be "harmful and provocative." Last week, U.S. Rep. Anna Eshoo, D-Calif., sent an open letter, signed by 10 members of the House, to Secretary of State John Kerry, asking him to intervene.
On Monday, the EU also condemned Israel's plan, accusing the country's government of planning the "forced transfer" of Palestinians, Times of Israel reported. Diplomats visited the village last month -- just after the court petition was rejected, in an act of protest against Israel's threats to the village -- and were reportedly planning another visit this month.
Susya's battle for survival has been going on for more than two decades. The village rests in Area C -- meaning it has fallen under full control of the Israeli military -- and is surrounded by Israeli settlements and an archeological site run by settlers. Not unlike other villages in the southern West Bank, it also faced threats from the encroaching settlements that dot the hilltops and line the horizon, in addition to being denied access to water, electricity and roads for more than a decade.
A Jewish settlement nearby, which shares the name Susya and was built in 1983, was able to usurp land from Palestinian villagers for an "archeological park." In 2001, Palestinians were again expelled from their land following an attack on the settlement and were forced to relocate their homes to caves and semi-permanent structures on agricultural lands nearby, where they still live today.
Israel has said it is well within its legal rights to demolish the village, claiming the structures were built without permits. But rights groups have argued that Israel scarcely issues building permits to Palestinians in areas under full Israeli control. They said Susya's current predicament was representative of larger problems related to land rights in the West Bank and accused the government of bowing to pressure by right-wing settlers.
"Authorities are manipulating the planning laws that apply in the West Bank in order to achieve their goal, which is to restrict and limit Palestinian expansion in Area C and to expand settlements," said Sarit Michaeli, a spokeswoman for the Israeli human rights and monitoring group B'Tselem. "The way they do that is through so-called planning measures. For example, they refuse to issue legal building permits for Palestinians in the West Bank and therefore push them into illegal construction."
A spokesman for Israel's Coordinator of Government Activities in the Territories told IBTimes in a written statement that a senior military officer visited the village last week to propose "alternative solutions" for the village, though he would not elaborate on those details. However, those present at the time felt the officer visited only because of international pressure and said it was more threatening than conciliatory.
The government tried to persuade villagers to move to land near the city of Yatta, declared state land by Israel decades ago, which was previously owned by a Palestinian family. Residents reportedly rejected that deal on the basis that they still considered the land as rightly belonging to the Palestinian family, saying they would not relocate to someone else's land because there were no assurances they would not also eventually be driven off that land.
It remains to be seen whether the international focus on Susya would offset Israel's plans for the area. If the demolitions were carried through, Rabbis for Human Rights' legal team said they received notice from Israel's Civil Administration they would occur before an Aug. 3 hearing. A large nonviolent rally made up of Palestinian, Israeli and international activists has been scheduled for Friday, and activists planned to stay day and night waiting for Israeli bulldozers. A list of supporters in Israel were standing by, ready to travel to the village in the event Israeli bulldozers roll in.
In the meantime, Ascherman, the leader of Rabbis for Human Rights, said residents of the town were living constantly on edge. "They've seen demolitions and expulsions over the years; but in some ways, waiting is even more devastating psychologically," he said. "They don't even have anything to put in suitcases; they have nothing."
"This is not just about redeeming the Palestinians, it's about redeeming us, too," Ascherman added. "We're going to live here together, or we're going to die here together."
© Copyright IBTimes 2023. All rights reserved.
FOLLOW MORE IBT NEWS ON THE BELOW CHANNELS