Israeli Violence: 5 Dead In Shooting and Stabbing Attacks In Tel Aviv, West Bank, 1 US Citizen Dead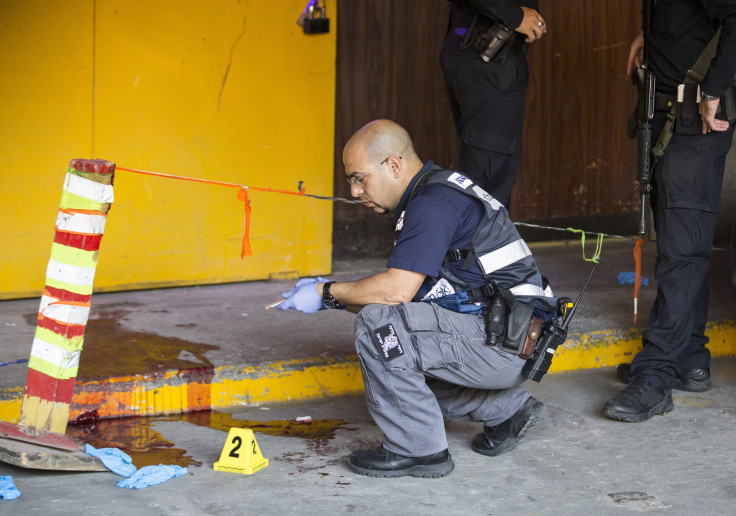 UPDATE: 3:25 p.m. EST -- Birthright Israel confirmed that no Birthright participants were killed in today's attack in Gush Etzion.
Original Story:
TEL AVIV, Israel -- Three people, including a U.S. citizen, were reported dead and several others injured in a shooting and car ramming attack in the Gush Etzion region of the occupied West Bank Thursday, a few hours after two people were killed in a stabbing assault in Tel Aviv. Around 4:35 p.m., local time, a Palestinian motorist opened fire toward a vehicle, wounding several people, before driving to a nearby junction where he shot at and rammed into another car, the Israeli military reported. The shooting attack happened near the abduction site and subsequent killings of three Israeli teens in June 2014.
Two people, a Jewish Israeli and a Palestinian died at the scene. A third, reported to be a U.S. citizen, died from his wounds in hospital. Israeli newspaper Maariv reported the American was an 18-year-old tourist on a Birthright trip, a program that provides Jewish youth with a one-week paid trip to the Holy Land, but other reports suggested the tourist was a yeshiva student at one of the West Bank's religious schools for orthodox Jews. The alleged attacker was reported to be a resident of the embattled city of Hebron, the site of multiple protests and outbreaks of violence among Israeli settlers, Palestinian inhabitants and Israeli security forces.
Earlier, two people were killed and one was injured in a stabbing attack at the entrance of a shop that serves as a synagogue in southern Tel Aviv. Witnesses said the victims were praying at the time of the assault. A Magen David Adom rescue services spokesperson said the assailant was overpowered by a civilian in the area before being taken into custody. After launching a search for a second suspect, police confirmed the assailant acted alone.
The 36-year-old alleged attacker, a Palestinian from the West Bank town of Dura near Hebron, received a permit to enter Israel approximately a month ago. He had been working at a local restaurant. He told investigators he came to Tel Aviv to attack and kill Jews. He had no prior record of security-related offenses, the Shin Bet security service said.
These are the latest in a series of "lone wolf" attacks that have claimed the lives of 15 Israelis in the last two months. In the same period, hundreds of Palestinians have been killed by Israeli forces, both in clashes with troops in the West Bank and cross-border violence in Gaza, and during stabbing attacks on Israeli citizens.
© Copyright IBTimes 2023. All rights reserved.