Israel's Other Settlement Fight: Knesset Seeks To Settle Bedouin Land Claims In The Negev Desert, Including By Forced Relocation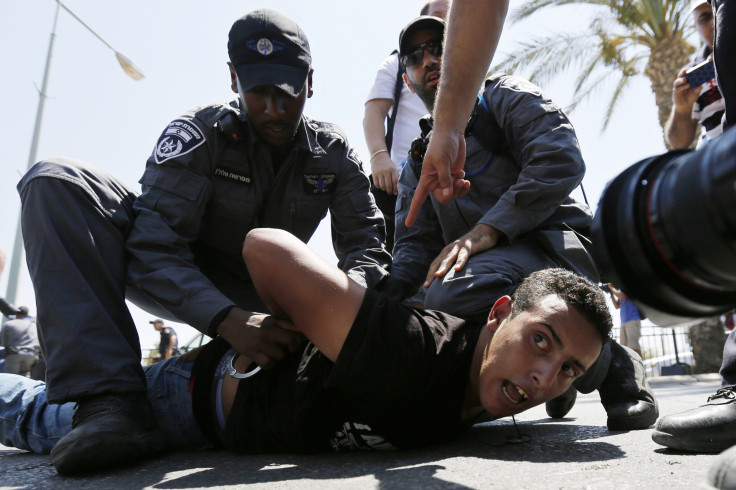 BEER SHEVA, Israel -- Forced removal is a freighted term in Israel, and Bedouin tribes who live in the nation's Negev Desert have vowed to fight a proposed law that would force a final settlement to their historic land claims and require many of them to relocate from their homes.
"There is an organized campaign of protests," said Atiyeh Al A'sam, director of the Regional Council for the Unrecognised Villages in the Negev, from his office in Beer Sheva, one of Israel's fastest growing cities, on the northern edge of the Negev. "This is why we are going to oppose this law, and we are going to ignore it if it does pass the second and third calling in the Israeli Knesset."
Al A'sam, a Bedouin who resides in a legal Negev village, has also threatened a large-scale general strike in the Arab sector. He said the bill making its way through the Israeli parliament, the Knesset, is racist in that it would apply only to Bedouin, not all Israeli citizens.
The Bill on the Arrangement of Bedouin Settlement in the Negev, also known as the Prawer-Begin Plan, last month passed its first reading in the Knesset, sparking dramatic debate, during which Member of Knesset Muhammad Barakei, of the Hadash Party, publicly tore up a copy.
This week, protests expanded across the Arab world. Two police officers were slightly injured and 20 Israeli Arabs arrested in a Wadi Arra demonstration on Thursday that was part of a day of rage against the Israeli plans to relocate Bedouin. The largest demonstration, at the Lahavim junction south of Rahat, drew 1,000 people. Other demonstrations took place in Jerusalem, Ramallah, Hebron and Gaza. According to activists, there were also rallies in Brazil, Ireland, Jordan, Lebanon, Mauritania, Morocco, the Netherlands, and the United States (the latter in Washington, D.C.).
Most of the demonstrations passed peacefully, according to Israeli police spokesman Mickey Rosenfeld. But the Wadi Arra demonstration turned violent after protesters tried to block the road, he said.
After a vote in favor by 43 MKs, with 40 opposed, the settlement bill will now pass to either the Knesset's interior or law committee before being read a second time, likely in September. Both sides are taking their case to the media in a battle to win in the court of public opinion.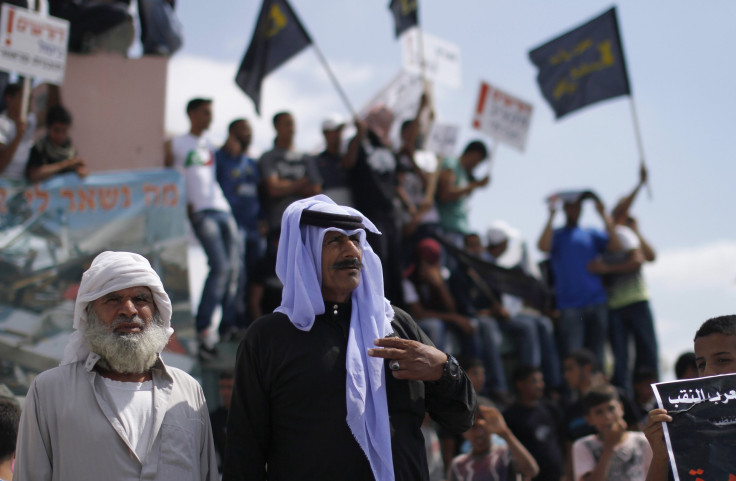 Dividing the desert
The plan seeks to settle longstanding Bedouin land claims in the Negev within a five-year period by retrospectively providing official recognition to about 63 percent of the villages currently considered "unrecognized" and resettling populations from areas that would still be designated as unauthorized. Though Bedouin were historically nomadic and did not reside in villages, the creation of Israel (which imposed new borders) and subsequent state-ordered relocations and restrictions limited their movements and accelerated a process of forced settlement that began under Ottoman rule in the 19th century.
About half of the Negev's Bedouin have voluntarily resettled in small urban centers created for the purpose by the Israeli government, and the remainder – the Israeli government estimates there are 75,000 people – live in unrecognized villages that have not received infrastructure improvements.
A protest campaign against the settlement bill kicked off on July 15 with widespread demonstrations in Palestinian areas (though Bedouin are not Palestinian, and in some cases shy away from being associated with them), including the seaside town of Jaffa, next to Tel Aviv, where the main street to the old city was blocked by a barricade of people and protest paraphernalia. There have since been smaller protests daily at various localities.
In what some view as a further affront by Israel, the Cabinet at the same time announced a major investment of US$125 million for economic development, housing, services and infrastructure improvements to accommodate 10,000 new cyber-related jobs in the Negev's largest Jewish city, Beer Sheva. Also, Nefesh B'Nefesh, an organization that assists Jewish immigrants to Israel, is promoting its Go South initiative, in which it encourages new immigrants to move to southern cities in the Negev such as Beer Sheva, Ashkelon and Mitzpeh Ramon for cheaper housing and a more relaxed pace of life.
Who owns the land?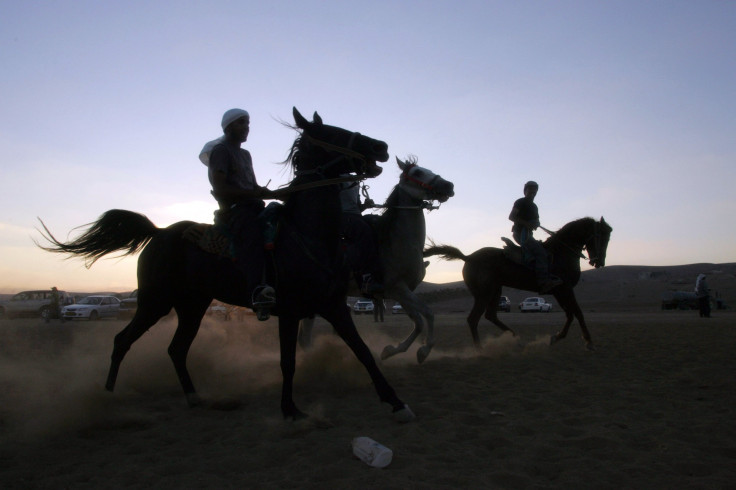 The Negev's 205,000-strong Bedouin population is concentrated in a triangular area between Beer Sheva, Arad and Dimona, with 129,571 living in villages and cities recognized by the state of Israel and the 75,000 in unrecognized villages, according to figures from Israel's Central Bureau of Statistics. Those who live in unrecognized towns do not receive state or municipal services such as electricity, sewage, running water, schools and healthcare.
Israel claims the Bedouin residents are predominantly not native to the area, a contention the Bedouin dispute.
"The State says that the Bedouin actually infiltrated the land, but from where, if we were here before?" asked Al A'sam.
Historical records during Ottoman and British rule of what was then Palestine indicate that Bedouin lived in the Negev long before the state of Israel. What's debatable is whether they are the same Bedouin, given their nomadic way of life.
Many Bedouin who were in the Negev during the 1948 Arab-Israeli War were resettled in neighboring regions or were forcibly moved out. According to a 1951 United Nations report, 7,000 Negev Bedouin were deported to Jordan, the Gaza Strip and the Sinai, although many returned undetected. Those who remained – which Al A'sam claims is just 10 percent of the original numbers – were relocated by Israel to the concentrated triangular area between Beer Sheva, Arad and Dimona.
Al A'sam says the government of Israel is systematically pushing Bedouin out again and creating a situation in which they are concentrated in an even smaller region. "Only once the Bedouin will be concentrated in a certain area will the government supply them with the services that they are entitled to," he said.
There are more than 13,000 outstanding land claims lodged against the state of Israel by Negev Bedouin, but none of the 285 that have been heard in court have won due to difficulties in proving ownership, according to figures from the Authority for the Regulating of Bedouin Settlements in the Negev. Although the Bedouin became less nomadic under the late Ottoman Empire and the British Mandate that preceded the state of Israel, they avoided registering what was then state land, anecdotally to avoid being taxed.
Bedouin land claims amount to some 860 dunam (860sq.km), about 6.5 percent of the total Negev region. Under the Prawer-Begin plan, they will be entitled to half of that. The lands claimed by those who do not accept the plan, should it become law, will become state owned and the legislation will authorize the forced removal of those populations.
Improving the standard of life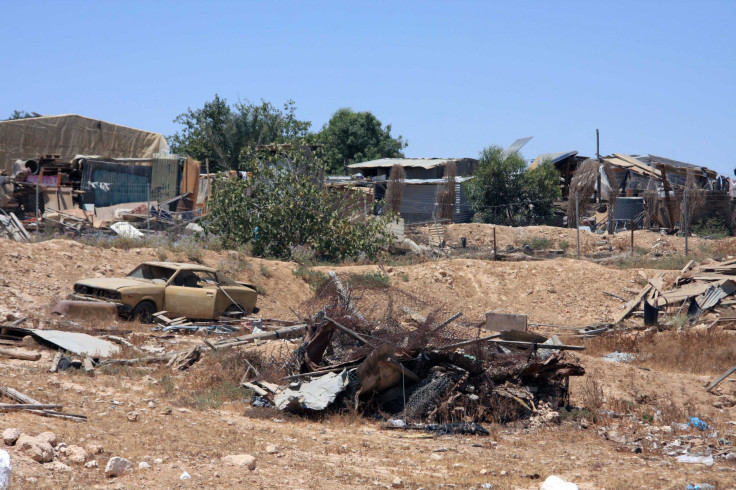 Supporters of the bill say it will enable Israel to bring order to the desert, to clean-up unsightly shantytowns, and to improve the standard of living for Bedouin. "We cannot supply services to every unauthorized cluster in the desert," said Yossi Maymon, adviser to the director of the Authority for the Regulating of Bedouin Settlements in the Negev, which was established in 1987 by the Prime Minister's Office for the purpose of solving Bedouin land issues. The authority has a staff of about 100, with Bedouin comprising about 10 percent of that.
The state government plans to allocate US$322.1 million for housing and infrastructure development for the Negev's Bedouin. The government also aims to reduce unemployment – currently at 35 percent among the Bedouin, compared with a national average of 7 percent – by developing industrial areas, and to improve education by building a university (currently just 4 percent of Bedouin graduate from college or another type of tertiary institution, according to the Authority's figures).
Each Bedouin resident who chooses to move to permanent housing in one of the authorized locales, regardless of whether they have a land claim, will be entitled to receive land that is connected to electricity, water and sewage infrastructure. Those who have lodged a land claim (which includes about 15 percent of the Negev Bedouin population) will automatically be given 50 percent of the land amount they have claimed. Those without a land claim will be entitled to buy land at a discounted price. All Bedouin will receive compensation of up to US$25,000 for their formerdwelling place and up to $12,500 for moving.
"According to the law, we recognize every claim," said Maymon. "It's a win-win situation. They will get compensation for the land in money or land. If you talk not to the so-called leaders, but to everybody in the desert, ask him what he wants. He wants to live in a house, he wants to have a job, he wants to raise his family and live happily."
Maymon claimed that Bedouin leaders are effectively holding their tribes hostage, and for political reasons are discouraging them from settling with the state and moving on. Many of those leaders, he alleged, now live in comfortable residences in approved Bedouin cities or in Jewish cities such as Beer Sheva.
Progress while maintaining traditional agriculture?
Al A'sam, who lives in an authorized village, said that although Bedouin are reconciled to living in settled communities, they want to retain agricultural land as an income source and a traditional way to provide for their families. Israel has traditionally discouraged that through restrictions on grazing, but proposes to accommodate pastoral grazing in some of the dedicated areas. Work has meanwhile begun on an expansion of Rahat, the first Bedouin city in the Negev, which currently houses 50,000 residents and is being prepared to handle twice that many people through the construction of new roads, a hospital, a university, and a planned industrial area.
But that's not what Bedouin want, Al A'sam argued. The Regional Council for the Unrecognised Villages in the Negev has produced its own plan for the Negev with money from the European Union, which calls upon Israel to retroactively recognize all Bedouin land claims in the Negev and supply services to all of them, regardless of their relative isolation.
Marouf Saleh, from the unrecognized Bedouin village of Al Sir in the Negev, said the 1,500 residents there face being first moved a few hundred meters across a main road, and later relocated to the authorized village of Segev Shalom about 7km away, where his children already go to school and receive health care.
"We don't want to live like this," he said as he looked around at a collection of hovel-like corrugated metal structures that comprise the village's housing. "We want to build proper kinds of buildings on this land. But I would sleep outside just to keep this land. We're not leaving."
Saleh contends that Al Sir was historically settled by the Bedouin, but Regavim (The National Land Protection Trust), an independent research institute and policy planning think tank, produced circa 1945 aerial photos of the land on which the unrecognized Bedouin village of Al Sira now stands that show no village at that time.
Under the Prawer Bill, a village's population density, continuity, size and economic status would be used to decide which villages are recognized and which populations would be relocated – not a tribe's historic connection to the land. Villages that are capable of sustaining themselves, according to government standards, would be recognized and developed with full services. Those that are not deemed so would be resettled – generally, one to two kilometers away, though about 13,000 would move as far as five to six kilometers from their current dwellings. Additional factors to be considered would include a village's proximity to Beer Sheva's expanding industrial area and subsequent hazards from chemical factories, as well as proximity to IDF fire practice areas.
Some resettlement is already under way: 12,000 residents of the unrecognized village of Al Na'am, which is located near the Ramat Hovav factories, have agreed to relocate due to health concerns.
But the rest of the Negev's Bedouin are entrenched for what looks to be a continuation of an old, bitter war with the state.
Israel's efforts to alter the Bedouin way of life in the Negev are not new. More than 40 years ago the Israeli military leader and politician Moshe Dayan envisaged the transition: 'We must turn the Bedouin into urban labourers ... It means that the Bedouin will no longer live on his land with his flocks but will become an urbanite who comes home in the afternoon and puts his slippers on. His children will get used to a father who wears pants, without a dagger, and who does not pick out their nits in public. They will go to school, their hair combed and parted. This will be a revolution, but it can be achieved in two generations. Not by coercion but with direction from the state. This reality that is known as the Bedouin will disappear.'"
© Copyright IBTimes 2023. All rights reserved.