Istanbul Atatürk Airport Attack Live Updates: Explosions, Gunfire Reported In Turkey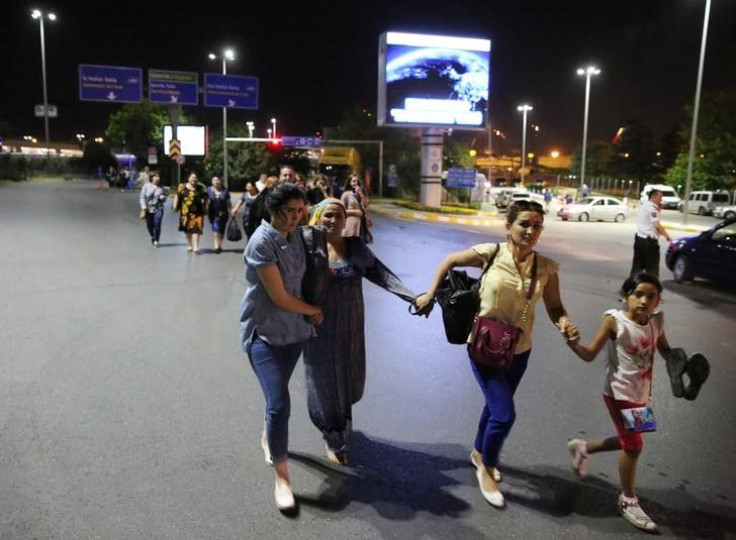 UPDATE: 10:57 p.m. EDT —​ Flights have begun to arrive again at Istanbul's Atatürk International Airport, and the U.S. Federal Aviation Administration has lifted an earlier order grounding flights between the U.S. and Istanbul, according to media reports.
UPDATE: 9:52 p.m. EDT — Turkish officials are homing in on the Islamic State Group (aka ISIS or ISIL) as being responsible for Tuesday's terrorist attack at Istanbul's Atatürk International Airport. However, Prime Minister Binali Yildirim said early Wednesday local time that the investigation was ongoing.
"Our security forces' findings on the terrorist act point to Daesh," Yildirim said, using the Arabic acronym for ISIS, the Wall Street Journal reported.
The death toll in Tuesday's attack stood at 36, with 147 people injured. But some of those hurt were in critical condition and the death toll was expected to rise, according to numerous media reports.
It's believed that three attackers detonated either two or three suicide bombs at about 9:22 p.m. local time. One of the terrorists reportedly opened fire with an AK-47 rifle.
A graphic video posted on CNN shows the shooter apparently slipping and falling, dropping the automatic rifle. He then appears to be fidgeting with something on his body as a bystander approaches. The bystander then sees something and flees seconds before an explosion.
UPDATE: 9:08 p.m. EDT — The death toll in Tuesday's terrorist attack at Istanbul's Atatürk International Airport has risen to 36, Turkish officials said, while the number of injuries has remained unchanged at 147. Meanwhile, Turkish officials reopened the airport at 8 p.m. EDT, Chicago's WLS-TV reported. Officials had announced earlier that the airport would remain closed until 1 p.m. EDT Wednesday.
UPDATE: 8:10 p.m. EDT — The prime minister of Turkey has updated the death toll to 36 in Tuesday's attack at an Istanbul airport, CNN reported. Earlier, numerous other sources had updated the casualty totals to at least 31 dead and 147 injured, citing official figures.
No group has yet claimed responsibility for the attack, the Washington Post reported. The profile of the attack — which included suicide bombs — fits the strategy of radical Islamic groups, which typically target civilians and foreigners in Turkey.
Most Deadly Terrorist Groups in Turkey since 2000 | FindTheData
UPDATE: 6:50 p.m. EDT — The U.S. Federal Aviation Administration on Tuesday suspended all flights to and from Atatürk International Airport in Istanbul after three attackers opened fire and detonated bombs in a terrorist attack for which no group has yet claimed responsibility.
It's unknown when the FAA will lift the order, but NBC News cited Atatürk International spokesman Erhan Ustundag as saying the airport would be closed until 8 p.m. local time Wednesday (1 p.m. EDT).
The Guardian reported that the death toll in the attacks could reach as high as 50, but the current casualty numbers stand at 28 dead and about 60 injured, including six in serious condition.
"The bombs that exploded in Istanbul today could have gone off at any airport in any city around the world," President Recep Tayyip Erdoğan said in a statement on national media. "Make no mistake: For terrorist organizations, there is no difference between Istanbul and London, Ankara and Berlin, Izmir and Chicago or Antalya and Rome."
Turkish officials are blaming the Islamic State Group for the attack. Kurdish separatists typically target the country's security forces while Islamist radicals prefer to wreak havoc against civilians in Turkey.
UPDATE: 5:55 p.m. EDT — Istanbul's governor said on state television that three suicide bombers were behind Tuesday's attack at the city's Atatürk airport. Previous reports said two attackers were involved. All flights out of the airport, the world's 11th busiest in 2015, have been suspended. The city's subway system also was shut down, as were roads leading to and from the airport. At least 28 people were killed and about 60 were injured, including six reported to be in serious condition, Agence France-Presse reported.
According to USA Today, Istanbul Gov. Vasip Sahin confirmed the number of attackers to local media. Police opened fire after one of the attackers began firing an automatic assault rifle. The attackers then detonated their explosives. Some reports say three, not two, bombs went off.
Atatürk International Airport is a major global transit hub that saw 60 million travelers pass through its gates last year, including tourists and connecting-flight travelers.
Istanbul has been hit with several attacks this year, including one claimed by the Islamic State group and others attributed to Kurdish separatists.
In March, a suicide bombing in Istanbul's Beyoğlu district — in front of the district governor's office — killed six people, including the attacker, and injured 36. Ten foreign tourists were injured, and two U.S.-Israeli citizens were killed. The Turkish government blamed the attack on Islamic State group militants.
And last month, eleven people were killed and 36 were injured in a car-bomb explosion targeting police buses in the tourism-centric Beyazit Square neighborhood of central Istanbul. Seven of the dead were police officers. Four suspects were arrested. President Recep Tayyip Erdogan blamed the attacks on Kurdish militants, who have claimed attacks on Turkish security forces in the past.
UPDATE: 5:20 p.m. EDT — The death toll in the terrorist attacks on Istanbul's Atatürk International Airport has risen to at least 28, according to CNN and the Associated Press, citing a statement from the Istanbul governor.
UPDATE: 5:10 p.m. EDT — The number of injuries in Tuesday's terrorist attacks at Istanbul's Atatürk International Airport has risen to 60, Reuters reported, citing state media. The number of dead remained at 10. Meanwhile, U.S. officials were working to determine if any Americans were among the dead or injured.
UPDATE: 4:35 p.m. EDT — Turkey's justice minister, Bekir Bozdag, told reporters Tuesday that about 20 people were injured in explosions at the Atatürk Airport in Istanbul. The minister revealed to CNN that a suspect "first opened fire with a Kalashnikov, then detonated himself."
In a statement, Bozdag mentioned additional reports of a "blast" at a nearby subway entrance, according to Al Jazeera Turkey.
UPDATE: 4:15 p.m. EDT — Journalists with Euronews were tweeting Tuesday that Turkey had imposed a broadcast ban in the wake of two explosions at the Atatürk Airport in Istanbul that reportedly killed 10 people. Turkey is ranked 151st on Reporters Without Borders' list of most press freedom-friendly countries, in part because of President Recep Tayyip Erdoğan's crackdown on the media.
Meanwhile, Belgium Prime Minister Charles Michel, who handled the aftermath of the Brussels attacks in March, tweeted his condolences. "Our thoughts are with the victims of the attacks at Istanbul's airport. We condemn these atrocious acts of violence," he wrote.
UPDATE: 3:59 p.m. EDT — Ten people were dead after two explosions at the Atatürk Airport in Istanbul, according to a top official told reporters Tuesday. The Daily Sabah, Reuters and BuzzFeed News all tweeted the update:
Istanbul is no stranger to violence: A suicide bomber killed about five people earlier this year in the Beyoğlu district. The suspect had ties to the Islamic State group, Interior Minister Efkan Ala told reporters in the days following the March incident.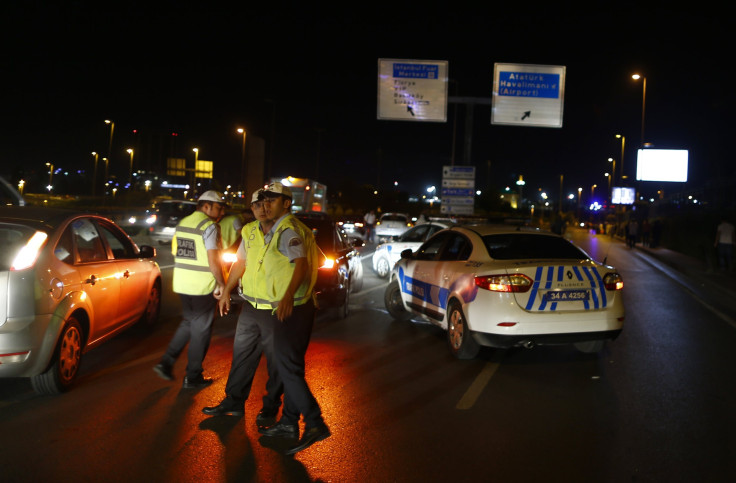 UPDATE: 3:45 p.m. EDT — Entrance to and flights out of the Atatürk Airport in Istanbul, Turkey, were suspended Tuesday amid reports of an explosion there just after 10 p.m. local time, CNN Turkey reported. Prime Minister Binali Yildirim has been briefed about the ongoing incident.
An unnamed source told BuzzFeed News that investigators didn't immediately know how the explosions occurred.
UPDATE: 3:35 p.m. EDT — Emergency responders were heading to the Atatürk Airport in Istanbul, Turkey, on Tuesday after reports of two explosions, according to Reuters. Wounded bystanders and police officers were being transported to the Bakırköy State Hospital, reported the Doğan Haber Ajansı news agency.
Meanwhile, in the United States, the New York Police Department's counterterrorism unit tweeted that it was monitoring the situation.
Original story:
Social media users and local news outlets reported hearing explosions and possible gunfire Tuesday at the Atatürk Airport in Istanbul. More than one person was injured, according to the Associated Press, but other details weren't immediately clear.
The Atatürk Airport is considered one of the three busiest airports in Europe, according to Hurriyet Daily News.
© Copyright IBTimes 2023. All rights reserved.
FOLLOW MORE IBT NEWS ON THE BELOW CHANNELS