Italy Earthquake Live Updates: 6.6-Magnitude Quake Rattles Central Italy, Parts Of Rome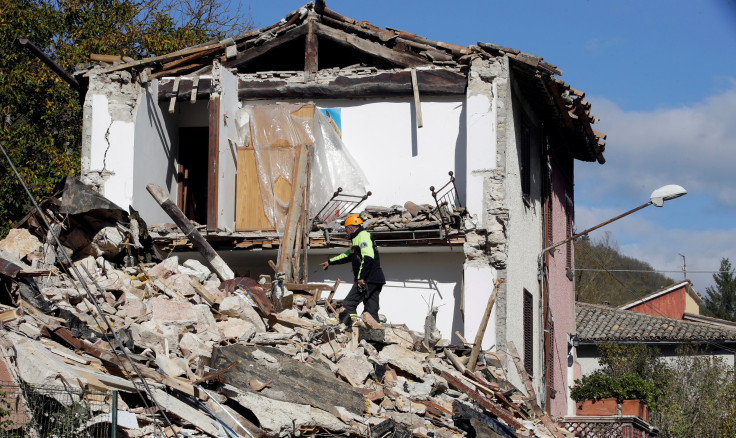 UPDATE: 5:22 a.m. EDT — Italy's civil protection guard said Sunday a number of people were injured in the 6.6-magnitude earthquake that rattled the central part of the country, but no deaths were reported so far.
The mayors of the villages of Ussita and Arquata said many buildings had collapsed there. Another church collapsed in Tolentino, while images of the Basilica of St Benedict in Norcia destroyed by the earthquake surfaced on social media.
"The monks are all safe, but our hearts go immediately to those affected, and the priests of the monastery are searching for any who may need the Last Rites," the monks from Norcia said in a statement.
UPDATE: 3:52 a.m. EDT — Emergency officials reportedly said several buildings were destroyed in Sunday's 6.6-magnitude earthquake that hit central Italy.
Local media reports said that in the town of Norcia, the Basilica of St. Benedict, which traces back to the year 1200, collapsed as a result of the earthquake, while the Co-Cathedral of Santa Maria Argentea also suffered major damage.
Some parts of Croatia, Slovenia and Bosnia-Herzegovina also felt the earthquake.
Original story:
A 6.6-magnitude earthquake was felt near Norcia in central Italy on Sunday, the U.S. Geological Survey (USGS) said. The tremor comes just days after two major quakes and about 60 subsequent temblors shake the country.
The USGS said Sunday's quake was centered 42 miles southeast of Perugia. The epicenter, about 82 miles northeast of Rome, was 67 miles deep. Tremors were also felt in parts of the capital. There were no immediate reports of damage or casualties from the latest earthquake.
On Wednesday, a 5.5-magnitude quake struck near Visso in Macerata province, followed by a 6.1-magnitude tremor in the same area two hours later. Authorities reportedly said that these tremors were linked to the big quake two months ago which had killed at least 300 people and leveled several towns.
This is a developing story.
© Copyright IBTimes 2023. All rights reserved.
FOLLOW MORE IBT NEWS ON THE BELOW CHANNELS