Italy's Premier Berlusconi Boasts of Having Slept with Eight Women in One Night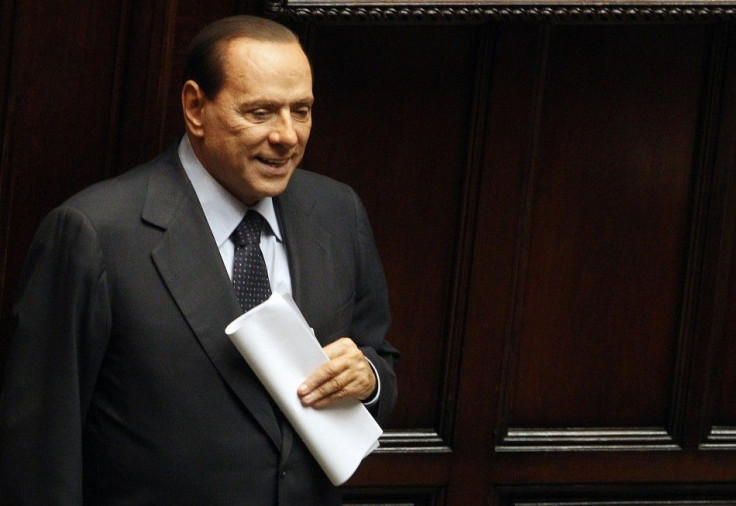 Italian Prime Minister Silvio Berlusconi's boastful conversations about his sexual encounters with eight women in one night were wire-tapped as part of the ongoing investigation into an alleged prostitution ring surrounding him.
Around 100,000 telephone conversations were captured by the Italian prosecutors to investigate the prostitution ring surrounding the controversial prime minister.
Contradicting his repeated previous statements that he would never pay for sex, the recorded conversations suggested that Berlusconi paid the women who allegedly slept with him.
The evidence offered by the taped conversations also suggest that, Berlusconi, the longest-serving post war Prime Minister of Italy, used taxpayers' money and state-owned aircraft to fly alleged prostitutes around Italy, reported the Telegraph.
Last week, Berlusconi won final parliamentary approval for a 54 billion-euro ($74 billion) austerity package that seeks to balance the budget by 2013 in an attempt to stall Italy's surging borrowing costs. The severe austerity measure, affecting pensions, public services and retirement ages, sparked violent clashed between demonstrators and riot police in Rome.
According to the conversations, Berlusconi, the 118th richest man in the world with a net worth of $ 7.8 billion, invited at least one alleged prostitute to accompany him from Rome to Milan on his plane.
The taped conversations also revealed details of Berlusconi's 'wild' parties with dozens of starlets and escort girls, organized by a convicted cocaine dealer Gianpaolo Tarantini.
Tarantini allegedly blackmailed the Prime Minister by threatening to talk about the alleged prostitution ring and is facing investigation.
In one conversation taped by investigators in early 2009, Berlusconi told an entrepreneur, Last night, I had a queue outside my door, there were 11 of them. I only managed to do eight of them, I couldn't manage any more. You just can't get round to all of them. But this morning I feel great, I'm pleased with my stamina.
The Italian premier is already on a trial in Milan, on separate allegations of abuse of office and paying for sex with an underage prostitute.
Berlusconi, in one of the conversations, said that he was unable to find enough time to spend with his companions, due to his schedule as the prime minister. Oh, to pass the days with my babes; I'm just the prime minister in my spare time, he allegedly said in one conversation.
Berlusconi and George W. Bush are known to be intimate friends and spend time together on Bush's Crawford, Texas, ranch. He declared that he and Bush would remain friends forever, nostalgic at the end of Bush's term as a president.
On an official dinner in the White House on October 2008, Berlusconi, tripping over a microphone cable, crumbled the podium, too excited about greeting Bush and embracing him. Then Berlusconi commented, Did you see what a huge love can do?
His yet another blunder involving a U.S. president was when he commented about Barack Obama's 'suntan.'
In November 2008, two days after Barack Obama was elected the first African-American US President, Berlusconi said, I will try to help relations between Russia and the United States where a new generation has come to power. I don't see problems for Medvedev to establish good relations with Obama because he is young, handsome and even tanned; therefore, I think that a good cooperation can be developed.
Berlusconi's declaration following the 9/11 attacks in New York about the 'superiority' of western civilization caused an uproar, not only in the Arab and Muslim world, but also all around Europe, including Italy. We must be aware of the superiority of our civilization, a system that has guaranteed well-being, respect for human rights and - in contrast with Islamic countries - respect for religious and political rights, a system that has as its value understanding of diversity and tolerance, he said.
© Copyright IBTimes 2023. All rights reserved.