It's A Long Way To Recovery: Spain's Unemployment Rate Remains At 26%, Despite GDP Growth Predictions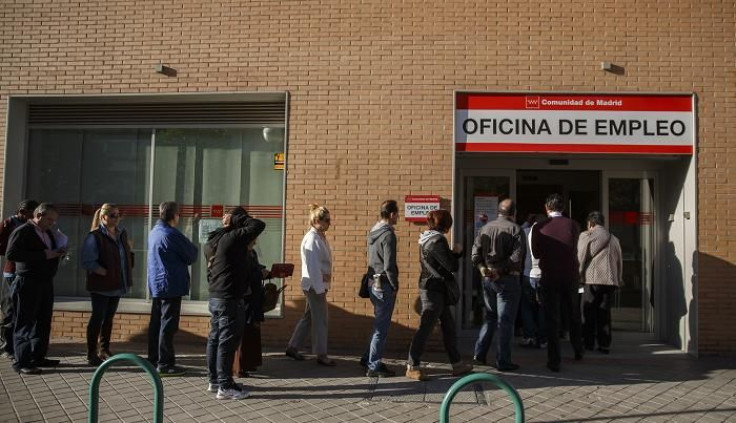 After half a decade of economic crisis, Spain is finally seeing signs of recovery. GDP is expected to grow above 1 percent this year, exports are at their highest in years and economists are predicting the beginning of the end of the crisis.
But for many Spaniards like Francisco Fenoll, there is no hope on the horizon. The 29-year-old plumber has been out of a job for over three years, and he does not see a recovery anytime soon. "I have considered changing fields, to broaden my chances," said the Alicante resident, who is studying to become a web developer, "but the near future looks gloomy."
More than one in four Spaniards of working age are unemployed -- and that's the official number. Real figures are probably higher.
Businesses keep shutting down, and that goes for iconic names such as clothing chain Zara, which has closed 39 stores in its home country since 2008, after a 5.8 percent drop in sales in Spain from 2007 to 2012.
All over the country construction projects remain abandoned. For two museum projects in Santiago de Compostela and Málaga, in which the government invested a total of 440 million euros ($600 million), there are no plans to resume construction and no funding. And there are more than 14,000 unfinished buildings in Spain, including 600,000 apartment units, according to architectural group MBQ.
"Unemployment is still Spain's biggest issue to tackle," Miguel Cardoso, chief economist at BBVA Research, a unit of Banco Bilbao Vizcaya Argentaria SA (BME:BBVA), said. "It is our largest barrier towards actual economic recovery."
At the peak of the crisis, unemployment reached 27.2 percent in 2013. Right now, it's at 26 percent. Things are even worse for young people: In 2013, 56 percent of Spaniards age 15 to 30 were out work.
Besides the construction bust, there's a longer-term trend behind the dismal unemployment numbers: Mid-level jobs are disappearing. Many administrative positions are being automated or integrated into other jobs. "These tasks are now the responsibility of either managers or blue-collar employees, expanding the scope of these jobs without adjusting the salary accordingly," Luis Enrique Alonso, a sociology professor at Universidad Autónoma de Madrid, told Spanish website El Confidencial.
"We are turning into a 'hotel economy': managers on top, and maids and waiters at the bottom. No mid-level positions," Alonso said. (Incidentally, hotels are a rare growth sector in sunny Spain, where tourism receipts grew 0.6 percent in 2013 and generated 22,000 jobs, according to tourism consultancy Exceltur.)
"Companies are still reducing staff to the maximum, to save on expenses," Clemente Polo, professor of economic analysis at Universidad Autónoma de Barcelona, said. "I do not think they will change that mindset with the current growth."
That growth, while good news for the fifth-biggest economy in the European Union, is still quite anemic. BBVA Research predicts no more than 2 percent growth for 2015.
Spain had to be bailed out by the European Union with a 40 billion euro ($55 billion) aid package in 2012. Three years earlier, at the onset of the global crisis, its economy had crashed, with a 4.4 percent drop.
Now, "we need a 3 or 4 percent growth to speak of actual recovery," Polo said. And it's uncertain that even the current limited growth is here to stay. The media often talks of hopeful brotes verdes, green shoots, heralding a new solid recovery, but Polo is unconvinced. "Let's not get carried away by the numbers," he said. "These new green shoots could still disappear just as quickly."
Marta Romero knows about the lack of hope, as a recent graduate trying to enter a depressed economy. The 27-year-old did everything right, or so she thought: She has a double BA in journalism and law from the Rey Juan Carlos university in Madrid, and lived in Paris and London to hone her French and English. She was always told that good academic preparation and language skills were the ticket to a job.
After she graduated, though, all she could find were temporary positions in companies unrelated to her field of study. "Apparently you either need to invest thousands of euros in a master's degree or be well connected -- otherwise no dice," she said.
According to a survey by Adecco, an employment agency, 70 percent of Spaniards have had a position unrelated to their college degrees. Sixty-one percent of new graduates find their first job in an industry they did not study for.
And those are the lucky ones. Even to become a sales assistant or an intern, requirements are extremely high: two years' or more experience, own a car, submit to interminable application processes.
In one extreme case, a Madrid-based advertising agency posted a job opening for a designer in March 2014 that required knowledge of marketing tools, fluency in French and English -- and having run a marathon. (That experience would help candidates "be more resilient to stress and less prone to making excuses," according to the job ad.) Salary offered? A metrocard for the city's public transport.
Belén Aguayo knows how disheartening the process can be. The 30-year-old studied book editing, hoping to work for a publisher, but is currently waiting to hear back about a position as a sales assistant in one of Madrid's largest department stores. So far, she has had a group interview and a written test, and if she gets a call back, will have to go through a personal interview. If she passes that too, she will have a part-time position for minimum wage, which in Spain is 600 euros a month ($835), gross.
"And even that is a reason to be grateful," she said. "Most job offers right now are without a contract, paying you under the table -- if at all." As Romero put it, "we've come to a point where any position is considered OK, because at least it's a job."
Faced with the prospect of waiting for better times, many Spaniards resolve to go looking abroad. Half a million young people left the country between 2008 and 2013 in search of better opportunities.
Fenoll, the plumber, had said he would never consider emigrating, but the crisis is not leaving him any other choices. His girlfriend already took the leap a few years ago, when the bar they owned together filed for bankruptcy, and he will follow her to Germany in two months. "I just do not see this situation turning any better any time soon," he said.
Even the people who do have jobs in Spain are facing hardships, including salary reductions and the threat of massive layoffs. That's what's facing a Barcelona-based accounting and administration manager, who did not want to give her name for fear of problems with her employer.
In the last two years, she said, sales at her company have fallen 37 percent, resulting in a third of the staff fired and frozen salaries for the employees who remain. "And we have just been notified that our wages are going to be reduced this year," she said. "We are really looking forward to a more stable situation and regaining our benefits, but I don't think we will see that for a long time."
Domestic demand is one of the economic sectors that are still deeply affected by the recession, thus affecting companies' profits. Though not as bad as 2012, when it fell 4.6 percent, domestic demand fell 0.62 percent in the last quarter of 2013, according to numbers from the Bank of Spain.
The situation has made Spaniards think creatively about their careers and be more flexible when mapping out their future. "My partner and I have considered opening an inn, seeing how tourism is on the rise," said Aguayo, the would-be editor, mentioning that her boyfriend has been unemployed for almost a year.
"We have to work with what we've got," Romero said. "After all this effort, really all I want is a position in something that motivates me." She has reasons to be optimistic, though: After three months out of job, she has been offered a full-time position as a consultant in a Spanish bank's legal department.
One small consolation is that Spain has been there before. El paro, unemployment, was a major issue throughout the 1990s and early 2000s, before falling to levels similar to Spain's European neighbors'.
"Let's not forget that it took Spain over a decade, from 1997 to 2005, to reduce unemployment from 25 percent to 8 percent," Polo said. "We are in a similar situation now."
With reporting by Marta Arias in Madrid and Barcelona
© Copyright IBTimes 2023. All rights reserved.
FOLLOW MORE IBT NEWS ON THE BELOW CHANNELS