It's Over Cry Rebels as Gaddafi HQ Overrun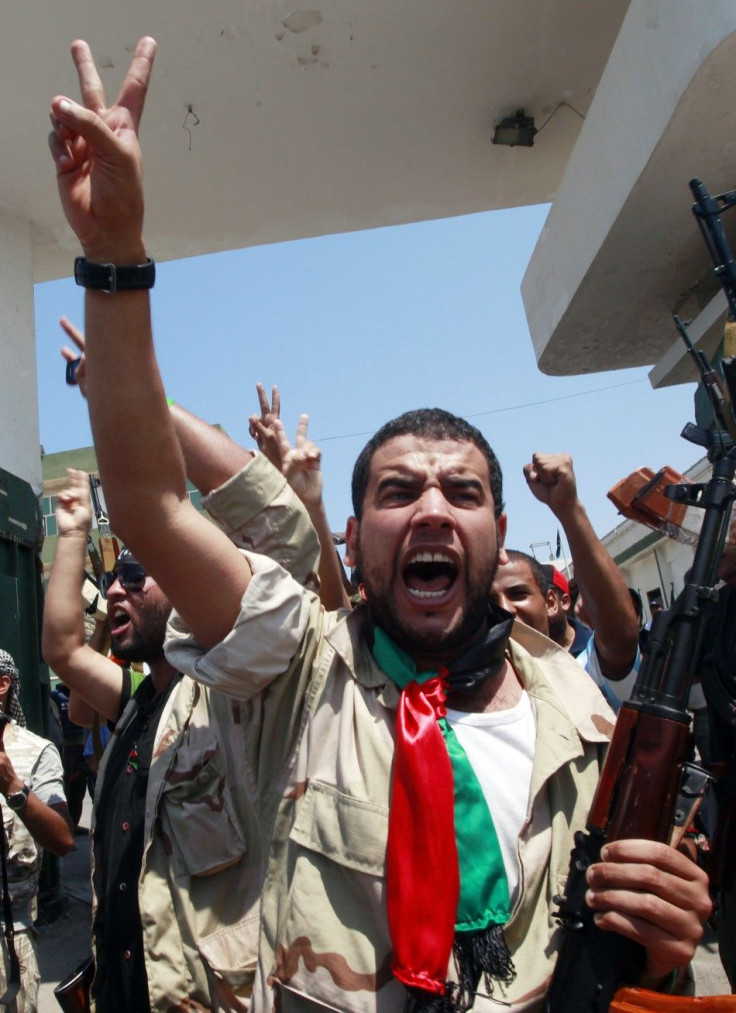 Joyful Libyan rebels overran Muammar Gaddafi's Tripoli bastion on Tuesday, seizing weapons and loot and destroying symbols of a 42-year dictatorship they declared was now over as they set about hunting down the fallen ruler and his sons.
It's over! Gaddafi is finished! yelled one fighter over a cacophony of celebratory gunfire across the Bab al-Aziziya compound, from where Gaddafi orchestrated eccentric defiance of Western powers and disdain for his own people for four decades.
The Western powers who backed the revolt with air power held off from pronouncing victory although a swift return to order is high on their priorities, given fears that ethnic and tribal divisions among the rebels could descend into the kind of anarchy that would thwart hopes of Libya resuming oil exports.
Rebel National Council chief Mustafa Abdel-Jalil cautioned: It is too early to say that the battle of Tripoli is over. That won't happen until Gaddafi and his sons are captured.
Armed men broke up a gilded statue of Gaddafi, kicking its face. Some seized the golf buggy the leader often used.
Another rebel sported a heavily braided, peaked military cap of a kind favored by the colonel, who seized power in 1969. He said he had taken the hat from Gaddafi's bedroom after a brief few hours of resistance by a loyal rearguard died away.
Abdel Hakim Belhadj, a rebel commander, said he did not know where Gaddafi or his sons were: They ran like rats. Other rebel officials said they believed the 69-year-old Brother Leader was probably still not far away.
Reuters correspondents in Tripoli said there still appeared to be some hostile fire around the city center as darkness fell and looting continued. British Foreign Secretary William Hague said: We're in the death throes of this regime ... But it's still a very difficult and dangerous time. It's not over yet.
The Russian head of the International Chess Federation, who had visited Tripoli in June, told Reuters that Gaddafi had called him on Tuesday. Kirsan Ilyumzhinov said Gaddafi told him he was in the capital and was prepared to fight to the end.
Gaddafi had few places to make a stand. His home town of Sirte, on the Mediterranean coast between Tripoli and rebel Benghazi, was expected to welcome rebel forces shortly, Abdel-Jalil said.
It really looks like it's pretty much over, said David Hartwell, a Middle East analyst at IHS Jane's in London.
There might be a few diehards who would keep going until he is captured or killed, but not many. And if Gaddafi didn't have many places to hide before, he has even fewer now.
HOUSE TO HOUSE
House to house! Room to room! chanted some men, calling for a search of the sprawling complex of bunkers and tunnels in a mocking echo of the words Gaddafi used six months ago when he threatened to crush early stirrings of the Arab Spring revolt.
Inspired by neighbors in Tunisia and Egypt, Libyans who rose up in the east found protection from the air forces of Western governments who abandoned a short-lived rapprochement with Gaddafi to drive him from power and who now want to see order imposed and a swift restoration of Libyan oil exports.
After a meandering ebb and flow across the desert, rebel forces galvanized by Western advisers, NATO air strikes and, it is widely assumed, Western special forces, swept into the capital at the weekend end to be greeted by many residents.
Rebel leader Abdel-Jalil said NATO bombs had helped his men breach the walls of the Bab al-Aziziya on Tuesday. I thank all the countries that have helped us, said the young man wearing the braided cap. Now we should work together as Libyans.
In the east of the country, government troops were pulling out of areas that are key to oil production, rebels said.
IMMEDIATE BENEFITS
The U.S. State Department, in a signal of the kind of activity likely to gather pace in diplomatic meetings over the coming days, said it was seeking the immediate release of up to $1.5 billion of frozen Libyan government assets to the rebels.
In Tripoli, ordinary Libyans, or at least those with guns and guts to risk the chaos in Bab al-Aziziya, were helping themselves to the bounty Gaddafi's inner circle had amassed in villas dotted around the city center compound.
Flat screen televisions and hi-fi, as well as a vacuum cleaner and Cuban cigars, were all being hefted away along with the sort of trophy rifles and handguns favored by the elite.
One man shouted angrily at those taking away loot: People have died and you are stealing!
For many, as in other Arab nations where autocrats have been overthrown this year, the most important benefit was not tangible: Gaddafi is now gone and we are free, said Turqi, a shopkeeper in the capital where civilians have kept indoors during three days of sporadic sniper fire and skirmishing.
In Washington, a Pentagon spokesman said he believed Gaddafi was still in Libya and remained a threat. He also said the United States was monitoring chemical weapons sites in Libya given worries that groups hostile to Western interests could try to seize stocks once accumulated by Gaddafi.
There were growing concerns for civilians in Tripoli, after days of siege and fighting in which officials suggested hundreds of combatants might have been killed or wounded. Aid agencies said they hoped to get supplies in soon.
At a private house several miles from the center, wounded from the fighting were being treated, to the sound of gunfire.
We need medication and stretchers, this situation is a disaster, medical student Shuaib Rais told Reuters.
CREDIBILITY
After Gaddafi's son and long-time heir-apparent Saif al-Islam confounded rebel claims of his capture by appearing to journalists at the Bab al-Aziziya compound early on Tuesday, several analysts said the credibility of the disparate opposition movement had suffered a serious setback.
Though the basis of Saif al-Islam's claims that his father's supporters were winning the war was also threadbare, confusion among the rebels, who seemed to have allowed two of Gaddafi's sons to escape on Monday, embarrassed their supporters.
Noman Benotman, senior analyst at Britain's Quilliam think tank and an associate of Gaddafi's former spy chief, said: Gaddafi is banking on the rebels making a mess of Tripoli and causing chaos. He is relying on them to behave badly.
They want rival militia zones to start springing up ... It's critical for the rebels to get their act together.
The lack of clear control has revived talk that the sprawling, thinly populated desert state could fall into the kind of instability that has beset Iraq since Saddam Hussein's overthrow. Gaddafi loyalists and anti-Western Islamists could exploit Libya's ethnic, tribal and political divisions.
Rebel officials say they have a force ready to impose order in the capital, as they have generally done in parts of the country they have taken since February. But it is not yet clear how they will handle Libya's traditional east-west divisions if they consolidate their grip on the country.
The uncharacteristically efficient rebel advance into Tripoli, coordinated with an uprising inside the city, seemed evidence to some analysts of the military advice and training Western and some Arab powers, including Qatar, have provided.
Many assume special forces are also active on the ground.
Outside powers, including U.S. President Barack Obama, have been at pains to characterize the revolt against Gaddafi as quite different from the Western assault on Saddam, saying it is a home-grown uprising inspired by other Arab protest movements that overthrew Western-backed autocrats in Tunisia and Egypt.
Aid, some of it in the form of Libyan state funds seized from accounts controlled by Gaddafi, and advice will be plentiful, foreign governments have assured the rebel leadership in Benghazi as it contemplates moving to Tripoli.
But all have ruled out sending in ground troops to bolster a new government that faces considerable difficulties in setting up a new administration, given Gaddafi's four-decade reliance on informal governance and a personality cult.
We've sought to learn the lessons of the failures of Iraq, which have very much influenced our thinking -- trying to make sure we don't make the same mistakes again, said British International Development Secretary Andrew Mitchell.
© Copyright Thomson Reuters 2023. All rights reserved.