As Jabhat Al Nusra Battles Hezbollah In Lebanon, Army Hostages Appear In Al Qaeda Video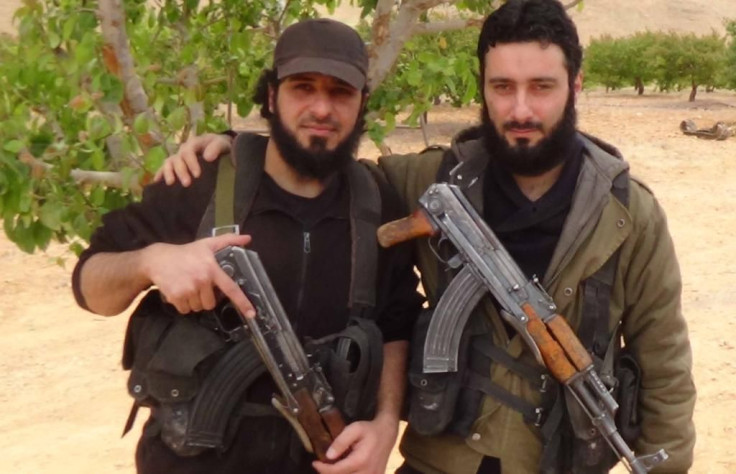 In a possible bid to stop a military operation aimed at eradicating the Syrian branch of al Qaeda from its stronghold in Lebanon, militants have released a video showing captured Lebanese army hostages dressed as jihadis and on their way to fight their fellow army soldiers.
Lebanese security forces and Hezbollah, an armed Shiite political group supported by Iran and considered a terrorist organization by the U.S., began operations last month to eradicate al Qaeda's branch in Syria, called Jabhat al-Nusra, as well as the Islamic State group, or ISIS, from the jihadi stronghold around the town of Arsal. In response to the operation, Nusra released a video showing some of the soldiers it captured last year -- whose ordeal has become a major point of contention in Lebanese politics -- dressed in militant clothing. Families of the hostages confirmed their identities with Lebanese newspaper Daily Star.
Nusra's video footage of the hostages firing weapons in Arsal is "a ploy by Nusra to put pressure on both the government and the families," said Hussein Youssef, who acts as a spokesman for the families of the hostages and whose own son is believed to be in ISIS custody. Whether the hostages were engaged in actual combat could not be confirmed.
On Sunday, Hezbollah made major gains on the outskirts of Arsal, seizing several al Qaeda positions, including the alleged hideout of a top Jabhat al-Nusra leader. Lebanese Hezbollah members and the Lebanese army are not fighting alongside each other, but several sources claim that the two are sharing intelligence.
Despite the raid on his hideout, Jabhat al-Nusra's leader in Lebanon, Abu Maliki al-Talli, remained at large Monday. However, on the same day Talli reportedly allowed, and even appeared at, a meeting between a hostage and his family near Arsal, and is now reportedly urging for negotiations that could bring a deal to release hostages "as soon as possible," Sheikh Mustafa Hujeiri, a local leader with known ties to al Nusra, told the Lebanese Broadcasting Corporation.
Last August, al Nusra and ISIS abducted 30 Lebanese security forces stationed in Arsal. Three months later, their families set up tents outside the Parliament building, with each bearing the photo of a hostage. The families vowed to live there until their relatives' release.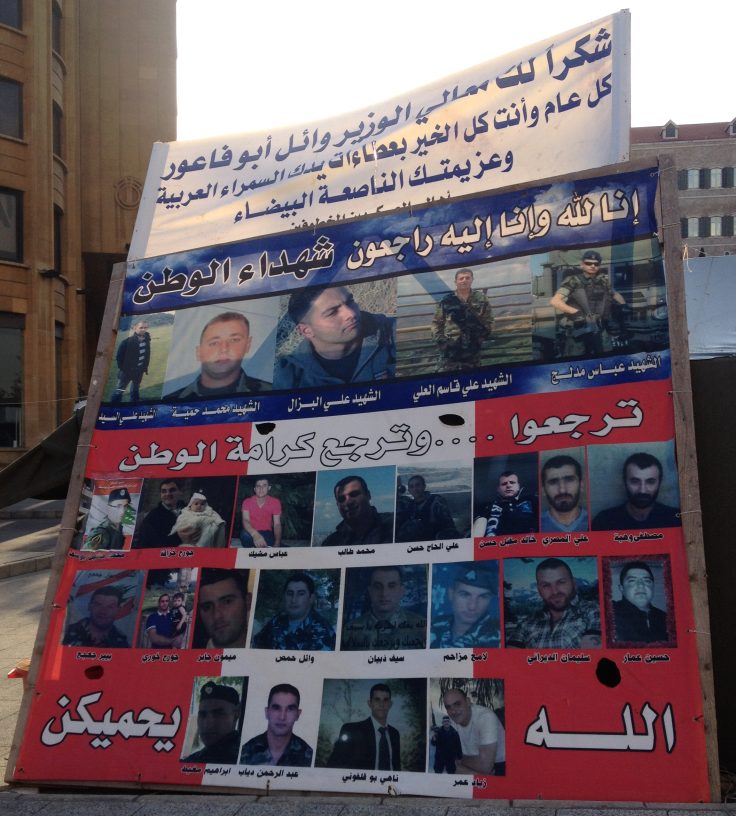 Families are skeptical that authorities are doing all they can to get the captives released. "The government said they will do anything for their release. I believe that, but 50 percent," Fadi Mzahim, whose son recently turned 22 years old in Nusra custody, told International Business Times in April during an interview in Beirut.
The majority of hostages are believed to still be in Arsal or the surrounding towns, located in the rugged Bekaa Valley close to the Syrian border.
Arsal is surrounded by badlands called the jurd, stark mountains where control was split in half, as of April, between ISIS and al Nusra. The militants used the freedom of movement bought by the hostages -- as the army refrained from attack, fearing for the captive soldiers' fate -- to organize their defenses, recruit locals and arm themselves.
"The battle for Arsal's outskirts has kicked off and will go on until its goals have been achieved," Hezbollah leader Hassan Nasrallah said in a televised speech last week. "We are not committed to a time limit." Hezbollah also began to urge the army to act in Arsal early last month.
Arsal is predominantly inhabited by Sunnis, who share a sect of Islam with al Qaeda and ISIS, and houses thousands of Syrian refugees. It is also a major source of reinforcements for militant groups in Syria, as it sits above an important supply route into Syria. Hezbollah has become one of the main forces fighting Sunni militants in the country, but if it enters the city without support or consent from the Lebanese army, ensuing sectarian tensions could push more Lebanese Sunnis toward the militant groups.
Al Nusra may not be looking for a fight in Arsal, though, as it is already battling Hezbollah in the mountainous Qalamoun region on the border between Syria and Lebanon. Nusra commander Talli "won't enter Arsal, and he won't allow for a battle to spark in the town," said Hujeiri, the local sheikh.
In the meantime, the hostages' fate remains uncertain.
"I always feel like they are coming back," Youssef said in April in Beirut, while scrolling through photos of his son on his phone. "I wouldn't hope for anyone to be in my situation. Not even my enemy."
© Copyright IBTimes 2023. All rights reserved.