Jack Lew As US Treasury Secretary May Not Please Wall Street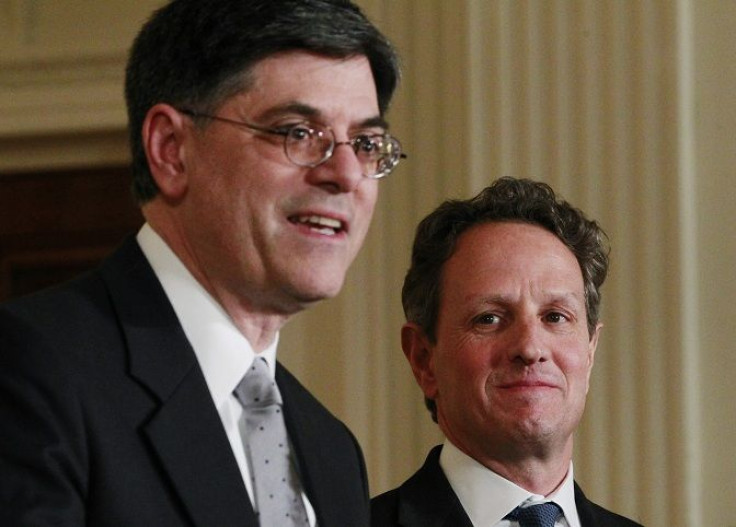 President Obama has nominated someone familiar around the White House, Chief of staff Jack Lew, to take over as Treasury Secretary when Timothy Geithner leaves the post at the end of the month.
Rumors that Lew would be chosen to head the Treasury Department have been circulating for weeks. However, Obama's official announcement came Thursday afternoon, at the White House.
Geithner, the 75th Secretary of the Treasury, made it known last year that he was planning to leave. Obama thanked Geithner for his service on Thursday and added that it is because of Geithner's "steady hand" that the economy is now growing after the real estate meltdown in 2008 ushered in a deep recession.
"When the history books are written, Tim Geithner is going to go down as one of the finest secretaries of the Treasury," Obama said, adding that a lot of work remains, and that no one is better at carrying out those duties than Lew.
Lew, who took over the chief of staff position from Bill Daley last January, said he is ready to work with the people at Treasury.
Who Is Jack Lew?
Born Jacob Joseph Lew on Aug. 29, 1955, in New York City, Lew is a two-time director at the Office of Management and Budget, or OMB, in former President Bill Clinton's cabinet. He also was the first deputy secretary of state for management and resources.
Lew, an Orthodox Jew, graduated from Harvard College in 1978 and Georgetown University Law Center in 1983. His career started in Washington in 1973, when he began working as a legislative aide. In 1979, Lew became a principal domestic policy advisor to House Speaker Tip O'Neill until 1987. Under O'Neill, Lew served as an assistant director and then executive director at the House Democratic Steering and Policy Committee. He was instrumental in overseeing many domestic policy and economic issues, including Social Security, Medicare, budget, tax, trade, appropriations and energy, according to the White House.
Lew also served as managing director and chief operating officer of Citi Global Wealth Management and then Citi Alternative Investments. Before that, he was executive vice president and chief operating officer of New York University, with responsibilities including budget, finance and operations.
No Link To The Business Community
If confirmed for the position, Lew will have no problem jumping into debt ceiling talks, which are set to begin next month. As a veteran political insider, Lew is already up to speed on the fiscal issues facing the U.S., and he is intimately familiar with administration's positions on these issues.
Despite these advantages, experts believe that Lew may not find it easy being the White House's ambassador to the business community -- a skill that would likely come in handy with future negotiations with Republicans.
"He is a political insider without a close relationship or linkage to outside business groups," said Barry Bosworth, a former presidential advisor and senior fellow at Brookings. "He will not be a particularly effective emissary between the President and the business community or other outside groups."
It is not only Lew's distance from financial markets that could be an issue. Bosworth also believes Lew may not be able to secure a favorable deal in upcoming fiscal talks.
"I don't think he has any particular leverage with the Congress and will not find it easy to bring in outside business groups to pressure the Republicans," Bosworth said.
The Treasury reached its $16.4 trillion debt ceiling that was authorized by Congress at the end of last year. Right now the U.S. is operating under extraordinary measures -- a temporary accounting adjustment -- that it will not be able to sustain for much longer. If there's no approval from Congress to support new borrowing, the nation could go into default.
The President has said he will not be negotiating with the Republicans on this issue. However, with the spending portion of the fiscal cliff still not brokered, the debt ceiling gives Republicans an opportunity try to force the administration to limit spending.
It was also reported that during the last debt ceiling talks, House Speaker John Boehner and other Republicans tried to remove Lew from his position because Lew insisted there be a revenue increase from tax hikes and not just "tax reform," to balance out spending cuts, according to Slate.
John H. Makin, a former consultant to the Treasury Department and the Congressional Budget Office, said he has doubts over Lew's ability to advance the upcoming negotiations.
"If I had to guess, from an outsider's point of view, I don't see any big improvements," he said.
Bosworth, too, believes Lew's appointment is an indication that the stalemate between Obama and Republicans will continue.
"I don't think he brings any kind of new approach," he said.
New approach or not, Makin, a resident scholar at the conservative-leaning American Enterprise Institute, said Lew could simply leave a mark by leading the negotiations on a sustainable deal and by bringing Democrats and Republicans together.
But what everyone will be keeping an eye on is who Lew will choose as his deputy, as he has no direct international experience.
"Lew needs to be aware of his need to buttress his international expertise," Makin said. "It's not a surprise he's been nominated. [He's]just another member of the cabinet who is less controversial."
© Copyright IBTimes 2022. All rights reserved.
FOLLOW MORE IBT NEWS ON THE BELOW CHANNELS