Small-Business Owners Have Virtually Zero Confidence In Economy: National Federation Of Independent Business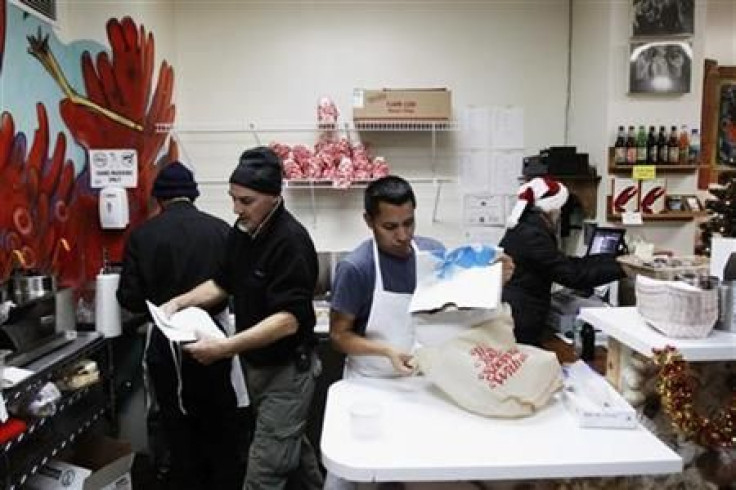 Small-business owners had virtually zero confidence in the economy during the last two months, a private survey revealed Tuesday. Among the consequences: next-to-no job creation.
The National Federation of Independent Business's small-business optimism index gained half a point in December, rising to 88, the second lowest reading since March 2010. But the December gain followed a stomach-churning 5.6-point plunge in November -- one of the largest declines on record.
The latest reading is more consistent with a recession than an expansion, the small-business trade group said.
"Were it not for population growth supporting consumption and net new small-business creation, we would have no growth at all," the Washington-based group said.
The December index reading was lifted in part by owners' slightly higher expectations that their sales would rise in 2013. But this was partly offset by a deterioration of labor market components, and the surprising percentage of owners who still expect business conditions to worsen in the next six months.
The NFIB blamed uncertainty surrounding the fiscal cliff negotiations as a drag on sentiment in December.
"Congress played chicken right up to the end of the year, leaving small-business owners with no new information about the economy's future -- no sense of how much their taxes would increase or if the economy would go over the now infamous 'cliff,'" said NFIB chief economist Bill Dunkelberg. "The eleventh hour 'deal' has brought marginal certainty about tax rates and extenders and will provide some relief to owners, but it certainly doesn't guarantee a more positive forecast for the economy."
The survey was completed Dec. 28, four days before a deal was reached by President Barack Obama and Congress that spared tax increases on the middle class and postponed steep budget cuts.
But the deal "doesn't guarantee a more positive forecast for the economy," the report said. "The January survey will sort this out -- will higher taxes and spending cuts be viewed as a 'positive'?"
Among the sub-indexes that comprise the confidence index, big gains were posted in the trend in earnings and expected sales. The earnings trend rose 3 percentage points to minus 29 percent in December, while the expected real sales sub-index increased 3 points to minus 2 percent.
But the negative readings in each category mean more small-business owners hold unfavorable views of the topic than those who hold favorable views.
The main driver of the decline in November had been a slump in the expectations component -- the balance of firms expecting the economy to improve in the coming six months had slumped to minus 35 from 2, and remained unchanged at minus 35 in December -- the lowest since monthly records began in 1999.
More than half, or 52 percent, said they did not want to take out a loan. Companies often borrow when they're getting ready to expand or hire. Meanwhile, capital spending remained in "maintenance" mode, while plans to make capital outlays remained at recession levels.
Labor market gauges worsened last month, with only a net 1 percent of small-business owners saying they planned to create new jobs. There was a slight drop in the share of owners reporting that job vacancies were hard to fill.
The NFIB said its members reported last month hiring 0.03 workers per firm, on average, better than November's loss of 0.04 worker, but weak by historical standards.
Payrolls rose by 155,000 workers in December following a revised 161,000 advance in November that was more than initially estimated, Labor Department figures showed last week. The unemployment rate held at 7.8 percent, matching the lowest since December 2008.
Small companies represent more than 99 percent of all U.S. employers, according to the U.S. Small Business Administration. A small business is defined as an independent enterprise with no more than 500 employees.
"There is no way we can avoid 'going over the cliff' in some form or another," the NFIB said. "All this 'sludge' on the road will reduce the speed of economic growth."
© Copyright IBTimes 2023. All rights reserved.
FOLLOW MORE IBT NEWS ON THE BELOW CHANNELS