Jackie Chan And Clean Air: Beijing Aims To Win Over IOC In Bid To Host 2022 Winter Olympics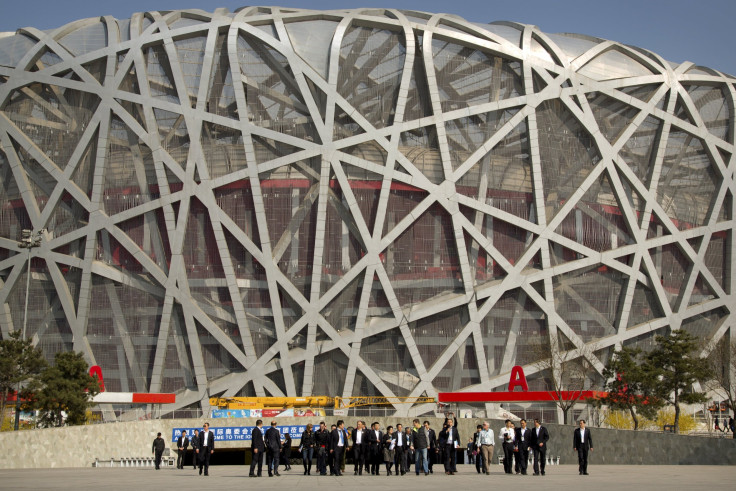 SHANGHAI -- Judging from their elaborate welcome, the 19-member International Olympic Committee delegation can have no doubt that China is very serious about its bid for the 2022 Winter Olympics. Since their arrival on Monday at Beijing airport, where they were met by China's Sports Minister Liu Peng and bid president and Beijing Mayor Wang Anshun, the committee members have been the subject of constant Chinese media coverage. Their first full day in the city, on Tuesday, featured meetings with senior officials including Vice Premier Liu Yandong, followed by a group photo with more than 60 participants.
Mayor Wang pledged that hosting the games would not only encourage China's 300 million citizens to take up winter sports (as asserted by President Xi Jinping earlier this year) but also lead to dramatic improvements in Beijing's environment and regional transport infrastructure.
Wang touted the 2008 Summer Olympics in Beijing as an example of China's ability to deliver a successful event. The evaluation commission, chaired by Alexander Zhukov, would "see the tremendous changes that the city has undergone" as a result of the 2008 games and "catch a glimpse of the endless new opportunities that the 2022 Olympic and Paralympic Games can bring," he said.
One change the mayor won't be touting, however, is the city's worsening air quality, as more and more cars hit the roads each year, and construction continues apace. Despite a slight improvement last year, the average reading of hazardous fine particles known as PM2.5 in Beijing in 2014 was 85.9 micrograms per cubic meter – compared to a national average of 35, according to Reuters.
Evaluation Commission Chairman Zhukov said his delegation would "probably ask some difficult questions" during its time in China, and Chinese media acknowledged that pollution was bound to be on the agenda. However, officials have promised that if the bid succeeds, Beijing and the surrounding region will reduce the use of coal, promote the use of "new-energy vehicles" and remove polluting factories. With domestic concern about air standards already pushing the government to take action, Mayor Wang promised that air quality would "meet World Health Organization standards by the start of the winter of 2022."
The legacy of the 2008 games is another concern: The famous "Bird's Nest" National Stadium is now used relatively rarely, hosting a few sporting events and concerts each year, and occasionally being transformed into a snow theme park. But Mayor Wang promised a "frugal" Winter Olympics that would "demonstrate the spirit of sustainable development." The budget has been reported at around $3 billion (by comparison, Russia reportedly spent about $51 million on the 2014 Winter Games in Sochi). Wang said Beijing would use existing venues and "strictly control construction costs," and ensure any new venues would be fully used after the games. Venues from the 2008 Olympics would be among those employed, with the Bird's Nest to host the opening and closing ceremonies, and the famous Water Cube aquatic center designated to host the Winter Olympics' curling tournament.
The delegation will also head north to the suburban Beijing county of Yanqing, scheduled to host some alpine events, and to the small town of Chongli in Zhangjiakou county, in neighbouring Hebei province, which is due to host downhill skiing. Mayor Wang promised that transport links to Zhangjiakou – currently at least a three-hour drive away – would be improved significantly, with the construction of new roads, and a high-speed rail link that would cut journey time to 50 minutes. As a result, he said, the games "would provide an unrivaled experience to enjoy the vibrancy of a major cosmopolitan city and winter sports scenery in the same day."
Officials have also emphasized that the new transport projects planned for the games will contribute to plans to bring more integrated development to Beijing and its neighboring regions of Hebei and the port city of Tianjin, something the government has announced as a major strategy.
Winter sports in China are still in a relatively early stage of development, but Chongli is home to two of China's first ski resorts (one is being developed by Malaysian resort company Genting). Streets in the mainly rural area have in recent years been lined with posters promoting a growing number of real estate developments, with names like Eiffel Town, in anticipation of the development the Winter Olympics could bring to the region.
Competition for the right to stage the games is relatively limited: Almaty in Kazakhstan is the only other remaining competitor, after several European cities dropped out over cost concerns.
But China's bid may face continuing opposition from human rights groups -- New York-based Human Rights Watch said in a statement this week that the selection process would be a test of the IOC's recently passed requirements on standards for Olympic host cities, including protection against discrimination. Its China director, Sophie Richardson, said China had failed to permit protests during the 2008 games, as it had promised, and had infringed on workers' rights. She also said the government in Beijing was perpetrating an "extraordinary assault" on civil society, with the "harshest campaign of politically motivated investigations, detentions and sentencing" in a decade.
The Beijing authorities also faced some criticism in 2008 for tight security controls in the city, which meant relatively few ordinary local citizens got access to the games; some simply left town during the games. And while the events were seen to have been delivered smoothly and efficiently, many observers described the atmosphere as less relaxed than other recent summer Olympics.
China has sought to boost its latest bid by bringing in a popular songwriter and the beloved Hong Kong-born movie star Jackie Chan, well known for his Chinese patriotism, to participate in the recording of the Winter Olympics theme tune, "Wake Up Winter." So far it's not reported to have resorted to the tactics used when the IOC visited Beijing ahead of its bid for the 2008 games, when officials were spotted spraying dried and yellowing grass with what they described as a "greening liquid."
Officials have acknowledged that artificial snow may be needed in some of the ski resorts, where snowfall is unreliable. But they say that guaranteeing sufficient snow will be no problem, despite the relative water shortages in this part of northern China.
© Copyright IBTimes 2022. All rights reserved.
FOLLOW MORE IBT NEWS ON THE BELOW CHANNELS