Jakarta ISIS Attacks Live Updates: Indonesia Economy Expected To Survive Islamic State Attack, Analysts Say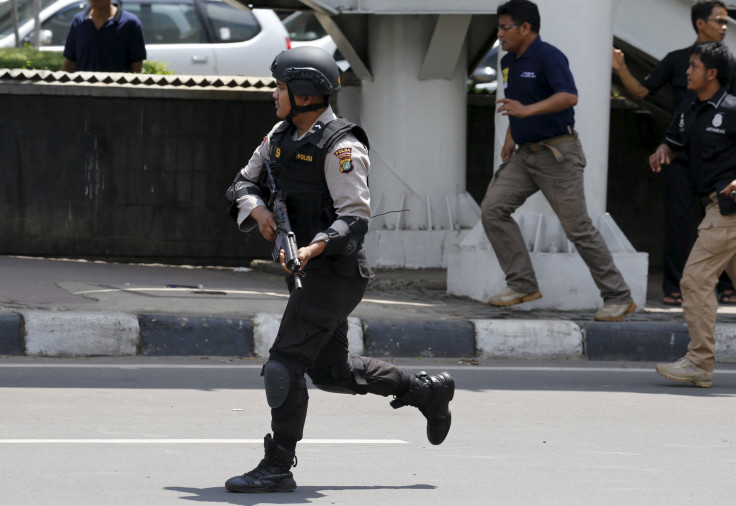 UPDATE: 11:23 a.m. EST — The Islamic State group has officially claimed responsibility for Thursday's attacks in the heart of Indonesia's capital, Jakarta. It's the first time the radical Islamic militant group has targeted Indonesia, the world's most populous Muslim country, according to Reuters.
"A group of soldiers of the caliphate in Indonesia targeted a gathering from the crusader alliance that fights the Islamic State in Jakarta," ISIS reportedly said in a statement Thursday. It added that 15 people were killed in the suicide bombings and gunfight. However, the official casualty count according to the Indonesian government is seven.
Earlier, an ISIS-affiliated news agency reported the group's responsibility for the attacks, but the claim from the group itself provides further confirmation.
Data curated by FindTheData
UPDATE: 9:52 a.m. EST — The U.S. embassy in Indonesia's capital of Jakarta warned Thursday that additional attacks are "possible." In an update on its travel advice regarding Indonesia, the embassy also said it will be closed Friday" as a precaution, "but will remain open for emergency services to American citizens. Here's the full statement:
On the morning of January 14, there were a number of explosions and gunfire at the intersection near the Sarinah Plaza on Jalan Thamrin, Central Jakarta. A number of deaths and injuries have been reported, including four suspected perpetrators of the attack. Indonesian authorities are pursuing the remaining suspects. Further incidents are possible. As the security situation remains fluid, U.S. citizens are advised to avoid Sari Pan Pacific Hotel and Sarinah Plaza on Jalan Thamrin and defer all non-essential travel in the city. Areas to be particularly avoided are malls, restaurants, cinemas and large gatherings as these could be potential targets. No U.S. citizens are among the victims. The Indonesian government has described the incident as a terrorist attack.

The U.S. Embassy strongly urges U.S. citizens to maintain a high level of vigilance, be aware of local events, and take the appropriate steps to bolster their personal security. U.S. citizens are encouraged to monitor local and international media and factor updated information into personal travel plans and activities.

As a precaution, the U.S. Embassy will be closed on Friday, January 15, for regular visa appointments and normal American citizen services. The U.S. Embassy remains open for emergency services to American citizens.

Airports remain open; however, travelers may expect delays because of heightened security measures. We encourage travelers to contact transport companies for the latest information and to arrive at airports early.

Public transportation is operational; however, some streets around the affected area may be closed. Please monitor local media for information on possible road closures.

The U.S. Embassy suggests U.S. citizens directly contact concerned family members in the United States to advise them of your whereabouts and safety.
Original story:
The deadly, ISIS-claimed attacks across Indonesia's capital Thursday will not derail the Southeast Asian country's long-term economic growth, analysts said. Hours after explosions and gunfire rang out in central Jakarta, killing at least seven people, Indonesia's central bank cut its benchmark interest rate hours in a bid to shore up the flagging economy, which is growing at its slowest rate in six years.
"The authorities moved quickly to quash the attack. Bank Indonesia (BI) also ensured that monetary transmission continued to function in an orderly manner, so it looks like the effects have been well contained," Leong Wai Ho, a Singapore-based senior regional economist at Barclays Capital, told Channel NewsAsia in an email Thursday. "There is no impact on growth."
Euben Paracuelles, Singapore-based executive director and economist at Nomura Securities, agreed that the attacks were "negative news," but they might not affect the country's economic growth outlook. Paracuelles expects Indonesia's economy to expand 5.2 percent this year after sub-par economic growth for most of 2015.
"I think this is going to hurt sentiment in the short term but given the fiscal and monetary support that's already happening, the gradual recovery we are expecting this year is still intact," he told Channel NewsAsia in an interview Thursday.
Suicide bombers detonated themselves at sites around Thamrin Street, a major shopping and business district in Jakarta. Indonesian police said the situation is now under control and five alleged attackers were among the dead. A local outfit with ties to the Islamic State group is suspected of carrying out the attacks, according to BBC News.
"We all are grieving for the fallen victims of this incident, but we also condemn the act that has disturbed the security and peace and spread terror among our people," Indonesian President Joko Widodo said Thursday, describing the attacks as an "act of terror."
The Islamic State group, aka ISIS or ISIL, reportedly claimed responsibility for Thursday's attacks in Jakarta, according to a statement released through one of its allied propaganda agencies.
"Islamic State fighters carried out an armed attack this morning targeting foreign nationals and the security forces charged with protecting them in the Indonesian capital," Aamaaq news agency said on its Telegram channel.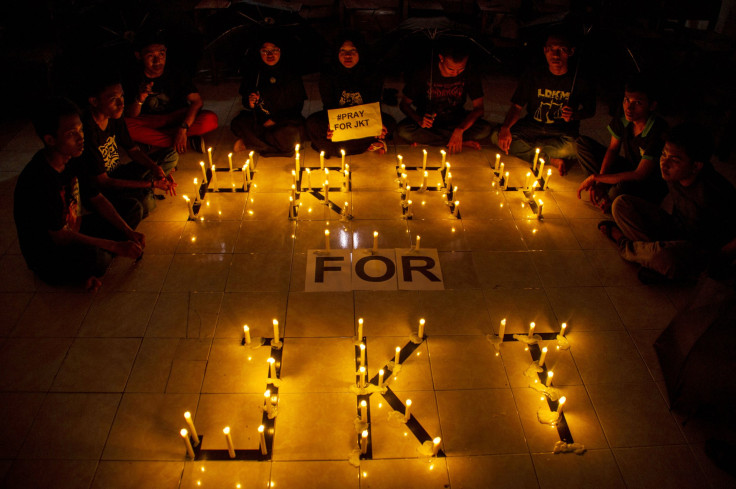 © Copyright IBTimes 2023. All rights reserved.