Janet Yellen To Be Nominated As Fed Chief By Obama On Wednesday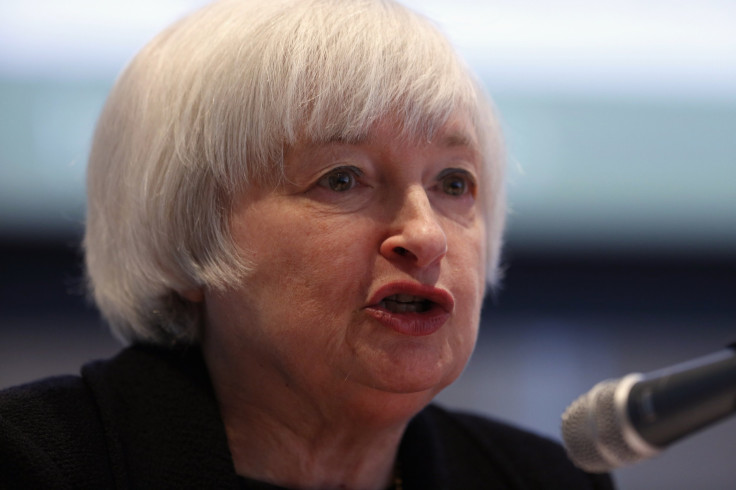 President Barack Obama plans to announce Wednesday that he is nominating Federal Reserve Vice Chairwoman Janet Yellen to become the central bank's new leader, administration officials said Tuesday night, according to the Wall Street Journal.
The White House said the announcement would come at 3 p.m. EST. The president will announce his selection in the East Room of the White House with Federal Reserve Chairman Ben Bernanke on hand.
Obama's first choice for the job -- Larry Summers, a former adviser to the president -- dropped out of the running on Sept. 15 in the face of opposition from Democratic senators.
Yellen, 67, has been the Fed's second-in-command since 2010. Her nomination would be subject to Senate confirmation amid the current partisan gridlock in Congress. If confirmed by the Senate, Yellen would become the first female Fed chief in its 100-year history.
The chairman of the Senate Banking Committee said on Tuesday he would work to move the nomination of Yellen to head the Federal Reserve "in a timely manner," according to Reuters.
"She has a depth of experience that is second to none, and I have no doubt she will be an excellent Federal Reserve chairman," Tim Johnson said in a statement. "I will work with ranking member [Republican Sen. Mike] Crapo and the rest of the members of the Banking Committee to move her nomination forward in a timely manner."
Yellen's forthcoming nomination will be greeted well by the markets. "They [the markets] will assume a continuation of the Bernanke policy. They will also assume gradualism when it comes to Fed tapering which is now likely to be delayed because of the budget, debt-limit fight's damage to the U.S. economy," said David Kotok, chief investment officer of Cumberland Advisors.
"Fed policy becomes more predictable with the announcement of her [Yellen's] appointment while Congress and the White House continue to add fuel to the fire that burns the modern day version of Rome which we call Washington," Kotok added.
Here's a list of Yellen's 14 predecessors, from the Fed.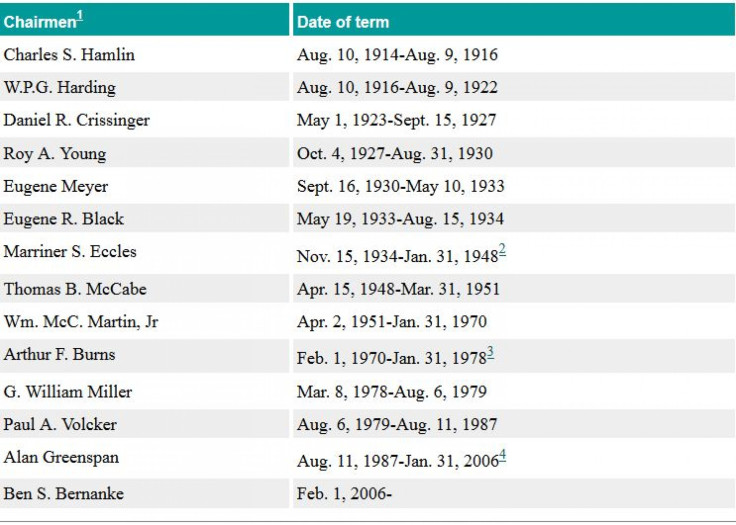 © Copyright IBTimes 2023. All rights reserved.