Fed Chair Race: Larry Summers Out, Janet Yellen In?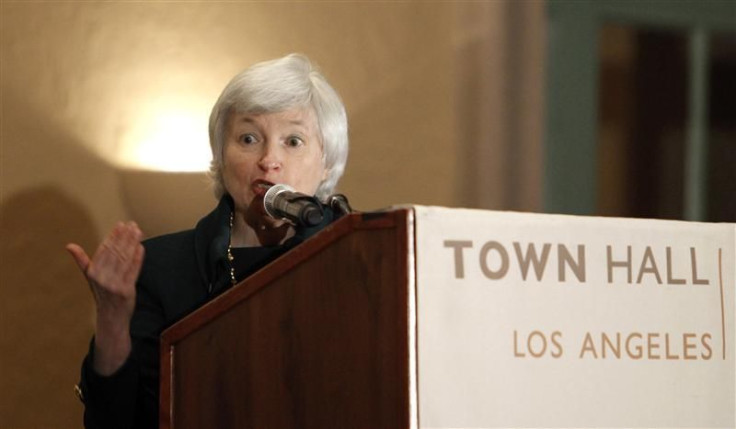 Federal Reserve Vice Chairwoman Janet Yellen might now be the leading candidate to replace Ben Bernanke, but so was former Treasury Secretary Larry Summers until Sunday afternoon.
In a surprise announcement on Sunday, Larry Summers, the presumed front-runner for Fed chief, told President Barack Obama he no longer wanted to be considered for the job. The former White House adviser had generated unusually fierce opposition from progressive groups. Most of his critics focused on his deregulatory history and his big earnings from Wall Street.
"I have reluctantly concluded that any possible confirmation process for me would be acrimonious and would not serve the interest of the Federal Reserve, the administration or, ultimately, the interests of the nation's ongoing economic recovery," Summers said in a letter to Obama.
The announcement was a major surprise for markets. At the end of last week, betting website Paddy Power had put Summers at 52 percent, over Yellen's 29 percent, with 19 percent divided among several other candidates, including Former Treasury Secretary Timothy Geithner and former Fed Vice Chair Donald Kohn.
Pimco's Bill Gross said on Twitter that the move by Summers would be interpreted positively by investors.
U.S. stocks opened sharply higher on Monday, lifting the S&P 500 to less than nine points from its all-time high of 1,709.67 on Aug. 2. The S&P 500 (INDEXSP: .INX) was up 13.46 points, or 0.8 percent, at 1,701.45.
Markets are taking the withdrawal of Summers as a candidate to head the Fed as a green light for risk, betting the current easy-money policy will stay longer should the other leading candidate for Fed chair, Yellen, get the job.
"A change in the leadership at the Federal Reserve necessarily generates a degree of uncertainty about the future course of monetary policy," said Jens Nordvig, global head of currency strategy at Nomura bank in New York. "Of all the various options, Yellen implies the greatest degree of continuity and hence the least amount of uncertainty."
Yellen has been a forceful advocate of the aggressive steps taken under Bernanke to spur economic growth, earning her a reputation as a policy "dove" who would tolerate a bit more inflation to drive down unemployment that she deemed too high.
Paddy Power shows Yellen now has 1-to-5 odds, meaning a successful $5 wager would win a $1 profit. The Dublin-based bookmaker shows Kohn has 5-to-1 odds and Geithner's are at 14-to-1. But Geithner isn't interested in the job, even after Summers' withdrawal, said a person familiar with Geithner's thinking, the Wall Street Journal reports.
"Kohn is an experienced and respected central banker, but he has not worked at the Fed since 2010. Financial markets would likely not react as well to his nomination and they would to Yellen's," said Rob Subbaraman, a Singapore-based economist at Nomura Holdings Inc.
Paul Krugman said in a blog post on Larry Summers' exit from the race to lead the Fed:
It's really, really hard to see how Obama can justify not picking Janet Yellen at this point. Nobody else is as qualified; any other choice would look like spite. Just a personal reaction: I've known Larry for all our adult lives, and looking at this sad play I realize how lucky I am to have reached a place where I'm no longer in the rat race.
That said, Yellen's nomination -- and her perceived dovishness -- are hardly guaranteed.
While Yellen has been a vocal advocate of maintaining a highly accommodative monetary policy, there is one important caveat to keep in mind. Yellen, as chairman, would have to represent the consensus of the Federal Open Market Committee to a greater degree than her speeches and statements in recent years. Therefore, her public statements as chairman might not appear as "dovish" as the market currently expects.
From this perspective, the ultimate implication of Yellen assuming the post of Fed chief may be more marginal than the knee-jerk reaction to her nomination.
In addition, "the Obama administration has shown little, if any, enthusiasm for Yellen, however, so we're not convinced she will necessarily get the nod," notes Paul Ashworth, chief U.S. economist at Capital Economics, in Toronto.
"Nominating Yellen now could make Obama look weak, kowtowing to the Democrats who have been openly campaigning for her," Ashworth said. Instead, it's possible that there will now be a delay in the nomination process, while the administration seeks a new candidate.
"We know Obama has already interviewed ex-Fed Vice Chair Donald Kohn and we wouldn't rule out the administration seeking to change Tim Geithner's mind," Ashworth said. "All things considered, Yellen is probably now the favorite, but not the near-certainty that many will proclaim her to be."
James Rickards, senior managing director at Tangent Capital Partners, is putting his bet on Geithner.
Richards followed up with another tweet this morning:
© Copyright IBTimes 2023. All rights reserved.