Janet Yellen Testimony: Four Highlights From Fed Chair's Senate Grilling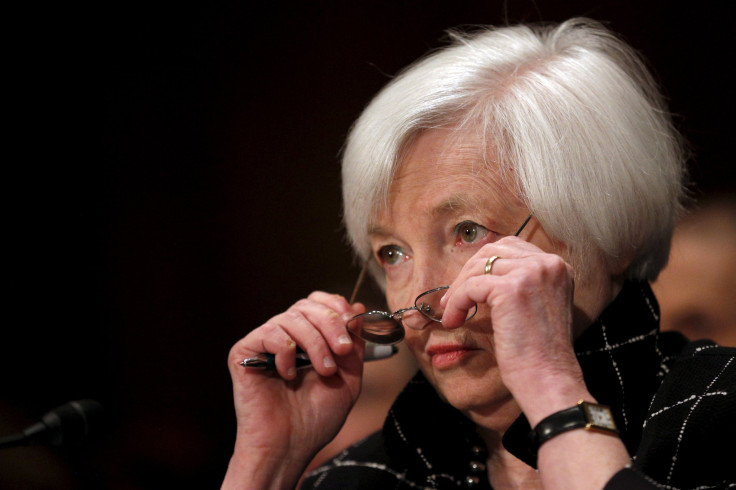 As markets plunged Thursday, Federal Reserve Chair Janet Yellen endured a second day of questioning on Capitol Hill. The day after assuring the House Financial Services Committee that monetary policy "is by no means on a preset course," Yellen faced inquiries from the Senate banking panel on everything from negative interest rates to wage inequality.
Here are four takeaways from the proceedings at the Senate Committee on Banking, Housing, and Urban Affairs.
1. Negative Rates Are Still on the Table. With central banks around the world increasingly pushing benchmark interest rates into negative territory to help stimulate sluggish economies, several senators pressed Yellen on the possibility that the Fed might pursue a similar course.
Yellen repeated that the legal situation surrounding a below-zero rate move remained cloudy, but suggested that the Fed had revisited the idea after tabling it in 2010.
"We had previously considered them and decided that they would not work well," Yellen said. But in light of the recent experience of European countries, she added, "We're taking a look at them again because we would want to be prepared in the event that we would need to add accommodations."
Beyond the murky legal outlook, the Fed has grappled with the practical limitations of imposing negative interest rates, including potential damage to the money market fund sector. "We don't even know if payments and clearing settlement systems would be able to handle negative rates," Yellen said.
The Fed's rate-setting committee meets again March 15-16. Few investors expect the Fed to raise rates at that meeting, and some have begun betting on a reversion to the near-zero benchmark that held until last December's historic rate hike.
2. The Fed Has Been Surprised by Global Market Moves. Massive swings in oil prices and the U.S. dollar have blindsided the Fed and stymied the rate-setting committee's expectations. "We have been quite surprised by movements in oil prices," Yellen said, noting that while Fed officials anticipated the dollar to zoom past other currencies as the U.S. economy heated up, its recent strengthening "is not something that we've anticipated."
On Thursday, crude prices plunged below $27 a barrel for only the second time since 2003, down 75 percent from a June 2014 peak of $108.
Both developments weigh heavily on inflation, one of the Fed's two most closely watched numbers. Due in large part to pressures from plunging energy prices and the strengthening dollar, core inflation has undershot the Fed's target of 2 percent for more than 40 straight months.
3. It's 'Premature' to Say a Recession Is Looming. In recent weeks, economists and Wall Street analysts have raised the odds that a recession could occur in 2016. A survey conducted by the Wall Street Journal found a 21 percent chance of a downturn this year.
Yellen noted the warning signs rising from overseas. "Global financial and economic developments impinge on the outlook," she said, pointing to the pain felt in global asset prices since the start of the year.
But the Fed chair cautioned against reading too much into the turmoil in global financial markets. "I think it's premature at this point to decide exactly what the consequences of those developments will be, and whether they will persist," Yellen said. Roughly two-thirds of the American economy relies on domestic consumer demand.
"There is always some chance of a recession in any year," Yellen said. "But the evidence suggests that expansions don't die of old age."
4. Job Gains and Wage Growth Have Been Shot Through With Inequality. Although the U.S. has gained 14 million jobs since President Barack Obama took office, lingering concerns over the sluggish pace of wage growth have kept economists from declaring victory in the labor market. Several senators inquired about the seeming discrepancy.
Yellen agreed that although there have been some recent indications that wages could be on an upswing, the data are volatile and evidence "tentative."
Improvements in employment haven't been evenly spread, Yellen continued. "More educated people have seen faster wage growth than those in the middle and the bottom," she said, pointing to longstanding trends of globalization and technological change. "Job creation has perhaps been more heavily skewed toward sectors that have lower pay."
But Yellen pointed out that although maximizing employment is half of the Fed's dual mandate, pushing wages up is only a secondary concern. "I would not say that wage growth is a litmus test for monetary policy," Yellen said.
© Copyright IBTimes 2023. All rights reserved.