Japan Arrests Yasuo Yamamoto For Landing Radioactive Sand-Laced Drone On Shinzo Abe's Office Roof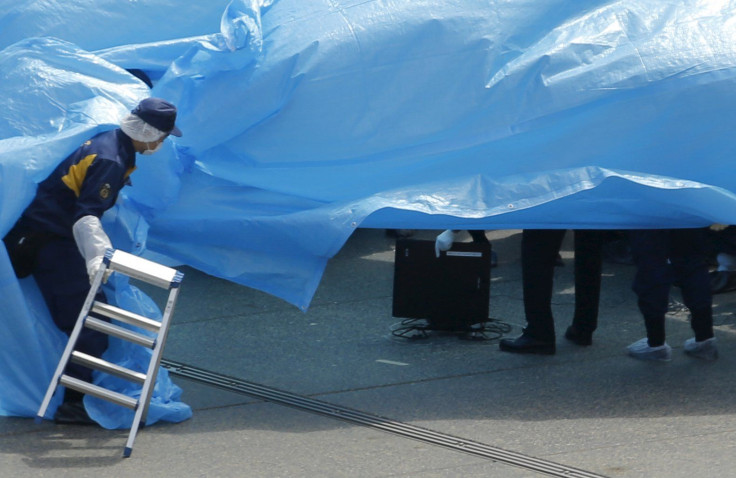 Japanese police officials on Saturday arrested a man who allegedly flew a drone to Prime Minister Shinzo Abe's office in Tokyo earlier this week. Yasuo Yamamoto, 40, handed himself over to the prefectural police department, saying he operated the drone to oppose the government's nuclear policy.
Officials also found a blog by Yamamoto in which he had mentioned that he drove to Fukushima and collected some radioactive sand, which he later attached to the drone, the Japan Times reported. He reportedly surrendered the drone controller and the sand from Fukushima to police. Officials, who are currently questioning him, arrested him on charges of forcible obstruction of official business.
Yamamoto, who had left his hometown Obama to come to Tokyo on April 8, reportedly flew the drone from a parking lot between two buildings. Officials, who had been investigating the matter since they found the drone with a radioactive material sign, had said that the radiation from the drone was too low to cause harm to humans.
The maximum penalty for Yamamoto's actions can reportedly be three years in jail or a fine of 500,000 yen ($4,200).
Yamamoto had also posted a picture of a container with 100g of contaminated sand on his blog, along with a photograph of the drone. There was also a message posted on the drone, which said, "Against restarting nuclear reactors," with a signature "Kantei Santa," or "Prime Minister's Office's Santa," NBC News reported.
"In order to prevent the restarting of nuclear reactors, one can't rule out terrorism," one of the blog posts by Yamamoto said, according to NBC News.
The Fukui Prefecture on the coast of the Sea of Japan reportedly has over 12 nuclear reactors. On Wednesday, a Japanese court approved to restart a nuclear power station in the country's southwestern part, despite critics calling the move risky after the 2011 Fukushima nuclear disaster, Reuters reported.
Until now, Japan had few restrictions on the use of drones; they were only barred from being flown near an airport or within a flight route. However, the incident has prompted the government to call an emergency meeting to discuss stricter rules.
"We need to immediately establish" rules on using drone, Yoshihide Suga, chief cabinet secretary, said, according to Japan Times. He also referred to the incident as a "grave issue in terms of crisis management" and added that drones "could have a substantial impact on public safety and privacy protection, depending on how they are used."
© Copyright IBTimes 2023. All rights reserved.
FOLLOW MORE IBT NEWS ON THE BELOW CHANNELS