Japan And China Relations: First Joint Security Talks In 4 Years Scheduled To Take Place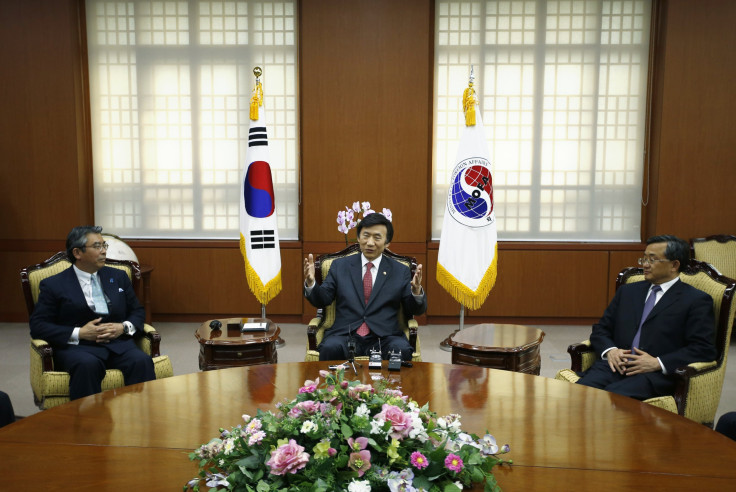 Japan and China are finally making moves toward possible improvements in diplomatic relations, as the two countries are planning to hold their first security talks in four years, Japan's foreign ministry said Thursday. The severed ties between the two countries since the end of World War II have never been mended fully, and recent disputes over maritime territory and China's allegation of Japan's non-apology for its wartime aggression have only further soured bilateral relations.
Japanese Deputy Minister for Foreign Affairs Shinsuke Sugiyama is scheduled to meet Chinese Assistant Minister of Foreign Affairs Liu Jianchao in Tokyo Mar. 19, according to the Wall Street Journal. The two sides are expected to discuss security and defense issues during the 13th Japan-China security dialogue meeting. The last such meeting took place in January 2011 in Beijing; the first talks began in 1993.
The upcoming meeting signals the efforts from both countries to repair relations, which was foreshadowed in November when Japanese Prime Minister Shinzo Abe met Chinese President Xi Jinping for the first time during the Asia-Pacific Economic Cooperation forum, according to Reuters. That same month, Japanese Minister for Foreign Affairs Fumio Kishida had met Chinese Foreign Minister Wang Yi and agreed to restart security talks that had been left frozen for many years.
In the meantime, China is scrutinizing Abe's every move. "We will be watching closely when Prime Minister Shinzo Abe delivers his statement on the occasion of the 70th anniversary of the victory of the World Anti-Fascist War," Qian Lihua, a political adviser and former head of China's Ministry of National Defense's foreign office, said to state-run media Xinhua. He added that bilateral relations will be further hit if Abe backtracks on previous statements made by former leaders Tomiichi Murayama and Junichiro Koizumi, who apologized for Japan's aggression.
The two countries' tensions over the islets in the South China Sea called the "Diaoyu islands" and "Senkaku islands" have recently increased. On Thursday, China launched English and Japanese versions of a Chinese government website asserting Beijing's claim over the islands, according to Japan Times. Abe's and other Japanese politicians' offerings to the controversial Yasukuni Shrine honoring convicted war criminals last year have also angered China. Recently, China has invited world leaders to a military parade in Beijing that would commemorate the 70th anniversary of World War II and remind people of Japan's role in the war.
© Copyright IBTimes 2023. All rights reserved.