Japan ISIS Update: Abe Seeks Help From Middle East Allies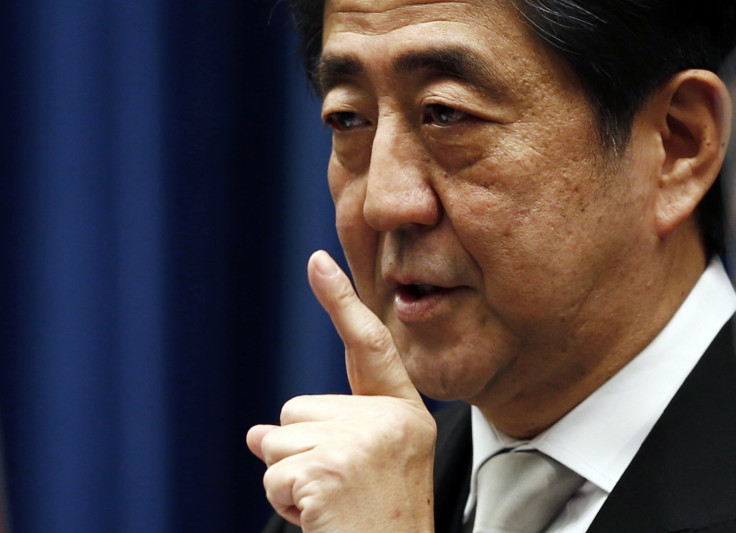 Japanese Prime Minister Shinzo Abe has called upon his Middle East allies to rescue the two Japanese hostages held by the terror group known as the Islamic State. As it enters day two of the three-day ultimatum given by the Islamic terrorists to pay a $200 million ransom, Abe has vowed to save the lives of the hostages, but has also said Tokyo will not cave in to terrorist demands and will not pay the ransom.
Abe said he has contacted Middle Eastern leaders King Abdullah of Jordan, Turkish President Recep Tayyip Erdogan, Egyptian President Abdel Fattah el-Sisi and Palestinian leader Mahmoud Abbas for help in rescuing the hostages, according to Agence France-Presse.
"This is a very tough race against time, but the government will do its utmost," Abe told reporters. "I have ordered the government to use all diplomatic channels and routes possible ... to ensure the release of the two people."
The Jordanian King has said that his country is ready to provide as much information and support as needed, according to Japanese news media NHK. Abbas also said in a joint news conference with Abe that an "ugly deed like this hostage-taking" should be denounced in the light of Islamic values, and that Palestinians are united with the Japanese people. Egypt and Turkey have expressed willingness to help, too.
Abe, who had planned to tour the Middle East until Jan. 24, cut short his trip and left on Tuesday evening upon learning of the capture of the two Japanese hostages, identified as Haruna Yukawa and Kenji Goto, according to AFP.
The Islamic State released a video on Tuesday showing two Japanese men in orange jumpsuits with a captor brandishing a knife and threatening to behead them, similar to what the group has done to five other captives before. This is the first time they have publicly made threats with a Japanese captive. "You now have 72 hours to pressure your government into making a wise decision by paying the US$200 million to save the lives of your citizens," the captor said, adding that the monetary figure reflects the amount that Abe had promised Middle East countries in nonmilitary aid to fight terrorism in the region.
The deadline for Tokyo to pay up is 2.5o p.m. Tokyo time on Friday.
Experts believe that the Islamic State's strategic ultimatum is more for publicity and less about actual hopes of being paid the ransom. "They kept Yukawa and Goto locked up ... waiting for Japan to announce their role in the fight against ISIS," James Simpson, Tokyo-based defense analyst told Japan Times. "They then issued a video on very short notice asking for more money than any government would be willing to pay. They win either way: Either Japan pays up and ISIS hits the jackpot, or they kill the hostages and spread their message of fear and terror to a new target."
© Copyright IBTimes 2023. All rights reserved.