Japan Reports Better Factory Output, Lower Manufacturing PMI Contraction; A Weaker Yen Helped Exports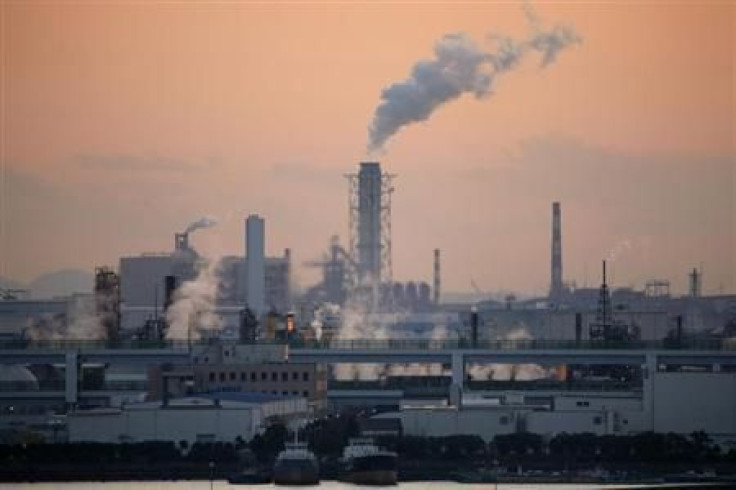 Japan's industrial output rose at its fastest pace in 18 months in December, but it was still slower than estimated, while the country's manufacturing PMI contracted in January, but at its slowest pace in four months, strengthening hopes of economic recovery after months of weak exports.
Analysts believe stabilization in overseas economies and improvement in export orders are likely to strengthen manufacturing activity in the coming months.
Japan's factory output rose at the lower-than-expected rate of 2.5 percent in December, after a 1.4 percent decline in November, data from the Ministry of Economy, Trade and Industry showed Thursday. Analysts polled by Reuters had forecast factory output to grow at 4.5 percent.
Analysts said the data indicates the economy has bottomed out, while the trade ministry attributed the positive trend to the Japanese government's recent fiscal policy measures.
"The results are not that bad and the forecasts show that production could continue to grow at a good pace," Shuji Tonouchi, senior fixed income strategist at Mitsubishi UFJ Morgan Stanley Securities, told Reuters. "We can say that production is bottoming out. Overseas economies are not likely to deteriorate any further, so this will support Japanese production and the overall economy."
Backed by the Japan Central Bank's open-ended monetary easing policy, Prime Minister Shinzo Abe's government adopted a stimulus-spending policy to bolster economic activity. Recent depreciation of the Japanese yen against the dollar seems to have strengthened the exports, making them more affordable and competitive.
Japan's Manufacturing PMI Contracts At A Slower Pace In January
In a separate report published by the Markit/JMMA Thursday, Japan's Manufacturing Purchasing Managers' Index (PMI) declined in January at its slowest pace in four months, but operating conditions continued to deteriorate and new orders and output fell on weak overseas demand.
According to the data, the headline PMI climbed to a seasonally adjusted 47.7 in January from 45.0 in December, which was the lowest growth rate in more than three years.
Any index number below 50 indicates an economic contraction. The continued shrinking of the country's manufacturing activity is seen increasing the likelihood of a sharp contraction in the economy.
The data showed that despite an improvement in the manufacturing activity in December, the business climate remained challenging with output, new orders and employment registering contractions. The operating costs increased for the first time since April 2012, largely due to the depreciation of Japanese Yen.
Data showed "a lack of market demand, both at home and abroad in January. New order volumes again fell at a sharp rate, with order books deteriorating across all three market groups covered by the survey," Markit said.
Orders from foreign markets slumped for the 10th consecutive month, while manufacturers continued clearing work backlogs.
"Operating conditions for Japan's manufacturing sector remained challenging at the start of 2013, with a number of key barometers measuring the sector's health stuck in contraction territory. Although rates of decline generally slowed, the latest data remain consistent with another fall in output on official measures," Paul Smith, senior economist at Markit, said in a note.
The depreciation of the yen has resulted in an increase in input prices for manufacturers in January. However, analysts are hoping weakness in the currency will boost exports.
"Of course, in time the hope is that a weaker currency will instead provide a boost in export competitiveness to leave Japan better placed to benefit from the nascent upturn in global manufacturing performance," Smith added.
© Copyright IBTimes 2023. All rights reserved.