Japan Sends Warship To Indonesia Amid Increasing Role In South China Sea Tensions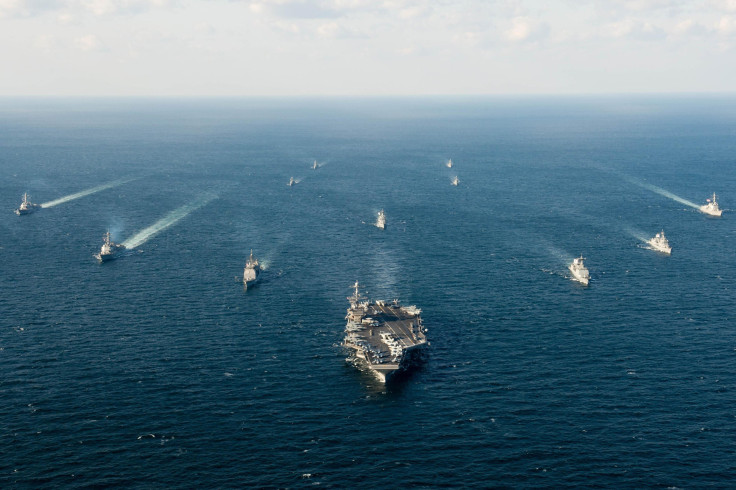 In another assertive move, Japan is sending a warship to take part in a joint exercise with Indonesia from Tuesday to Saturday as tensions remain high in the South China Sea. Japan has increased its criticism of China in recent months as it deals with its own dispute with Beijing in the East China Sea.
Japan has sent a helicopter destroyer to take part in a joint naval exercise with the Indonesian navy off the coast of Sumatra, the Diplomat reported. The Ise vessel first stopped at Subic Bay in the Philippines where U.S. troops are present. The warship's passage through the waters of the South China Sea was meant to send a signal to Beijing, an unnamed Japanese official told local media. The U.S. has sent its own vessels to the region in recent months for freedom of navigation patrols.
Tensions remain high in the South China Sea, with foreign ministers from the Group of Seven – Canada, France, Germany, Italy, Japan, the U.K. and the U.S. – issuing a statement Sunday highlighting China's aggressive actions in the region without explicitly naming Beijing. China has built artificial islands as well as airstrips in the region.
Islands Disputed in the South China Sea | Graphiq
"We express our strong opposition to any intimidating, coercive or provocative unilateral actions that could alter the status quo and increase tensions, and urge all states to refrain from such actions as land reclamations, including large scale ones, building out outposts, as well as their use for military purposes and to act in accordance with international law including the principles of freedoms of navigation and overflight," the statement said.
Beijing struck back at Tokyo over the G-7 statement accusing Japan of being a "regional wave-maker keen on rocking the boat," Bloomberg reported. Japan and China have both laid claim to the Senkaku Islands, known as the Diaoyu Islands in Chinese.
Over $5 trillion worth of trade passes through the South China Sea every year. Brunei, China, Malaysia, the Philippines, Taiwan and Vietnam have all laid claims to areas of the contested waters. China has laid claim to over 80 percent of the South China Sea.
© Copyright IBTimes 2023. All rights reserved.