Japanese Emperor Visits Philippines Amid World War II Sex Slave, South China Sea Issues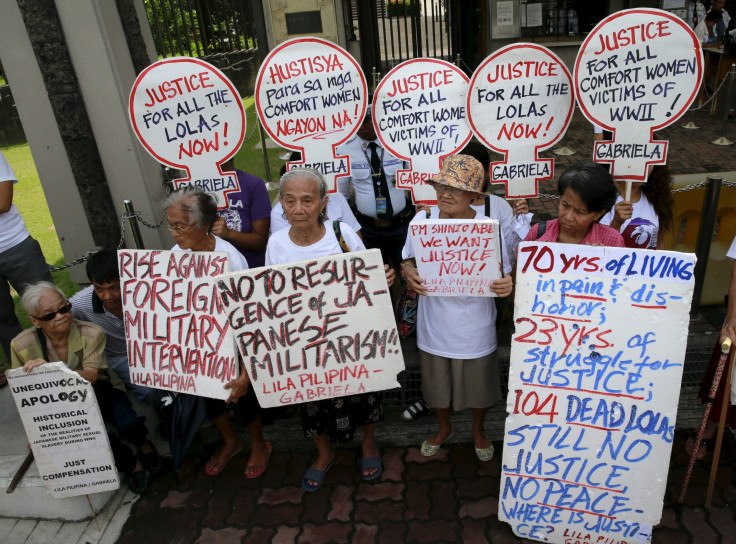 The Japanese emperor and empress began a visit to the Philippines on Tuesday, amid calls for reparations for World War II sex slaves. South Korea won an $8.7 million settlement from Japan last month, but the Philippines government may be focused on military aid as China grows more assertive in the region.
Emperor Akihito and Empress Michiko will be President Benigno Aquino's guests at a state dinner Wednesday and will visit a memorial to Japanese soldiers south of Manila on Friday before returning to Japan on Saturday, according to media reports.
"President Aquino should address the oppression we suffered. We haven't received any justice. We have lost a lot. We lost our dignity. The only thing we got from the Japanese soldiers was trauma," 85-year-old Narcisa Claveria said at a news conference Friday, as reported by local website Rappler.
Lila Pilipina, an organization dedicated to the so-called "comfort women" issue, estimates 1,000 Philippine women were made sex slaves in World War II, when Japan occupied the Philippines from 1942 to 1945, according to Rappler. About 70 known victims are still alive, mostly in poor health, with just three others joining Claveria last week.
Some are seeking part of the reparations Japan paid to the Philippines after the war, as well as an official apology. The women deem apologies offered so far, and offers of money sourced from private funds, as insufficient, Agence France-Presse reported.
Japan issued an apology and agreed to a 1 billion yen ($8.5 million) payment for South Korean "comfort women" last month, although some South Korean groups objected, saying they were not consulted.
There are no talks to obtain a similar deal for the Philippines and it won't be brought up during Akihito's visit, Philippine foreign affairs spokesman Charles Jose said, according to AFP. Another official pointed out that because Akihito, unlike other royals, is not head of state, any such discussion is even less likely.
What Philippine and Japanese officials have been talking about and working on is increased military cooperation and -- from Japan -- aid. They are working on a deal that would allow Japan to give the Philippines military equipment, in a way that may be similar to how the U.S. gives the Philippines decommissioned vessels. They are also studying a so-called Visiting Forces Agreement that would allow Japan to station troops in the Philippines for training and other purposes.
The U.S. and Japan are taking steps to support the Philippine military in an attempt to slow China's expansion in the South China Sea, where it is building and expanding islands in waters contested by various Southeast Asian nations. While the Philippines has one of the weakest militaries in the region, Aquino has been one of the most vocal leaders against China's moves, even taking the Asian superpower to an international arbitration court.
© Copyright IBTimes 2023. All rights reserved.
FOLLOW MORE IBT NEWS ON THE BELOW CHANNELS