Japanese ISIS Hostages: Tokyo Tries To Contact Militant Group As Deadline For $200M Ransom Nears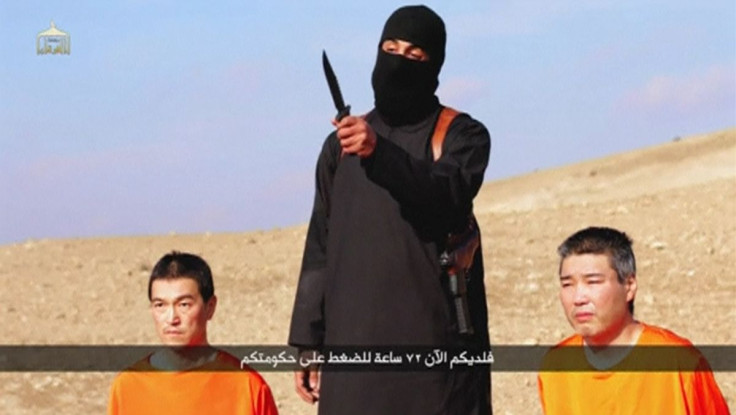 Japan said Thursday that it has failed to contact the Islamic State group as the deadline nears for the country to pay a $200 million ransom to secure the release of two Japanese hostages held by the Sunni militant group. On Tuesday, ISIS had released a video threatening to kill the two men if it was not paid the money within 72 hours.
According to Japanese Chief Cabinet Secretary Yoshihide Suga, the country's officials have so far heard nothing from the extremist group about the current condition of the two Japanese citizens, Kenji Goto and Haruna Yukawa, CNN reported, adding that Japan has been trying to reach the ISIS through third parties, such as governments in the region and local tribal leaders. According to Tokyo, ISIS' ultimatum will expire at 2:50 p.m. Friday local time (12:50 a.m. EST), CNN reported.
"You have proudly donated $100 million to kill our women and children, to destroy the homes of the Muslims," an ISIS militant said in the video, adding that the Japanese were being targeted for their country's support of Western military efforts against ISIS.
Japan has repeatedly stressed that its military is not involved in the U.S.-led coalition airstrikes against ISIS positions in Iraq and Syria. The Japanese government has also said that the funds the country had offered in the region were for humanitarian purposes and not for aiding military forces.
Meanwhile, foreign policy experts have said that Tokyo has limited options to secure the release of the two hostages.
"It's fairly straightforward," Arne Kislenko, who teaches international relations at Toronto's Ryerson University, told CBC News. "They do one of two things: Either nothing at all or they pay the ransom and both have fairly substantial consequences… They [ISIS] are bound to execute them."
While Japanese Prime Minister Shinzo Abe has sought help from Middle Eastern countries for the rescue of the hostages, the U.S. has discouraged negotiating with ISIS, arguing that it could give the terrorist group validity among its sympathizers.
If Abe chooses to pay the ransom, "he will go down a notch as being a reliable ally internationally," Shihoko Goto, senior associate of the Asia Program at the Wilson Center think tank in Washington D.C., said.
© Copyright IBTimes 2023. All rights reserved.