Japan's Economic Outlook: 7 Themes To Watch In 2014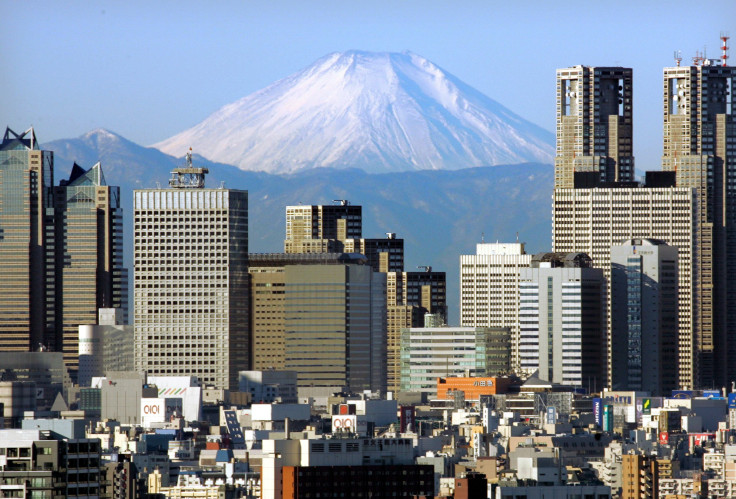 Japan's economy has improved dramatically since Prime Minister Shinzo Abe took office last December with promises to end two decades of deflation and tepid growth. Here's a rundown of the major events and themes that economists predict will shape Japan's economy and markets in 2014.
1. Consumption Tax Hike
"The growth outlook will largely be shaped by the consumption tax hike in April," said Marcel Thieliant at Capital Economics in a note. "We should see an acceleration in demand in the first quarter, a slump in the second quarter and a recovery in the second half of the year."
Japan's national debt topped 1 quadrillion yen ($10.46 trillion) in the second quarter. That's larger than the economies of Germany, France and the U.K. combined. Today, Japan's gross public debt is by far the highest among advanced economies, standing close to 240 percent of GDP.
The tax hike is a double-edged sword. It would help raise revenue and prove that Japan is committed to fiscal reform, but the measure would also become a drag on the economy.
"The hit to growth may not as severe as in 1997, the last time Japan raised the sales tax, as the government has also rolled out a stimulus package to counter the effects," Betty Rui Wang, Standard Chartered's Japan economist, said in a note.
The increase in sales tax will take about 8 trillion yen from consumers' pockets annually. But with an offsetting 5.5 trillion yen stimulus package unveiled by the Cabinet and a reduction in corporate tax revenue, Thieliant expects the resulting drag on economic growth to be fairly mild.
Capital Economics' 2014 full-year GDP growth forecast is 1.5 percent, compared with a likely outturn of around 1.8 percent this year. With the fiscal stimulus due to expire in 2015, Thieliant expects a further slowdown then to 1.0 percent.
The national sales tax is set to rise to 8 percent in April and could rise to 10 percent in 2015 if the government goes ahead with its fiscal consolidation plan.
2. Trans-Pacific Partnership (TPP)
Thieliant expects to see an agreement on the Trans-Pacific Partnership in the first few months of 2014. The three-year-old TPP talks, now led by Japan and the U.S., ended in Singapore two weeks ago without a deal.
Abe said last Thursday that while he was determined to swiftly conclude the TPP talks, he will not make any easy concessions, according to the Japan Times. Japan and the U.S. have been struggling to resolve differences over tariffs and other issues in bilateral talks taking place on the sideline of the full TPP negotiations. According to many estimates, Japan's economy will be about 2.5 percent larger in 2025 with the TPP than it would be without it.
"A pivotal factor in the success of the talks is likely to be the Japanese government's willingness to reduce measures protecting farmers," Thieliant said.
3. Energy
Prior to the 2011 nuclear disaster in Fukushima, Japan generated 30 percent of its electrical power from nuclear reactors and planned to bump that share to 40 percent. At the moment, Japan is entirely without nuclear energy – for the first time since 1970.
Japan's trade deficit has ballooned since 2011 due to the need to import energy and the effect of a weaker yen. Abe has been pushing for the country's 50 usable reactors to restart as soon as possible after passing safety checks by the Nuclear Regulation Authority, but the NRA said in November that it was not sure when the inspections will be completed.
Japan, the world's largest importer of liquefied natural gas, is also seeking closer cooperation with India to reduce the costs of imports.
4. Reforms
"Progress on reforms will determine whether Japan can transform stimulus-based recovery momentum into sustainable long-term growth," Wang said, adding that implementation will be critical in 2014.
The Japanese government rolled out its growth strategy in June, but the 142-page plan did not thoroughly address key issues such as labor-market and tax reforms.
Abe wants to encourage more women to join the workforce to counter Japan's shrinking labor supply and aging population. "Womanomics" is seen as "a vital component of Abenomics."
According to a McKinsey report, Japanese women make up 49 percent of university graduates and 45 percent of entry-level jobs -- but less than 1 percent of CEO positions. Abe has called for increasing the number of women in leadership positions to 30 percent by 2020.
The Japanese government is also working on a bill to set up "national strategic special zones" that will offer deregulation and tax incentives.
Other reforms under consideration involve the energy and agricultural sectors. These include the liberalization of the retail electricity market and the promotion of the agriculture, forestry and fishery industries, according to Société Générale's chief Asia Pacific economist Klaus Baader.
5. Politics
Wang sees limited political risk to Abe's government in 2014.
If Abenomics can achieve the desired result of boosting growth, it would increase government stability after Japan's run of six different prime ministers in six years.
The upper and lower houses of parliament are both controlled by the ruling Liberal Democratic Party, while the Democratic Party of Japan, the largest opposition, is politically weak. If the lower house is not dissolved early, a national election is not expected until the upper house election in the summer of 2016, according to Wang.
6. Bank of Japan
The Bank of Japan wrapped up its last meeting of the year on a confident note. Headline inflation has picked up sharply since the central bank launched its Quantitative and Qualitative Monetary Easing Program in April this year.
"With inflation tracking in line with the BoJ's 2013 forecasts and growth expected to accelerate in the run-up to next year's sales tax hike, there is little urgency for the board to deliver additional easing in the near term," Izumi Devalier, a Japan economist at HSBC, said in a note.
Devalier expects the BoJ to wait until the third quarter of 2014 before launching additional easing.
7. Markets Outlook
Thieliant forecasts the yen will fall further against the dollar to 110 by the end of the year, as BoJ policy remains expansionary while the Fed tightens.
Ongoing monetary stimulus should also keep Japan government bond yields anchored at around 0.75 percent. In addition, a weaker exchange rate coupled with the ongoing economic recovery should lift the stock market. Capital Economics' end-2014 forecast for the Nikkei is 16,250.
© Copyright IBTimes 2023. All rights reserved.