Japan's Nikkei Touches Eight-Month High Amid Stimulus Measure Expectations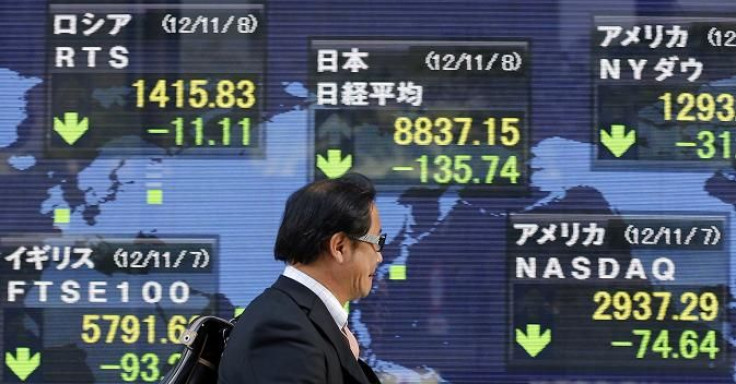 Japan's Nikkei average rose above 9700 Thursday to reach an eight-month high as investor sentiment was lifted on hopes that policymakers will soon announce stimulus measures to boost growth of the world's third-largest economy.
The Nikkei gained 1.79 percent or 171.41 points to reach 9752.87 points. Major gainers were Toyota Motor Corp. (1.7 percent), Fujitsu Ltd. (3.70 percent) and Mazda Motor Corp. (4.41 percent). The Japanese yen reached its lowest point in eight months at 83.44 yen to the dollar.
Last month, Japan faced a sudden development on the political scene when Prime Minister Yoshihiko Noda dissolved the Diet ahead of the general elections, which will be held on Dec. 16. Investor confidence rose on the hope that the main opposition, the Liberal Democratic Party, led by Shinzo Abe, who is a proponent of aggressive monetary easing measures, will win the next elections.
"Politicians have sought to divert attention from their own lack of ideas to put the economy on a stronger footing by chastising the Bank for its lack of monetary stimulus. This is likely to intensify as a new government seeks to assert its mandate," Capital Economics said in a note.
Japan's monetary base rose in November compared with the same period last year, indicating that an easing of monetary policies led to an increase in the amount of currency in circulation, which in turn results in reviving economic growth. According to the data released last week by the Bank of Japan, the country's monetary base, which measures the change in the total amount of domestic currency in circulation and current account deposits held at the central bank, advanced 5 percent in November while it posted a 10.8 percent gain in October.
With Japan's gross domestic product contracted in the third quarter compared with the previous quarter, policymakers are under pressure to ease monetary policy further. The revised data released earlier this month by the Cabinet Office showed that the country's GDP, which measures the annualized change in the inflation-adjusted value of all goods and services produced by the economy, shrank to 0.9 percent in the quarter ending Sept. 30, down from a 0.1 percent gain in the previous three months.
In October, the Bank of Japan announced more monetary policy easing, which resulted in the expansion of the Asset Purchase Program (APP) by about 11 trillion yen ($138-billion). This brings the total size of the APP to about 91 trillion yen, of which 25 trillion yen is in loans and the remaining 66 trillion yen is allocated for asset purchases. The policy board agreed on a further allocation of five-trillion yen in Japanese government bonds and treasury bill purchases and announced 0.91 trillion yen in purchases of risk assets.
© Copyright IBTimes 2023. All rights reserved.