Jars Of Soup Recalled In Dozens Of States Over Allergy Concerns
KEY POINTS
The products contain vegetable minestrone soup but are labeled as something else
The affected products may then contain an undeclared allergen
Customers who have the product may return them to get a refund
Jars of soup are being recalled because they may contain an undeclared allergen. The products, which are "mistakenly labeled," were distributed in 32 states.
The recall affects certain bottles of Rao's Made for Home Slow Simmered Soup, Chicken & Gnocchi, according to the announcement on the U.S. Food and Drug Administration (FDA) website. The problem lies with the packaging, in that the bottles actually contain vegetable minestrone but were distributed in packaging "mistakenly labeled" as Chicken & Gnocchi.
"The affected soup is labeled as Chicken & Gnocchi, but will contain vegetable minestrone, which is dark red," the announcement explained.
Customers may see sample photos of the affected bottles on the FDA website.
The vegetable minestrone product reportedly contains egg, which is one of the most common food allergens. As the product was packaged with labeling that doesn't declare the egg's presence, this could be problematic for those who are allergic or severely sensitive to it. They may risk experiencing a "life-threatening" allergic reaction if they eat the product, according to the announcement.
As one of the most common food allergens, egg has specific labeling requirements under the Food Allergen Labeling and Consumer Protection Act of 2004, according to the American College of Allergy, Asthma & Immunology (ACAAI). This is important in the case of egg since it is one of the ingredients that aren't always obvious in food products and tend to be a "hidden ingredient" in many food items including salad dressings and canned soups.
So far, there have been no reported illnesses or complaints related to the recall.
The recall affects 16-ounce jars with the "best by" date of Nov. 15, 2024, along with "EST 251 Code Date 2320 MDV 046030Z009, UPC 747479400015" marked on them.
The affected products were distributed in retail stores in 32 states: Alabama, Arkansas, Arizona, California, Colorado, Connecticut, Florida, Georgia, Iowa, Illinois, Indiana, Kansas, Kentucky, Louisiana, Maryland, Maine, Michigan, Minnesota, Missouri, Mississippi, North Carolina, New Hampshire, New Jersey, New York, Ohio, Oregon, Pennsylvania, Tennessee, Texas, Utah, Virginia and Wisconsin. These were distributed from Dec. 8, 2022, until last week, Jan. 27, 2023.
Customers who find that they are in possession of the recalled soup may take them back to the store they bought it from to get a full refund. Those who have questions about the issuance may contact the company, Sovos Brands Intermediate, at 1-800-466-3623.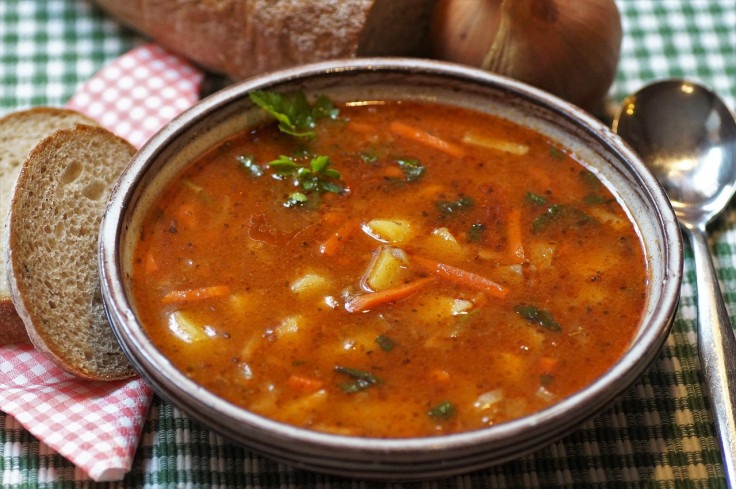 © Copyright IBTimes 2023. All rights reserved.