Jason Petrie Takes Heat From Nike, Twitter Over Derrick Rose 'Chose Poorly' Comment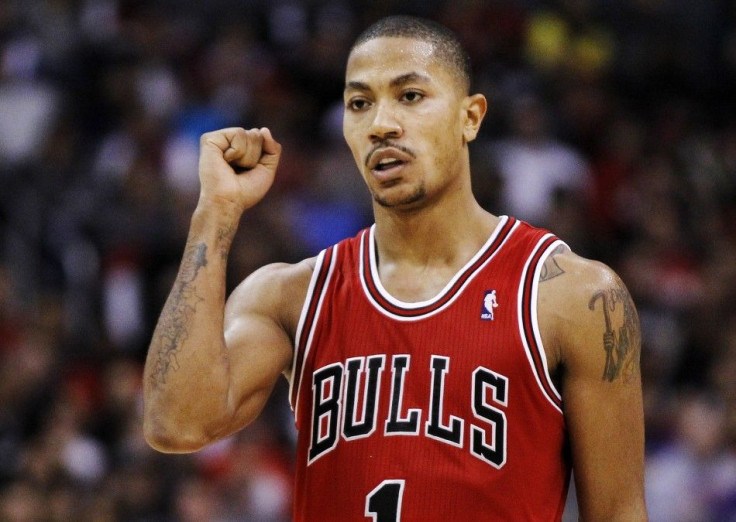 Nike shoe designer Jason Petrie is taking heat on Twitter and from the athletic wear company over his mocking of Chicago Bulls point guard Derrick Rose's decision to sign a shoe contract with Adidas after Rose suffered a season-ending ACL tear in the Bulls-76ers playoff matchup Saturday.
You got one guy only getting stronger, and one guy breaking down before our very eyes. You chose poorly Pooh... #shouldasignedwithNIKE #GWS, Petrie tweeted, referring to Miami Heat superstar LeBron James and Rose, whose season is over after tearing his ACL in the Bulls-Sixers matchup on Saturday.
Nike called the comment inappropriate.
As a brand that is passionate about sport, we recognize the intense level of play that every athlete has engaged in during this basketball season and respect the dedication it takes to compete, Nike spokesman Brian Strong said in a statement. One of our basketball footwear designers posted comments online that we feel are inappropriate, and he has since apologized. We wish anyone who is injured a speedy recovery.
Petrie said the comment was made in a tongue-and-cheek manner, but Twitter users took the remark the wrong way.
Man, you're a f------ douchebag. I hope you tear your ACL in your hyperdunks tomorrow, opined @hoopstradamus.
Petrie said he meant no ill-will towards Rose.
Y'all take sh#t too serious! Never want to see anyone get hurt- I hope DRose comes back stronger than ever, he's too good..., he tweeted Sunday.
On Monday, Petrie continued with another apology.
Wow! Twitterverse I do apologize. It was really just tongue n cheek! Never meant any harm or disrespect!, he said.
Still, Twitter users did not believe Petrie was being sincere.
[Y]ou a b---..and that ain't tough guy talk. You really are a b----, said user @Stidy_96.
[K]armas a b----...hoping that your stupid comment comes back to haunt you....SOON, said @bone256.
In February, Rose, the Bulls' marquee player, inked a 14-year, $250 million deal with Adidas.
It's great, man, Rose told ESPN Chicago at the time. We've been trying to get it out of the way for a long time. I just remember them bringing it up to me and I couldn't really think about the amount. I'm just blessed and feel grateful right now.
The Bulls won the opening game of their series with the 76ers, 103-91. Chicago and Philadelphia tip off again Tuesday on TNT at 8 p.m. EST.
© Copyright IBTimes 2022. All rights reserved.
FOLLOW MORE IBT NEWS ON THE BELOW CHANNELS