Jay Cutler Doesn't Care What You Think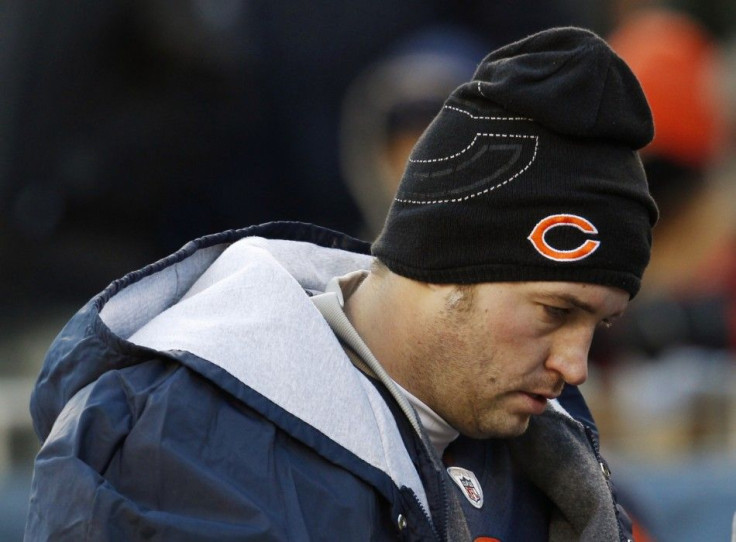 The most endearing thing about Jay Cutler is that he's kind of a jerk. The Chicago Bears quarterback, while crazy-talented, has never lived up to the hype surrounding him, and that -- combined with the mopey attitude fans see -- has made him incredibly easy to hate. And, oh yeah, he's engaged to a blond bombshell reality-television star.
Add it all up, and Cutler is probably the most polarizing -- and frustrating -- player in professional football.
Rooting against Cutler is good for the game. Fans love to cheer for personalities, anything to contradicts the idea that we're tuning in every Sunday just to cheer for jerseys. But not everyone can be a golden boy like Peyton Manning, and for the NFL faithful to rally behind a scrappy underdog like Drew Brees, there has to be a smug bro like Cutler.
This week, Cutler wished the Green Bay Packers good luck with trying to stop Chicago's receivers in man-to-man coverage during their game on Thursday night. Those were strong words from a guy facing a defense that's just one season removed from winning the Super Bowl, and a fact not lost on Packers cornerback Charles Woodson.
"It's the same old Jay. We don't need luck," Woodson told the Chicago Tribune. "We just need to be in position. Jay will throw us the ball."
And throw them the ball he did. Woodson and the Packers defense embarrassed Cutler with seven sacks and four interceptions as Green Bay beat Chicago, 23-10.
"They didn't play, man, so why would they say anything?" Cutler mumbled during his postgame press conference when a reporter reminded him of his prior comments. He also defended his decision to scream at -- and bump -- the Bears' offensive line after they provided anything but protection.
"I care about this," Cutler told reporters. "This isn't a hobby for me. I am not doing this for my health. I am trying to win football games and get first downs. When we're not doing the little things or not doing things the right way consistently I'm going to say something. If they want a quarterback that doesn't care, they can get somebody else."
Cutler's attitude is what makes him so captivating. The dude owns his arrogance. He knows he's the bad guy, the one that every fan outside the city of Chicago -- and some in it -- want to see throw away the big game after the two-minute warning. Cutler isn't concerned about how he's perceived, as other quarterbacks are (particularly one whose name rhymes with Slim Slebow), only with how he plays.
He's the perfect punching bag for the NFL media in heading into Week 2 of the season. Football writers love nothing more than a good old-fashioned train wreck: Just look at the obscene amount of coverage the New York Jets have received since the trade for Tim Tebow. With Cutler laying an egg at Lambeau Field against Aaron Rodgers, who may be the face of the league right now, they have a storyline that will last until the chatter around this weekend's games really heats up.
"Cutler clearly has his faults, but he's the ultimate punching bag for the NFL media. Guy can't win," the sports media blog Awful Announcing tweeted Friday.
"Teddy Bruschi thinks Jay Cutler should publicly apologize to his entire offensive line. Shouldn't that be the other way around?" it tweeted later.
It's telling that Bruschi, one of the most respected players in recent memory, would criticize Cutler even though the QB doesn't seem to be a problem in his own locker room, as juicy as that story would be. After Cutler came out of the Bears' NFC Championship game in 2011, linebacker Brian Urlacher spoke up for his teammate amid the criticism.
"Jay was hurt. I don't question his toughness. He's tough as hell. He's one of the toughest guys on our football team," Urlacher told ESPN at the time. "He doesn't b---h. He doesn't complain when he gets hurt. He goes out there and plays his a-- off every Sunday."
Remember, this came from a player that reportedly called Cutler a "p---y" after he came to the Bears just six months before. Then again, Cutler probably didn't care about that, either.
More and more, every season Cutler looks like he'll retire as a quarterback who never lived up to his potential. His cannon of an arm is notoriously inaccurate, and at 29 he's unlikely to ever shake the questions about his attitude. Grantland's Bill Barnwell wrote that Cutler won't stop catching flak until he wins a Super Bowl, something that made fans forget about the headcase tendencies of Brett Favre and Tom Brady.
But it's remarkable that in a league that has players in and out of jail because of domestic abuse and fatal drunk-driving accidents, one guy is almost universally despised. It might be time we start appreciating that.
© Copyright IBTimes 2023. All rights reserved.