Jeb Bush Mulls 2016 White House Bid; Talks Immigration, Budget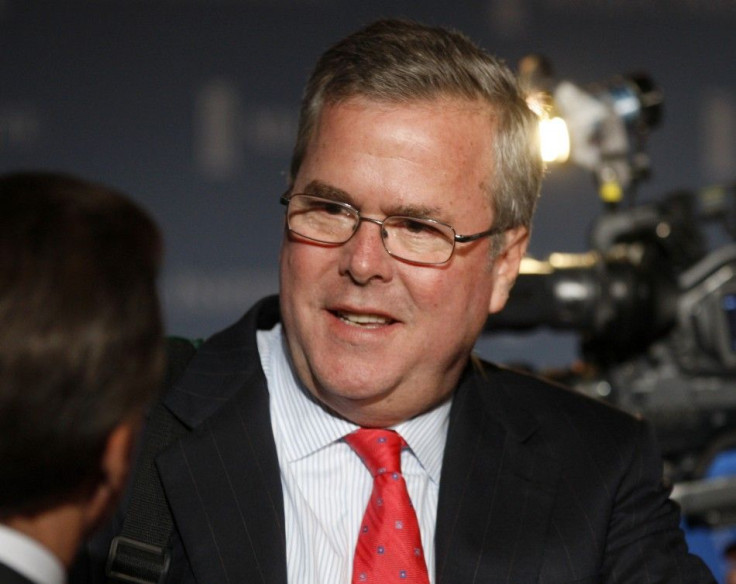 While Washington shuts down Wednesday for a snowstorm, the rumor mills remain open. Speculation is rife that former Florida Gov. Jeb Bush may be making a presidential run in 2016.
Talk of a third Bush making a possible White House bid amplified Monday when Jeb appeared on NBC's "Today" show, voicing his opinions on current issues such as immigration reform, the 2013 sequester and other budget crises.
Bush, who has also remained largely on the sidelines since his older brother, former President George W. Bush, left the White House, has released a new book "Immigration Wars," which states his position for giving illegal immigrants legal status but not a pathway to citizenship. He is also a featured speaker at the Conservative Political Action Conference, or CPAC 2013 that runs in Washington March 14 to 16.
The 60-year-old Bush told "Today" host Matt Lauer that he is optimistic a consensus will be found on immigration, but would like to see the budget matters cleared up so that there's more focus on immigration reform and energy policy.
All this has Washington buzzing because Bush is now being seen as raising his public profile. And when asked whether he will run, Bush neither confirmed nor denied the speculations.
"That's way off into the future," Bush said. "I have a voice and I want to share my beliefs about how the conservative movement and the Republican Party can regain its footing because we've lost our way. I won't [rule out a run for 2016] but I'm not going to declare it today either."
Another top contender for 2016 could be Chris Christie, but CPAC organizers snubbed the popular New Jersey governor, who gave the keynote address – one of the prime talking spots – at the 2012 Republican National Convention.
Bush said he was surprised Christie didn't get an invite.
"On the one hand he did get invited the year before and he will get invited next year when he gets re-elected for sure," Bush quickly added. "I think there was some disappointment in how Gov. Christie dealt with the budget issues related to Sandy, trying to advocate his position."
Bush said CPAC's Christie brushoff had nothing to do with the fact that the New Jersey Republican appeared in public with President Barack Obama after Hurricane Sandy, days before the election, and criticized the actions of House Republicans.
"I think the issue of castigating the House particularly for not going along with a $60 billion spending deal that had very little to do with Sandy recovery – and when it got down to funding Sandy, House Republicans went along with that – that's what I think was the critique," Bush told Lauer. "Look, I love Christie. I think Gov. Christie is a part of the future of the Republican Party for sure, and whether he's going to CPAC or not is not really changing that."
Watch the "Today" interview below.
© Copyright IBTimes 2022. All rights reserved.
FOLLOW MORE IBT NEWS ON THE BELOW CHANNELS