Jeff Bezos Sells $3 Billion In Amazon Stock, Still Owns 54 Million Shares
KEY POINTS
Amazon CEO Jeff Bezos sold $3.1 billion worth of stock in his company but still owns 54 million shares
Bezos is pulling out all the stops to send his Blue Moon spacecraft to a successful lunar landing in 2024
His grand vision is to one day build space colonies as a way of expanding humanity to 1 trillion people
Amazon CEO Jeff Bezos, the world's richest individual, has sold a total of $7.2 billion of his shares in his company so far into the year, in part to fund the moon-landing project of his space exploration company, Blue Origin.
Bezos this week sold more than $3.1 billion worth of shares in Amazon stock, according to filings with the Securities and Exchange Commission (SEC). He remains the overwhelming majority stockholder with 54 million shares, currently valued at $170 billion.
In contrast, Bezos sold only $2.8 billion worth of his shares in 2019. Bezos previously said he's selling $1 billion in Amazon stock a year to fund Blue Origin's space projects.
Bezos still has a net worth of $183.6 billion, according to Forbes' list of billionaires. The second richest person in the world remains Microsoft Corporation founder and philanthropist Bill Gates, with a fortune equivalent to $113.8 billion.
Bezos is selling off part of the shares he owns as part of a prearranged Rule 10b5-1 plan, which allows insiders of publicly traded corporations to set up a predetermined trading schedule for selling their own stocks while avoiding implication of insider trading.
Bezos is currently focused on Blue Origin's greatest mission to date: landing its Blue Moon cargo spacecraft on the lunar surface in 2024. Last April, NASA selected Blue Moon as the winner of its Human Lander Systems award under the Next Space Technologies for Exploration Partnerships (NextSTEP-2).
The robotic space-cargo carrier is designed to make cargo deliveries to supply human colonists on the moon. It plans to ferry the supplies and construction materials needed to build America's first manned lunar base.
Blue Moon is designed to deliver up to 4,500 kilograms (nearly 10,000 pounds) to the lunar surface. Its first scheduled mission is a 2024 landing in the lunar South Pole region. Bezos unveiled a full-sized model of Blue Moon in May 2019 along with his company's small lunar rover.
"This vehicle is going to the moon," Bezos proclaimed.
Bezos described Blue Moon as "a very large lander" that can precisely soft-land 3.6 metric tons on the lunar surface. Bezos claims Blue Moon can transport a variety of payloads, including four of Blue Origin's small lunar rovers.
Bezos' grand vision is to one day build enormous space colonies close to Earth as a way of expanding humanity to 1 trillion people.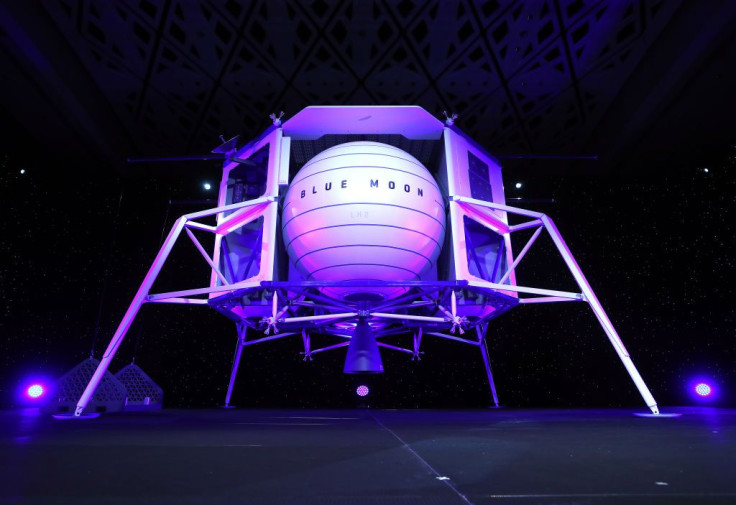 © Copyright IBTimes 2022. All rights reserved.
FOLLOW MORE IBT NEWS ON THE BELOW CHANNELS