Jeremy Lin, New York Knicks 'Chink in the Armor': ESPN Apologizes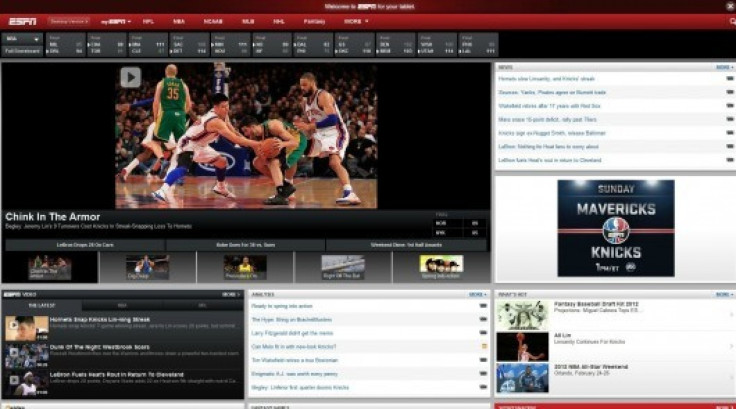 Asian-American sensation Jeremy Lin of the New York Knicks has arguably received more than his share of accolades in the past two weeks, bursting on the scene as an NBA star and gaining attention throughout the world.
But after the New Orleans Hornets ended the New York's seven-game winning streak, ESPN.com took a dig at Lin, using the headline Chink in the Armor on its mobile sites. The headline, accompanying a photo of Lin, was distributed to ESPN.com's mobile users.
The term chink is a derogatory word for a Chinese or Asian person, and Lin is of Taiwanese descent.
The headline, quickly removed early Saturday morning after only 10 to 15 minutes, follows an MSG graphic that also drew criticism, as it showed Lin's face over a fortune cookie with the headline The Knicks Good Fortune.
Realizing the sensitive nature of its headline, ESPN issued a statement early Saturday apologizing for its Chink in the Armor mistake: Last night, ESPN.com's mobile Web site posted an offensive headline referencing Jeremy Lin at 2:30 am ET. The headline was removed at 3:05 am ET. We are conducting a complete review of our cross-platform editorial procedures and are determining appropriate disciplinary action to ensure this does not happen again. We regret and apologize for this mistake.
In the game, New York lost at home to the Hornets, 89-85. Lin accumulated 26 points and five assists, but he also had nine turnovers, including eight in the first half.
Just a lackluster effort on my part coming out and careless with the ball, and so nine turnovers is obviously never going to get it done from your primary ballhandler, Lin said after the game, according to Fox News. It's on me in terms of taking care of the ball and also the game in general.
© Copyright IBTimes 2023. All rights reserved.