Jet.com Offers Cheaper Prices Than Amazon, But Is It Worth Your Time And Personal Info?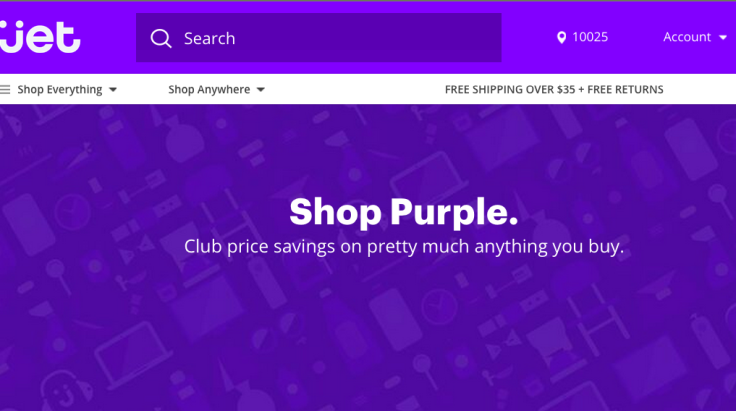 Amazon rival Jet.com has landed. The e-commerce site opened its doors from a private beta Tuesday morning, amassing early sign-ups along with a slew of skepticism.
The company is led by Marc Lore, co-founder of Diapers.com and Soap.com's parent company, Quidsi, which was sold to Amazon in 2011. Lore worked for Amazon for two years and then left to start Jet. The site hopes to battle Amazon with cheaper prices and other discounts with revenue fueled by a $49 annual membership fee.
But for now, membership to Jet is free. Signing up grants new users a three-month trial, and using the promo code "LESSMAYO" extends the trial to six months. Registering on Jet requires entry of an email, a password and a zip code. To make purchases, Jet customers must provide the standard shipping, billing and credit card information.
When shopping on the site or via the app, customers can instantly see the savings they acquire on individual purchases or how it compares to other sites on the Web, and with each product, customers can unlock more discounts.
"They gamified the experience. You add products to a cart and you qualify for even more savings. They could be starting out with a much higher margin, but that's not what [Jet CEO] Marc Lore is about," said David Bozin, vice president of growth development at point-of-sale retail startup Bindo. "If customers realized they were being overcharged, they would leave."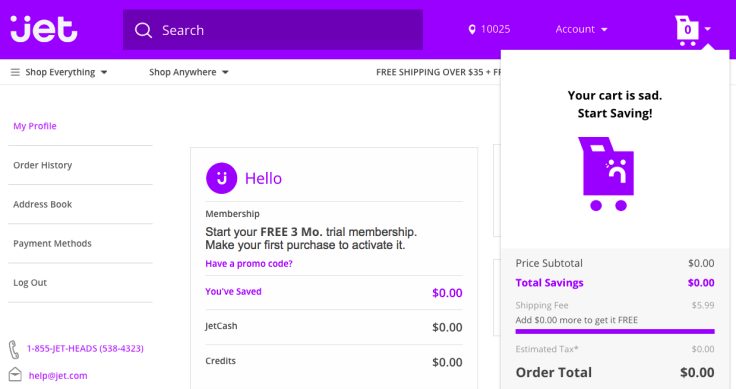 For Jet, the focus is volume. In order to further secure partnerships with retailers and credit card companies as well as create a loyal user base, the Hoboken, New Jersey-based company is operating at a significant loss. For example, Jet accepts American Express, Discover, Visa and Mastercard, but shoppers get extra savings if they use Visa or Mastercard.
Spending Jet's Money
Jet customers are also given incentives to waive free returns to save more money. Shopping with certain brands, such as J. Crew, Macy's and Apple, will reward Jet members with savings that they can then apply to future orders on Jet.
While membership to Jet is free in this early stage, it remains to be seen whether later customers will be willing to pay another annual subscription fee. Indeed, all the modern subscription-based online services, like music streaming service Spotify and television programming Netflix, can put pressure on tight budgets. For retail, some customers already pay for Amazon Prime, which also offers discounted family and student rates.
Bozin, one of Jet's 10,000 trial members, said he has used the service about a dozen times since he secured a membership, in March. But he still pays for an annual Amazon Prime membership, taking advantage of the instant delivery Prime Now service in New York City and for other quick delivery options. Jet does not guarantee two-day shipping on all orders.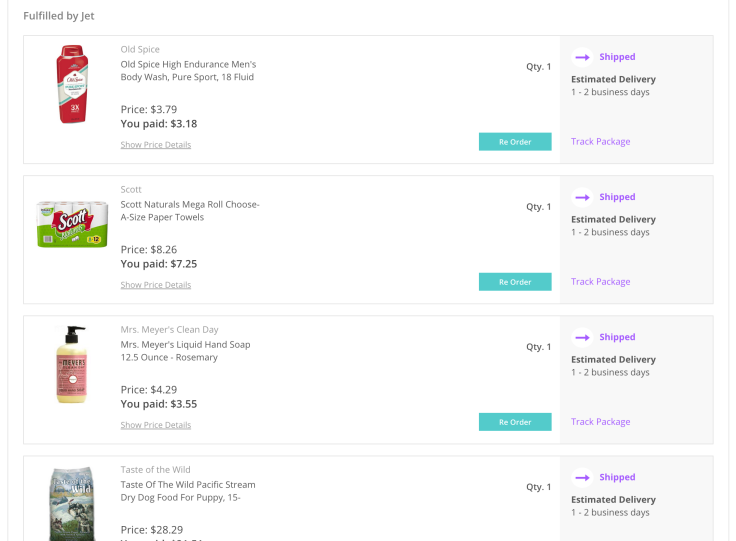 "I still shop on Amazon. A big expense for Jet will be determining what it takes to move a customer to Jet. Maybe it's price saving, but people still have to make the conscious decision to join and choose Jet," Bozin said.
Focus On Fun
Beyond discounts, one way Jet has provided immediate consumer interest is through fun launch promotions and other user-friendly elements of the site. For example, if a shopping cart is empty, the website reads, "Your cart is sad. Start saving!" with an image of a crying cart.
Accessing the trial-extending promotional code requires watching an explainer video from actor-comedian Kumail Nanjiana, known for his role on HBO's "Silicon Valley."
"The old economics of saving money meant you had to buy items in bulk, and that's weird," Nanjiana says in the video. "Because five pounds of mayonnaise is actually a ridiculous thing to buy."
© Copyright IBTimes 2023. All rights reserved.