Jimmer Fredette Trade Rumors: Knicks, Suns, Pacers, Jazz for Warriors' pick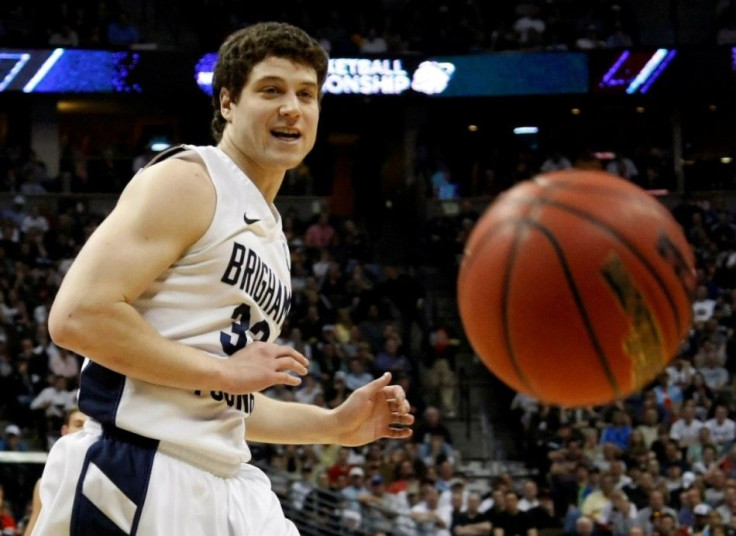 The New York Knicks are among a number of teams reportedly interested in star BYU guard Jimmer Fredette. Fredette has been garnering a lot of interest as draft night approaches tomorrow.
ESPN reported earlier this week, The Knicks, and a handful of other teams, are trying to get ahead of the Jazz. The target? BYU's Jimmer Fredette.
The same report mentions that the Golden State Warriors as a possible trading partner for teams looking to move up. The Warriors currently hold the number 11 pick in the draft.
The Warriors themselves have shown interest in Washington State guard Klay Thompson and international big man Bismack Biyombo.
If the Warriors can't get either, they may want to move out of their spot to get a player like USC center Nikola Vucevic or Lithunian big man Donatas Motiejunas.
The wide national interest in Fredette, may garner the Warriors a favorable trade with future draft picks or promising young players.
Currently, Fredette is slotted all over place by different mock drafts. Draft Express has him at number 7 to the Sacramento Kings, but had him at number 20 only a month ago. Nbadraft.net has Fredette going number 13 to the Phoenix Suns, while ESPN shows Fredette going number 15 to the Indiana Pacers.
If the Suns, Pacers, or Knicks hope to get Fredette, they may need to trade up to get past the Utah Jazz at number 12, one pick ahead of the Warriors.
The Jazz actually have an earlier pick in the draft they got from a trade with the New Jersey Nets at number 3. If the Jazz pick Kentucky guard Brandon Knight, they won't pick Fredette at 12. But if they pick a big man like center Enes Kanter, the Jazz may need to do a pre-emptive strike and swap places with the Warriors to prevent other teams from getting Fredette at that spot.
Fredette's electric personality and play for BYU helped him garner national attention when he carried his team through the NCAA tournament to the sweet sixteen.
Even U.S. President Barack Obama made a comment about Fredette when he revealed his tournament bracket saying, Unbelievable. Best scorer obviously in the country. Great talent.
Others around the NBA have also been impressed with Fredette during his workouts for team.
He's fun to watch, and he was very impressive in the workout he had here. He has a confidence and a swagger about him that is very unique, Suns GM Lance Blanks recently said. I don't want to overstate it, but he's high character, and given the right opportunity and the right situation, he's going to figure it out.
The Warriors themselves could use a popular player like Fredette to spark the team looking for an overhaul.
However, with the Warriors already loaded at the guard position with Monta Ellis and Stephen Curry, the Warriors would be an ideal candidate for teams looking to move up for Fredette.
© Copyright IBTimes 2023. All rights reserved.