J.K. Dobbins Ready For More Touches, Cautious About Playing In Giants Stadium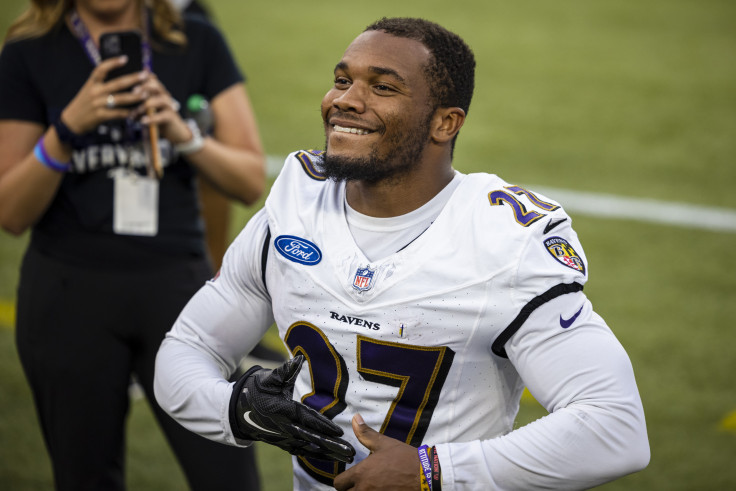 KEY POINTS
J.K. Dobbins admits he wants more touches, but he is not rushing the process
The Ravens have limited his snap counts to guide him on his recovery
Dobbins also reveals his worries about playing in MetLife Stadium
The Baltimore Ravens recently welcomed their No. 1 running back in J.K. Dobbins back to the fold in Week 3 against the New England Patriots and he is raring to be let loose once again.
Currently, Dobbins is averaging 9.3 carries per game which is the number that he usually hovers around per game prior to his injury.
The Ohio State product spoke with media personnel ahead during the team's press conference ahead of their Week 6 matchup against the New York Giants and addressed his lack of carries thus far.
"I've never had an [NFL] game where I had more than 15 carries, throughout my whole career. It's me being patient. Whether it's the organization protecting me and being really cautious – which I really appreciate. Because I can be somewhere where they don't care about me. But they do here," he initially said according to the transcript.
"Sometimes, it can be hard as an athlete and the competitor that I am, because I want to be the best. I've just got to keep being patient and keep working hard. And when my number is called, just do what I do."
The Ohio State product is coming off a torn ACL that he suffered in August 2021 and is working his way back to game form, with him slowly proving that he can carry the weight of the running back group.
Against the Cincinnati Bengals this past Sunday, October 9, Dobbins shrugged off the efforts of defensive lineman Sam Hubbard and evaded defensive tackle Josh Tapou's attempts to bring him down while also powering through cornerback Chidobe Awuzie for the first down and some change in the third quarter.
Ravens fans have theorized on social media that the reason Dobbins is not getting a significant amount of touches is because he is currently on a snap count, which now appears to be the case after the running back's comments.
With Baltimore traveling to MetLife Stadium for their game against the Giants, Dobbins aired out his concerns about playing on synthetic turf after losing two players to season-ending injuries as early as Week 1 against the New York Jets.
"No one likes the turf. As the older guys would say, like, 'Man, it hurts my body.' Maybe that's true. Maybe I'll start feeling that as I continue on in my career. But it is terrible," he pointed out via the Baltimore Sun.
Dobbins will get his first taste of playing on artificial turf in Week 6, but many have since spoken out about it being used in the NFL.
Giants wide receiver Sterling Shepard tore his left ACL on the same surface in a non-contact run against the Dallas Cowboys in Week 3, which had Super Bowl champion Odell Beckham Jr. calling for its complete removal.
Because of the playing field's history of causing injuries, the Ravens may opt to limit Dobbins' playing time in order to prevent him from suffering the same fate as others.
The Ravens have an opportunity to ride their momentum with a win against the Giants as they look to leapfrog the third-place Tennessee Titans in the AFC standings.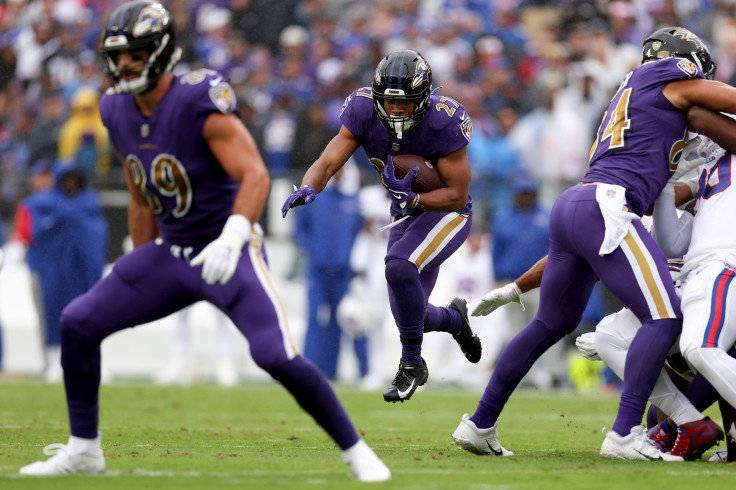 © Copyright IBTimes 2023. All rights reserved.
FOLLOW MORE IBT NEWS ON THE BELOW CHANNELS