Jobless Claims Fall to 7-Month Low: Is the United States' Large Layoff Period Ending?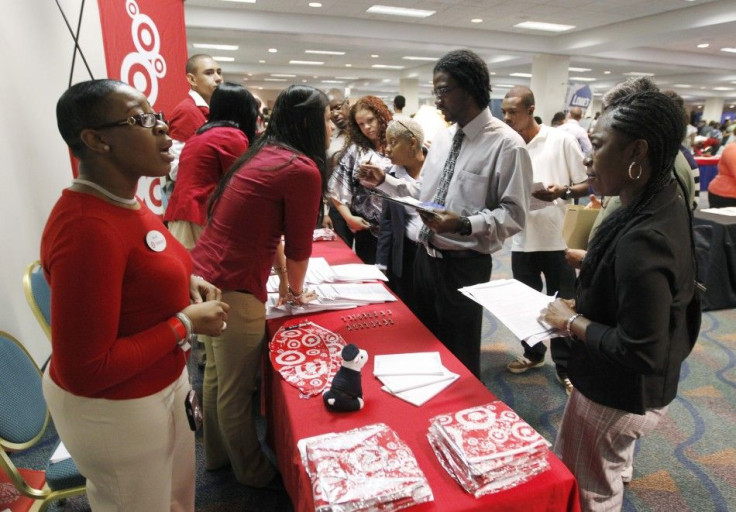 To say good-news items on the U.S. economy in the last couple of years have been few and far between would be an understatement, but a weekly report released Thursday did provide some encouragement for investors and employees alike: Initial jobless claims fell 5,000 to 388,000 for the week ended Nov. 12, a seven-month low, the U.S. Labor Department announced.
A Bloomberg survey had expected initial jobless claims to total 395,000. The prior week's jobless claims statistic was revised slightly higher, to 393,000 from the previously estimated 390,000.
Key 4-Week Average Also Declines
Furthermore, the more-telling, less-volatile four-week moving average of initial jobless claims also declined, dropping 4,000 to 396,750, also a seven-month low.
Economists put more emphasis on the four-week moving average, as it smooths out anomalies due to holidays, strikes, weather-related layoffs, and other factors.
If jobless claims continue to fall or remain below the psychologically significant 400,000 level in the weeks ahead and then trend toward 375,000, that would signal confidence in commercial activity is increasing and that most companies are, at minimum, tapering if not ending layoffs and, in some cases, may be ready to begin hiring.
Moreover, an action by General Electric (GE) Thursday is indicative of that cautious stance by companies. GE announced that it plans to hire as many as 400 software engineers for a new global center in San Ramon, Calif., while spending as much as $1 billion on software development through 2012. Also, a technology hiring trend, in general, is providing some hope for IT job seekers.
Institutional Investors Closely Monitoring Jobless Claims
What's more, institutional investors have paid particular attention to the initial jobless claims statistic -- and by extension, to the four-week moving average -- in this economic cycle because the nation is the midst of its greatest job deficit since the 1930s.
The Economic Policy Institute, a liberal Washington-based think tank, says the United States is short a staggering 11 million jobs.
In other words, the U.S. economy has to add 11 million jobs just to return the workforce to a level at the beginning of the last recession in December 2007.
To put that in perspective, if the U.S. economy added 300,000 new jobs per month, it would take roughly 37 months to return the nation to the 5.0 percent unemployment rate it had prior to the start of the recession. During the current recovery, the economy has created about 110,000 new jobs per month.
Jobless Claims Decline: A Ray of Light?
Hence, with the latter points as qualifiers, it's important to keep Thursday's decline in jobless claims in perspective. It does not mean companies large and small have all started hiring in a big way: They have not. Nor does it mean that layoffs are low: They are not. But the decline in jobless claims, assuming the downtrend continues, would suggest the country's lingering problem of continually high job losses is ending -- and that would be, arguably, the best news the U.S. economy has registered this year.
© Copyright IBTimes 2023. All rights reserved.