John Clayton Rocks Ponytail, Listens To Heavy Metal In New ESPN Ad [VIDEO]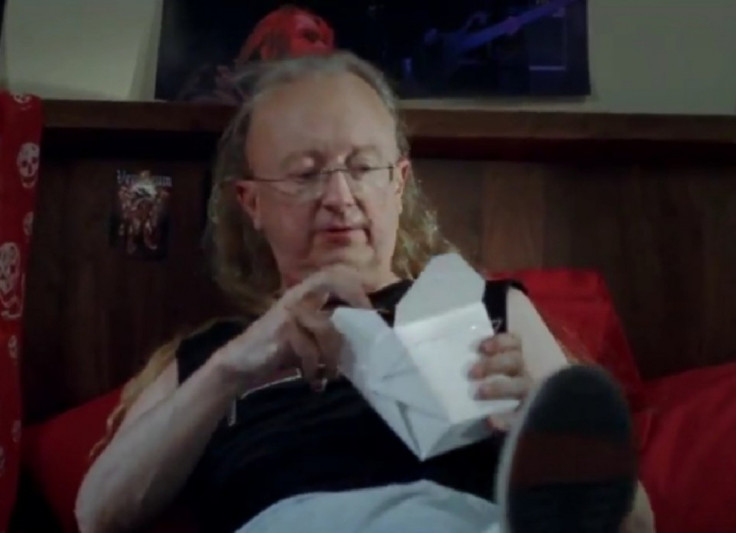 A new advertisement for ESPN's SportsCenter featuring John Clayton is sweeping the Internet and had the usually buttoned-down football analyst as one of Twitter's nationally trending topics on Thursday. The ever-reserved Clayton appears with a ponytail and yells at his mom, an acting job that's already gained him some new fans on the Internet.
The latest commercial in the "This is Sportscenter" ad campaign that started in the early 1990s features Clayton in a football segment, followed by what he supposedly does after his time on the daily sports show is over. Clayton rips off a faux-tuxedo, exposing a black Slayer tee shirt. Then, the normally straight laced Clayton lets down a ponytail that falls to his waist and blasts heavy metal while scarfing down some Chinese food. '
The ad is even earning accolades from Awful Announcing and Deadspin, two websites that have made their name by critically covering ESPN and "SportsCenter" in particular.
"All you need to know are five words," wrote Awful Announcing's Matt Yoder. "John Clayton, Slayer, pony tail. I take back everything negative I've ever said about ESPN."
Clayton's a football analyst that stands out on the network because he simply reports the news, something many fans consider a breath of fresh air on a network that regularly depicts Skip Bayless and Stephen A. Smith bringing more personality than content to the sports conversation. Clayton has been with the network since 1995, according to the reporter's biography on ESPN.com.
In the recent oral history of ESPN, "Those Guys Have All The Fun," the ESPN executives interviewed for the book cited the "This is SportsCenter" ad campaign as one of the major steps in pushing the brand to dominance in the world of sports journalism.
The concept was started by the advertising firm Wieden+Kennedy. It started with spots from then-anchors Dan Patrick and Keith Olbermann, growing into one of the most talked about series commercials the world has ever seen. Athletes from Dwayne Wade to Andre Agassi to the undertaker have all appeared.
Despite all the praise he reaped from Twitter and the blogosphere, Clayton seemed to remain his relatively low-key self, tweeting only, "If you haven't seen it, here's the new commercial for sports center..."
© Copyright IBTimes 2023. All rights reserved.