Julian Assange WikiLeaks Update: Edward Snowden Rumor Put Bolivian President's Life In Danger, Bolivia Claims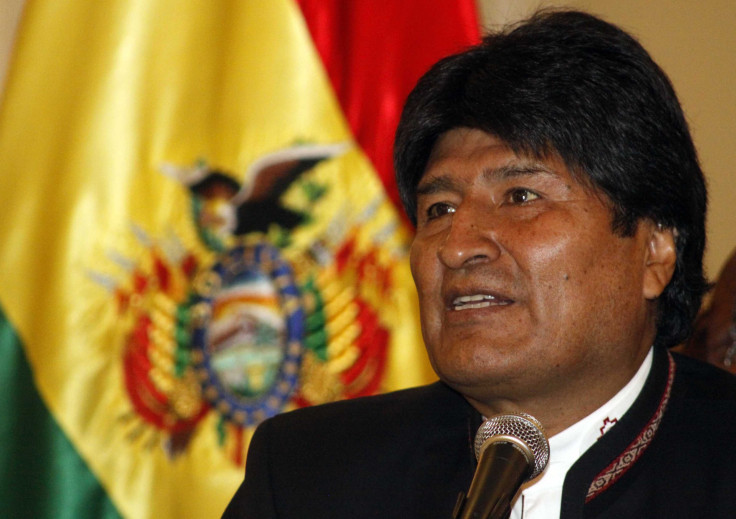 Wikileaks founder Julian Assange put the life of Bolivian President Evo Morales in danger by leaking false information, the Bolivian ambassador to Russia claimed Monday. Maria Luisa Ramos demanded that Assange apologize to Morales for putting his life at risk by leaking false information that NSA whistleblower Edward Snowden was on his plane in July 2013, according to teleSUR.
In July 2013, Morales' presidential plane made an emergency landing in Austria after he was denied permission to fly over France and Portugal because of the Snowden rumors. Snowden was allegedly traveling with Morales en route to asylum in Bolivia. Before the plane incident, Morales said Bolivia would look favourably on an asylum request from Snowden, the former National Security Agency contractor who leaked thousands of sensitive documents and is currently in exile in Russia.
"Have you apologized to Morales?" Ramos asked Assange during a video conference Monday during the premier of the documentary "Terminal F," which examines Snowden's search for exile. "It is possible that in this wide-ranging game that you began my president did not play a crucial role, but what you did was not important to my president, but it was to me and the citizens of our country. And I have faith that when you planned this game you took into consideration the consequences."
In the documentary, Assange claims the rumor that Snowden traveled with Morales were false and were planted by United States. Ramos said Assange was behind the rumor. "For your big countries this may not be important, but for Bolivia it does matter," she said, reiterating her question: "Have you apologized to Morales for this issue?"
Assange said he had reason to believe the rumors at the time. "Edward Snowden could have been on board the Bolivian president's airplane because it is considered a diplomatic plane. In order to deny a plane the use of airspace, there have to be good reasons," he said.
He added that Washington was to blame for the plane's emergency landing. "We weren't expecting this outcome. The result was caused by the United States' intervention. We can only regret what happened," Assange concluded.
Morales spent 12 hours at the airport in Vienna after his plane was unable to continue its journey in 2013. At the time, Bolivian foreign minister David Choquehuanca said: "We don't know who invented this lie. We want to denounce to the international community this injustice with the plane of President Evo Morales."
Assange has been exiled at the Ecuadorean embassy in London where he has taken refuge as the U.S. pursues a criminal investigation into his anti-secrecy group. Joshua Stueve, a spokesman for the U.S. Attorney's office in Alexandria, Virginia, told Reuters last month the investigation into WikiLeaks remained open.
© Copyright IBTimes 2022. All rights reserved.
FOLLOW MORE IBT NEWS ON THE BELOW CHANNELS