June US Car Sales - Ford, GM, Chrysler Report Big Gains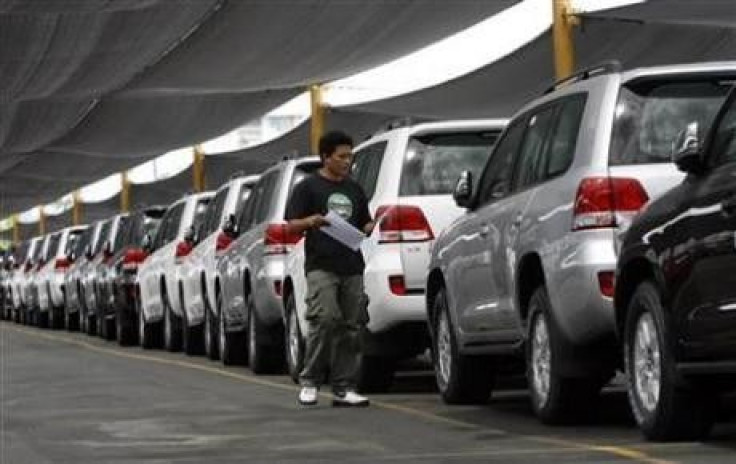 Detroit's carmakers saw strong June U.S. car sales with Chrysler Group LLC, a subsidiary of Italian Fiat SpA (Milan: F), reporting 20 percent year-over-year sales growth, General Motors Co. (NYSE: GM) reporting 16 percent sales growth and Ford Motor Co. (NYSE: F) reporting more modest 7 percent sales gains.
Japanese carmakers may continue to see major recovery from last year's Japanese earthquake and tsunami and flooding in Thailand which disrupted supply chains, production and inventory levels. Toyota Motor Corporation (NYSE: TM) reported June U.S. sales gains of 60.5 percent.
The news sent automakers' shares up, with GM's up about 6 percent, with more modest gains for its rivals.
Chrysler was the first major automaker to report June car sales Tuesday and posted its strongest June in five years with 144,811 vehicles sold. However, industry analysts expect overall U.S. auto sales to be more or less flat from May with a seasonally adjusted average selling rate, or SAAR, of between 13.6 million and 14 million for June. June sales for U.S. automakers were strong in June, though, in part due to insulation from macroeconomic uncertainty for the industry.
The combination of new products, available credit, lower fuel prices and modest economic growth was a stronger influence on consumer behavior than economic and political uncertainty, General Motors Vice President for U.S. sales and operations Kurt McNeil said Tuesday.
The auto industry as a whole isn't expected to demonstrate the strong sales growth of the first five months due to seasonality in car sales, said Alec Gutierrez, senior market analyst for Kelley Blue Book. Chrysler projected a SAAR of 14.4 million units, well above analyst projections.
Chrysler
Chrysler sales gained 20 percent in June, marking the 27th month of year-over-year sales growth. The Chrysler, Jeep, Dodge, Ram Truck and FIAT brands all posted gains. Chrysler brand sales rose 63 percent, the best June sales since 2008.
June was another solid month for the Chrysler Group with U.S. sales up 20 percent and second-quarter sales increasing 24 percent compared with the same period in 2011, President and CEO of Dodge Brand and head of U.S. sales Reid Bigland said.
Chrysler has been the only profitable division of Fiat in recent quarters. Strong sales from the American unit could bolster weak European sales for the Italian automaker.
Fiat SpA (Milan: F) shares rose 3.56 percent to €4.07 ($5.12) Tuesday.
Ford
Ford reported June sales rose 7 percent from the year due to higher sales of trucks and SUVs.
June was a good month for Ford and a particularly strong month for vehicles like Escape, Fusion, Explorer and F-Series, said Ken Czubay, Ford's vice president of U.S. marketing, sales and service.
Ford sales are up 7 percent for the year so far with 1.14 million vehicles sold, including 207,759 sold in June. The bulk of June sales gains came from SUV sales. SUV sales rose 24.8 percent while truck sales gained 1.2 percent. Car sales growth was more modest at just 0.3 percent.
Sales of Ford's flagship F-series trucks rose 10.9 percent with 55,025 sold, the best June sales in five years, indicative of increasing demand for Ford trucks. Car sales were weaker, though, with both the Fiesta and Focus posting losses. However, Fusion sales gained 17.4 percent.
Ford's Lincoln brand actually posted a 2.5 percent gain with 7,544 units sold, indicating positive movement.
Ford shares rose 24 cents to $9.63, more than 2.5 percent, by Tuesday afternoon.
General Motors
GM, the No. 1 automaker reported 15.5 percent year-over-year U.S. sales growth in June and the best sales month for the company since September 2008.
All four of GM's brands, Chevrolet, GMC, Buick and Cadillac, reported double digit sales gains, with Cadillac leading the pack at 26.8 percent. Overall, GM sold 248,710 vehicles in June and projected a seasonally adjusted annual rate of sales of 14 million for June, in line with the high end of analyst expectations.
GM shares soared nearly 6 percent to $20.73, up $1.16, by midday.
Toyota Motor
Toyota, Japan's No. 1 company, said June U.S. sales rose 60.3 percent compared to the year before, the company announced Tuesday.
The exceptional growth in year-over-year sales likely reflects the company's continued recovery from supply-chain, manufacturing and inventory disruptions caused by last year's Japanese earthquake and Tsunami and floods in Thailand. The company will report detailed sales figures at 1:30 p.m. EDT.
Toyota shares rose 78 cents to $80.96, or 1 percent, by Tuesday midday.
Nissan Motor Co. (Tokyo: 7201) and Volkswagen AG (Frankfurt: VOW) will report sales Tuesday as well.
© Copyright IBTimes 2023. All rights reserved.
FOLLOW MORE IBT NEWS ON THE BELOW CHANNELS