June US New Auto Sales Forecast: The Lost Weekend Pushed Sales Down, But 2014 Still On Track To Be The Best Year Of The Post-Recession Recovery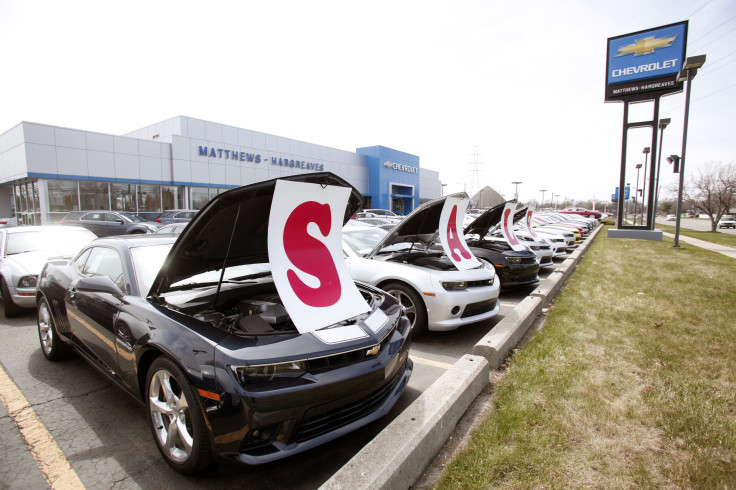 July 1 UPDATE: Click here for the Big 8 automakers' June 2014 U.S. new-auto sales results. Interesting side note: GM's Chevrolet sedans did not do so well. Can you guess why?
Original story begins here:
It's difficult to say if June's slower sales growth for General Motors Co. (NYSE:GM) has anything to do with its ignition-switch debacle and the slew of recalls the company has announced since the start of the year, but so far consumers seem to be shrugging off GM's quality issues.
The company's announced 45 recalls of more than 20 million vehicles worldwide since the start of the year. But last month's figures (pdf) showed the Detroit automaker's sales rose nearly 3 percent compared to the first five months of 2013.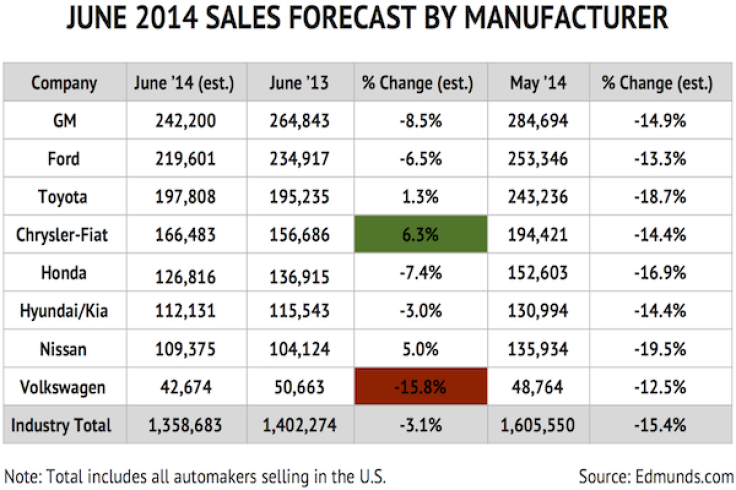 Car companies will announce their June numbers for U.S. new-auto sales on Tuesday. Analysts expect most of the world's Big Eight to report both monthly and annual declines in growth thanks largely to a quirk in the calendar.
"The drop in sales comes after a strong selling month in May," Jeremy Acevedo, an analyst at car-shopping site Edmunds.com, told International Business Times. "The fewer selling days this month has had a negative impact on the numbers for the month."
Industry analysts expect sales to drop by about 2-3 percent compared to June 2013 and 14-16 percent from this May. Americans probably purchased between 1.3 million and 1.4 million new passenger cars, light trucks and SUVs, according to a compilation of various forecasts released in recent days.
The seasonally adjusted annualized rate is expected to be about 16.3 million. The SAAR is a running monthly estimate of a full year of sales; the metric is often seen as a measure of the auto market's health and consumer confidence. If sales continue the way they have been, as most analysts expect, this will be the first year since the Great Recession that annual new-car sales top 16 million after bottoming out at 10.4 million in 2009.
Most of the Big Eight automakers will see significant drops in sales growth. Chrysler Group LLC could come out ahead on strong demand for its new Jeep Cherokee and the new Chrysler 200 sedan, which is in its first full selling month.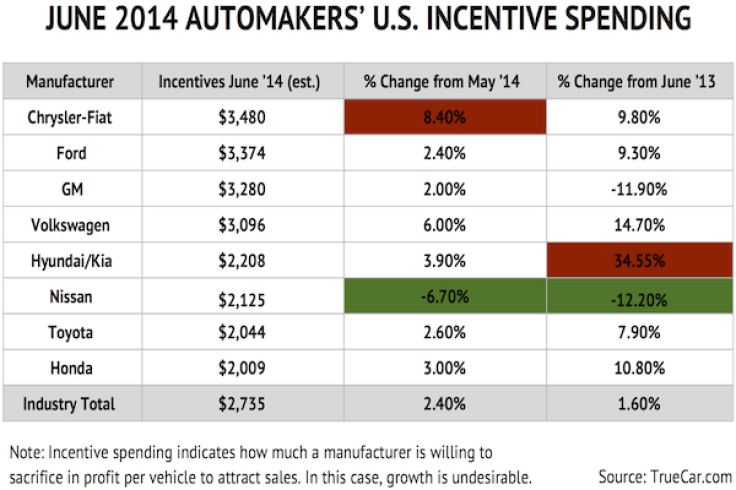 Incentive spending – what automakers offer consumers to encourage them to purchase, such as rebates – probably will be higher than last month for all of the Big Eight save Nissan.
The South Korean sibling automakers Hyundai and Kia have raised incentives since last year. Companies often boost incentive spending trying to entice customers to older models ahead of the introduction of a new model year.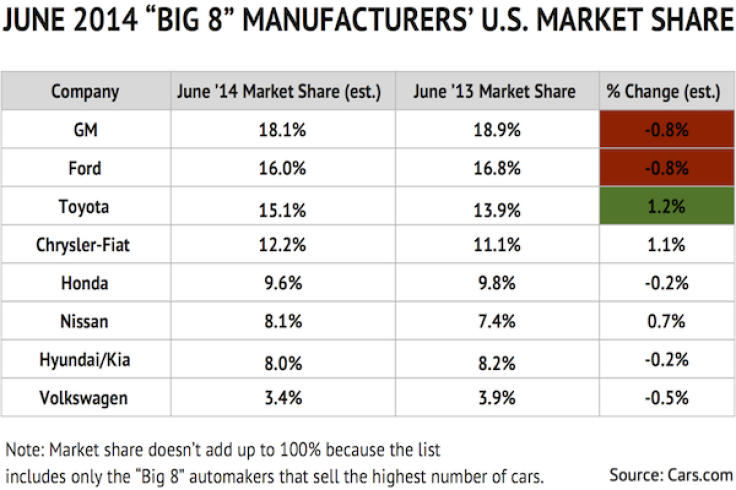 Two factors have played into June's year-ago and monthly declines.
Buyers stayed away during the brutal winter this year and then flooded dealerships in early spring, skewing April and May sales higher than normal.
More importantly, June 2013 had five weekends compared to this month's four. It was the opposite for May, which had five weekends last month compared to four last year.
Adjusting for June's lost weekend, Americans bought an average of about 2,700 more cars a day than they did last year, according to Edmunds. May's U.S. new-auto sales were higher than expected at 1.6 million vehicles, up 11.3 percent from the previous May. People are more likely to make car purchases on the weekend and during warmer weather conditions.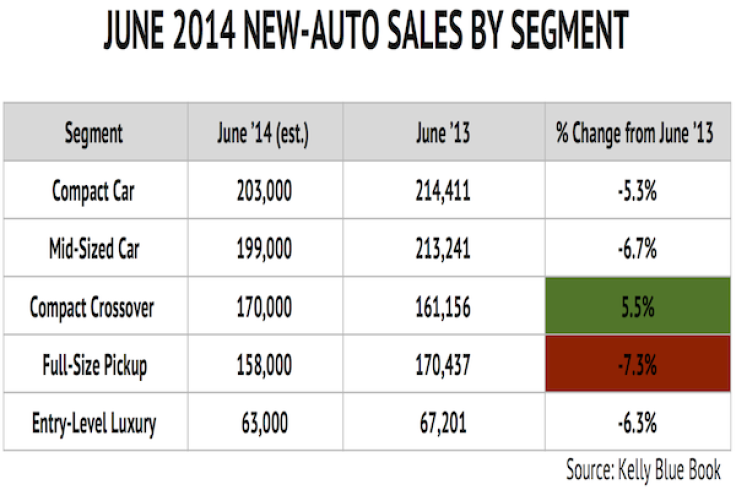 With six months left in the year, American consumers are on track to buy as many cars in 2014 as they did before before the Great Recession sent sales reeling.
GM's slower sales growth may be a sign that its recall problems are finally starting to seep into consumer buying habits, but so far this year GM sales show consumers embracing current models and enticed by offers offsetting concerns about recent problems.
The Big Eight carmakers claim about 90 percent of all U.S. new-auto sales. The rest come from high-end producers like Daimler AG (Mercedes-Benz) and smaller ones, like Subaru and Mitsubishi.
© Copyright IBTimes 2023. All rights reserved.
FOLLOW MORE IBT NEWS ON THE BELOW CHANNELS