June 2014 US Auto Sales: Are Chevrolet Sedans Starting To Feel The Impact Of GM Recall Crisis?
June's U.S. new-car sales confirm that 2014 is well on its way to becoming the best-selling year since before the Great Recession. Despite one fewer weekend last month compared to June 2013, five of the world's Big 8 automakers grew sales after more than 1.42 million new vehicles rolled off dealer lots last month, exceeding industry forecasts. The annualized rate of new-car sales touched 17 million for the first time since August 2006.
Plagued by a rash of recalls and a costly and fatal ignition switch flaw in older mid-sized sedans, even General Motors Co. (NYSE:GM) eked out a 1 percent increase in sales on high demand for its newer model trucks and SUVs. It outperformed American rival Ford Motor Co. (NYSE:F), which saw sales dip 8.4 percent compared to last year on lower demand for models that have been out for a while.
But buried in GM's numbers may be the first signs that the company's recall of 25 million vehicles since the start of the year is having an impact on sales. GM has issued recalls for recent Cruze, Malibu and Impala sedans and subsequently all three of these models saw deliveries fall in the double digits last month.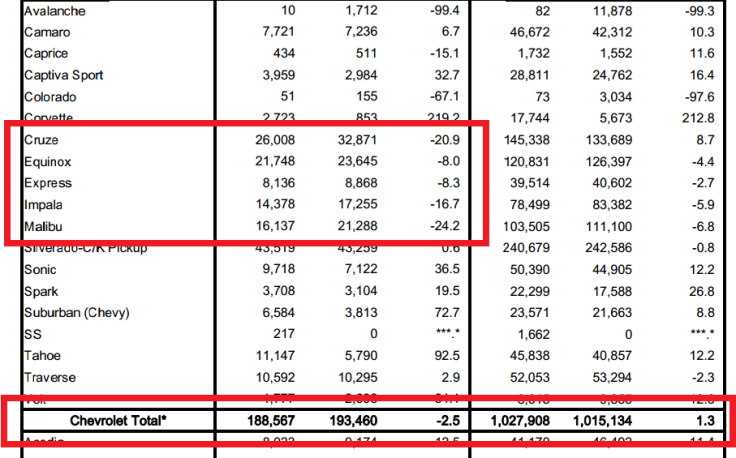 Industry analysts say they're watching for a tipping point, when the publicity surrounding GM quality issues begin to weigh on sales.
"The concern for GM right now is if an inflection point is coming where the recalls begin to have a measurable impact on sales," Eric Lyman, vice president of editorial and consulting at TrueCar.com, told International Business Times on Tuesday after automaker sales numbers were announced.
Chevrolet brand sales are up 1.3 percent in the first half of the year, but June sales fell 2.5 percent suggesting GM's biggest brand name is losing momentum it had coming into the year.
Many still point to the fact that consumers generally don't associate the GM name with the four brands it owns: Chevrolet, Buick, Cadillac and GMC. The more GM brand and model names appear in the press next to the word "recall" the more consumer will ask questions. The most controversial recall of the flawed ignition switch involves models that GM no longer makes, such as the Cobalt – but like the Impala and the Malibu the Cobalt is a Chevrolet product.
"Recently I have been getting questions [from car-buyer] like these: 'What is up with that ignition recall?' 'Is it true people have died?' 'Did they (GM) know about it?' 'Are Chevy cars unsafe?'" wrote Tom McParland at the auto blog Jalopnik back in March. "Brand perception among car-buyers is an incredibly powerful factor on whether or not they will purchase."
But mid-sized modestly priced sedans haven't been GM's strong point in the U.S. The world's third-largest automaker keeps luring customers to its core strength body styles: trucks and SUVs.
"Despite the whirlwind of recall coverage GM is experiencing, consumers are still buying GM vehicles in droves," Akshay Anand, analyst for Kelley Blue Book, said in an emailed statement. "Encore [crossover SUV] sales were up a whopping 82 percent, which helped Buick to score solid gains in June."
Here are the U.S. new-auto sales performance numbers for the other Big 8 automakers in descending order.
Chrysler Group LLC: Up 9 percent to 171,086 on robust demand for Jeep brand trucks and Ram pick-ups. Expect the Chrysler 200 sedan to help sales later this year.
Nissan North America Inc.: Up 5.2 percent to 109,643 on growth in core models, like the Versa and Sentra sedans. Nissan's luxury Infiniti brand sales retreated on more enticing offers from competitors, like entry-level luxury cars from BMW.
Hyundai Motor America Inc.: Up 3.7 percent to 67,407 largely on robust demand for the new Sonata sedan and despite a decline in Elantra compact car deliveries.
Toyota Motor Sales, U.S.A., Inc.: Up 3.3. percent to 201,714 on strong demand for Toyota's luxury Lexus brand. The only segment to show fewer sales than June 2013 was the Tacoma and Tundra pickup trucks.
American Honda Motor Co.: Down 5.8 percent to 129,023 on soft sales of key models, like the Civic, Accord and CR-V.
Kia Motors America Inc.: Up a slight 0.2 percent to 50,644. Growth in Kia Soul compact and Sorento mid-sized crossover SUV sales were ameliorated by declines in the Optima mid-sized sedan and Forte compact car.
Volkswagen of America Inc.: Down 22 percent to 28,827 as the German automaker continued to suffer in the U.S. from lackluster demand for its core models, including the Passat full-sized sedan. Only two Volkswagen models increased sales in the U.S. last month: The Jedda SportWagen, up 7.3 percent, and the GTI mini, up 65 percent. Neither model sold more than 2,000 units in June.
© Copyright IBTimes 2023. All rights reserved.
FOLLOW MORE IBT NEWS ON THE BELOW CHANNELS