Kamaru Usman Fighting For Welterweight Title At UFC 235, Woodley Or Not
Kamaru Usman will be fighting for the welterweight title at UFC 235 according to UFC president Dana White. However, his opponent is oddly not confirmed yet.
Following his win over Rafael Dos Anjos late last month, Usman put himself in contention for a shot at the 170-pound strap and tweeted a signed bout agreement earlier this month, to face current champion Tyron Woodley.
Usman's manager Ali Abdelaziz then recently confirmed to MMA Junkie on Wednesday, that it was a real bout agreement and that he would be fighting at UFC 235 which takes place March 2 in Las Vegas.
"Usman signed a bout agreement," Abdelaziz said. "We signed a contract. One hundred percent, Woodley is fighting Usman. Las Vegas. March 2."
However, it is not yet known if Woodley will be the opponent. It was expected that "The Chosen One" would defend his title against Colby Covington in a grudge match at UFC 233 in January first, but there is nothing but uncertainty surrounding that fight, especially with both fighters accusing the other of ducking.
White, in particular, expressed frustration at Woodley not committing to the fight, and eventually had to cancel the pay-per-view. When it comes to Usman though, White says he will be fighting for the title with or without Woodley, which might mean the latter could be stripped.
"That fight is happening or Usman vs. someone for the title," he told MMA Junkie via text message.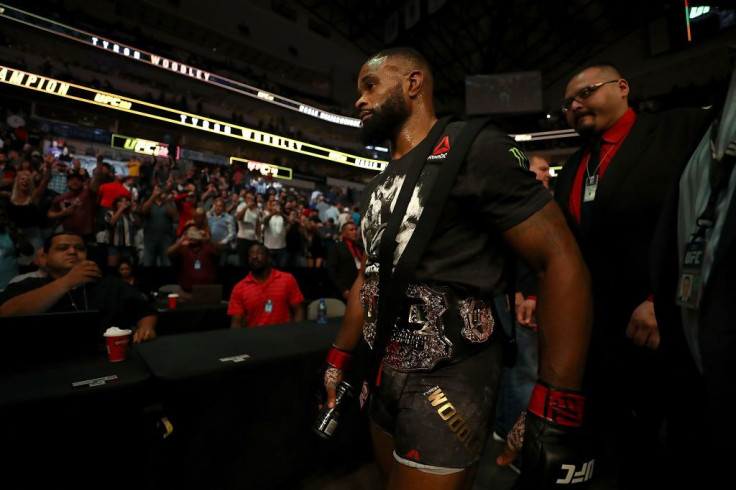 Abdelaziz sympathizes with Woodley but believes the current situation allowed his client to step in for a title shot.
"Brother, I don't need to wait on Woodley," Abdelaziz explained. "He's the UFC champion. First of all, he was ready to fight Colby Covington [at UFC 228], just to be fair to Woodley, because I think we're not fair to Woodley sometimes. I believe he's one of the greatest welterweights of all time, my opinion. But I think right now, he was ready to fight Colby Covington, and he was the interim belt. Colby Covington said, 'No, my nose hurts.''
"Usman just had a crazy performance over (Rafael dos Anjos), five-round domination. How do you not give it to him? And he was willing to fight Colby Covington in January and February, but Covington said no. That's why I went to Dana and said, 'He said no. We're ready to fight now, injured.' Shout out to the UFC. I think sometimes we smash the UFC, but I've got to give them a shoutout for giving the guys the titles they deserve, and Usman (expletive) deserves it."
Meanwhile, Covington isn't considering any fight without him or Woodley as a title fight.
It will certainly be interesting to see what developments occur in the next few days.
© Copyright IBTimes 2022. All rights reserved.
FOLLOW MORE IBT NEWS ON THE BELOW CHANNELS