Kansas City Fed Jackson Hole 2013: Who's Going And Who's Not?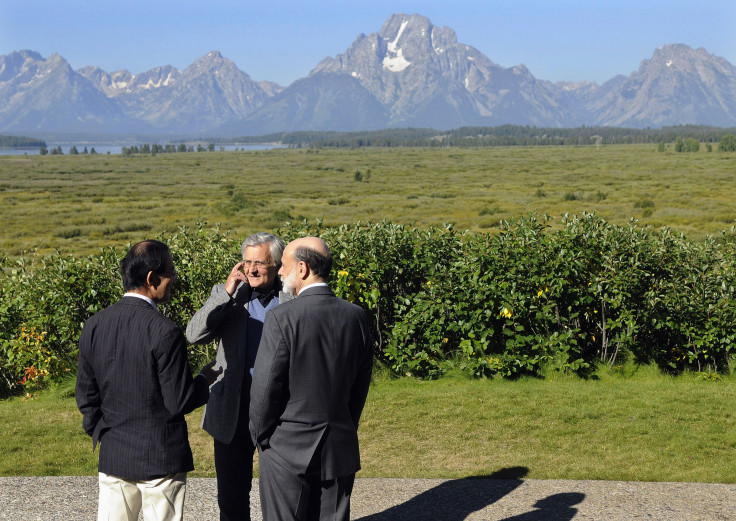 The market has followed the annual Kansas City Fed symposium in Jackson Hole, Wyo., closely in recent years for purported clues about Fed policy. After all, Chairman Ben Bernanke used his 2010 Jackson Hole speech to hint not-too-subtly at a second round of quantitative easing, or QE2. The purchases began in November of that year.
In contrast with recent years, this year's conference – scheduled for Aug. 22 through Aug. 24 – is unlikely to be a market mover due to the lack of Fed panelists and the participation of foreign central bankers.
(Read More: New Faces On The FOMC: Significantly More Hawkish In 2014?)
The agenda was provided to attendees under embargo. Bank of America Merrill Lynch broke the embargo and published details of the event, first reported by MarketWatch, in a research note Monday.
The first thing missing from the agenda is the Friday morning keynote address. Over the years, that speech was reserved for Fed chairmen and has moved markets. Bernanke, who is nearing the end of his tenure, announced earlier this year that he would not attend due to a "personal scheduling conflict." The last time a Fed chairman didn't address the conference was in 1988, when Alan Greenspan didn't speak.
Bernanke's absence could smooth the transition to a stronger role for Vice Chair Janet Yellen, who is one of two front-runners viewed by financial markets as highly likely to succeed Bernanke when his term expires at the end of January 2014.
Or maybe not, since Yellen is merely moderating a panel, a fed spokeswoman said. Former Treasury Secretary Lawrence Summers, who is the other leading candidate, will not be there.
There are more names on this year's no-show list. According to the Wall Street Journal, Bank of England Governor Mark Carney, European Central Bank President Mario Draghi and many members of the Fed's policy-setting committee are not attending.
The biggest name speaking at the conference will be Bank of Japan Governor Haruhiko Kuroda.
The title of this year's conference is "Global Dimensions of Unconventional Monetary Policy." Topics on the agenda include (according to the BoA note):
- The panel discussion on Saturday features the governors of the central banks of Japan and Brazil and the deputy governor of the Bank of England.
- Instead of Bernanke, the conference starts off Friday with an address on "The Transmission of Unconventional Monetary Policy" by Arvind Krishnamurthy at Northwestern University.
- A panel discussion on "Monetary Policy Options and Tools" also on Friday morning. Participants in the panel include Bank of Mexico Governor Agustín Carstens and European Central Bank Research Director Frank R. Smets.
- "The Natural Rate of Interest, Financial Crises and the Zero Lower Bound."
- "The Transmission of Unconventional Monetary Policy."
- "Global Liquidity" by Jean-Pierre Landau of Princeton, on Saturday.
- "Cross-Border Capital Flows" by Hélène Rey of London Business School, on Saturday.
According to BoA, Jackson Hole isn't as important a communications forum as in the past. Before 2012, the Fed did not update its forecasts from June until November, leaving a big gap. Thus, when the data softened in each of the past three summers, Jackson Hole became a focal point.
Now, Federal Open Market Committee meetings are more evenly spaced: Fed officials update their projections, and the chairman holds a press conference in mid-September, just a few weeks after Jackson Hole.
© Copyright IBTimes 2023. All rights reserved.
FOLLOW MORE IBT NEWS ON THE BELOW CHANNELS