Keith Thurman Focused On Comeback, Will Target Errol Spence, Crawford In Future
World Boxing Association (WBA) welterweight champion Keith Thurman is looking forward to making 2019, his comeback year before going after the other undefeated champions in the division.
Thurman will return to action for the first time in nearly two years, when he defends his title against Josesito Lopez on Jan. 26. He last fought, of course, during his split decision win over Danny Garcia to win the World Boxing Council (WBC) title and become a unified champion back in March 2017.
However, he had surgery the following month and while he was expected to return to action in May this year. He then suffered a hand injury in March and later vacated his WBC title.
His absence from the ring has seemingly made others hold the likes of International Boxing Federation champion Errol Spence Jr. and World Boxing Organization champion Terence Crawford as the top two guys in the division.
Despite this, "One Time" is only focused on his comeback and believes all three unbeaten champions still have a lot of time to face each other.
"What I need to do is come back in the ring, stay healthy, be active, have some great fights — or some good fights — this year and I think, we'll possibly still save some of the great ones," Thurman said at a recent press conference, as quoted on Sporting News. "We're still in our prime. There's still a little bit of time on the calendar. I like the year 2020, man. It just sounds really nice. It's the Olympic year."
"... I like the year 2020 because '19 is the get-back year. '19 Keith Thurman has to remind you who Keith Thurman is, why Keith Thurman is one of the baddest men at 147, why you need to always mention me when you mention the others … and, hopefully, put my name first."
Thurman previously mentioned how he's looking forward to negotiating a fight with Spence in the near future and believes the Long Island native is No. 2, just behind himself. Crawford, on the other hand, is not somebody Thurman views highly at 147 pounds.
"Keith Thurman No. 1, Errol Spence No. 2 and everything else is debatable," Thurman explained. "I've said it many, many, many times, I don't give 'Bud' Crawford any credit at 147 yet. He hasn't gotten any credentials off, of me."
Spence and Crawford were recently teasing at a title unification fight which many in the boxing world would assume the winner as the best welterweight in the world. Thurman, somewhat contradictorily though, thinks there cannot be a No. 1 fighter in the world until they all face each other.
"You can't have a No. 1 fighter when you have three undefeated champions," Thurman added. "It's just the dumbest thing in the world. Let's just be honest. You can't have three undefeated champions of the world."
"... I mean, Terence Crawford and Errol Spence … that's a great fight. But Keith Thurman vs. Errol Spence and Keith Thurman vs. 'Bud' Crawford, I think those are better fights."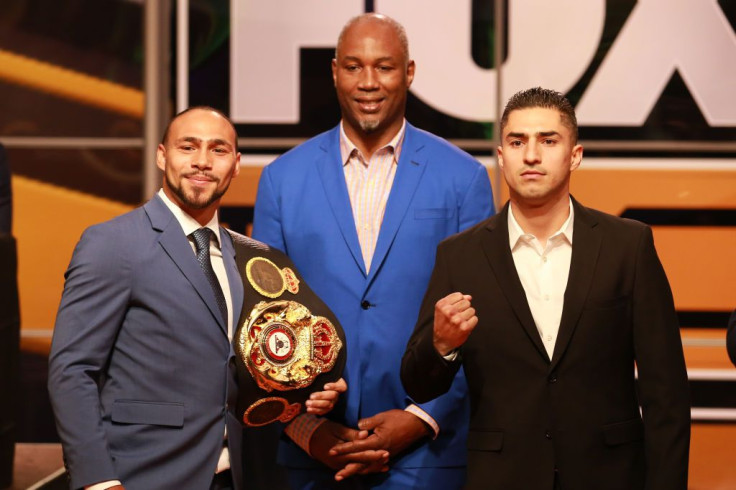 © Copyright IBTimes 2023. All rights reserved.