Kenya Bus Attack: Survivors Say Al-Shabaab Militants 'Blew Victims' Heads Off Just Like That'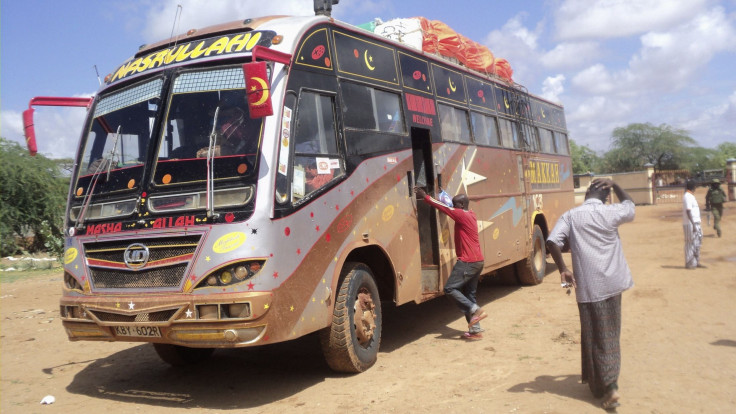 Chilling accounts are emerging of the brutal execution of 28 non-Muslims by Somali Al-Shabaab Islamists who ambushed a bus in Kenya.
The militants blew the victims' "heads off just like that", recollected a survivor.
The incident took place in Mandera town located near the Kenya-Somalia border when a Nairobi-bound bus was stormed by armed extremists.
The survivor, who did not wish to be identified, told the Kenyan newspaper Daily Nation: "They spoke to the bus driver and the conductor in Somali, and roughed them up before commandeering the vehicle off the main road for about one or two kilometres towards the Somali border."
"At this juncture, more gunmen appeared from nowhere and we were asked to identify ourselves.
"They asked how many times I pray in a day, asked me to recite a Koran verse and how one greeted one in the Islamic way. If one failed to answer these questions, then you'd be asked to lie on a muddy patch of the road facing down."
As many as 30 passengers of the bus who were believed to be Muslims were told to return to the vehicle as the insurgents began shooting the non-Muslims.
Preliminary police reports also indicated that the victims were executed. There were 19 men and nine women among the dead.
The Somali militant group has also openly claimed responsibility for the killings. Its spokesperson Sheikh Ali Mohamud Rage said in a statement: "The Mujahedeen [Islamist fighters] successfully carried out an operation near Mandera early this morning, which resulted in the perishing of 28 crusaders, as a revenge for the crimes committed by the Kenyan crusaders against our Muslim brethren in Mombasa."
The Kenyan forces had earlier carried out an operation in Mombasa when they stormed four mosques which were believed to be used for storing weapons and recruiting militants. A suspect was shot dead and more than 350 people were arrested in the operation.
This article is copyrighted by IBTimes.co.uk, the
business news
leader
FOLLOW MORE IBT NEWS ON THE BELOW CHANNELS