Kenya Flooding: Several People Dead, Rescuers Search For Survivors After Six-Story Building Collapsed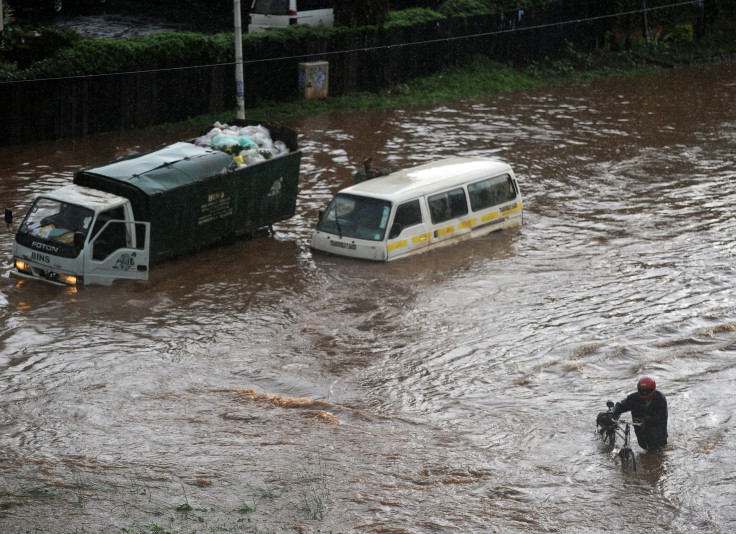 UPDATE: 4:15 p.m. EDT — At least 14 people have perished in heavy rains that flooded Kenya's capital Nairobi on Friday night. Many others have been wounded or displaced, Reuters reported. Among those killed were a dozen people who lost their lives when a six-story residential building collapsed in the poor eastern suburb of Huruma. Some residents managed to escape before the building buckled, and at least 133 others have been rescued. Kenyan President Uhuru Kenyatta reportedly visited the disaster site and demanded the arrest of the owners of the building, which had been condemned by authorities.
UPDATE: 7:50 a.m. EDT — Rescue workers have recovered 10 bodies from the rubble of a six-story building in Nairobi. The building collapsed Friday after heavy rains caused flooding in the poor suburb of Huruma in eastern Nairobi.
Search teams reportedly said they could hear voices, including that of a mother and a baby, from the collapsed building.
"We are still hearing some voices from the collapsed building," director of Kenya National Disaster Operation Centre, Col. Nathan Kigotho, told reporters at the scene, according to Reuters. "We don't have the exact number of people buried in the rubble."
Original story:
At least 18 people were killed by Saturday after torrential rains in Kenya caused flooding, local media reports said. A six-story residential building in the capital Nairobi also collapsed in the heavy downpour.
Among the dead were at least seven people who were killed Friday in the building collapse, while authorities fear dozens more to be trapped in the rubble. A search team has rescued at least 121 people, local police told Kenya's KTN network. The Kenya Red Cross said that the search for survivors continues at the Huruma residential estate.
Authorities reportedly said four people died after a perimeter wall on Lenana Road in Nairobi collapsed on them as they were using it as shelter from the rain, BBC reported, while four others were were swept away by floods following a heavy downpour in Turkana County in Kenya's northwest.
The rainfall, which has been going on for days, also caused landslides that washed away houses and flooded roads. Kenya Red Cross said on its Twitter account late Friday that people from 150 households were taking shelter in a nearby village.
The Kenya Red Cross also posted several photos of the rescue operations at the building collapse scene in the low-income area of the capital.
© Copyright IBTimes 2023. All rights reserved.