Kevin Durant Could Join LeBron At The Lakers In 2019, Bayless Says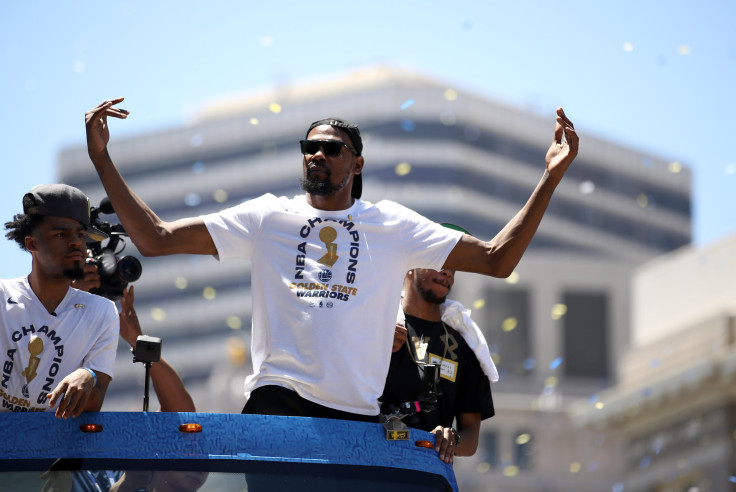 LeBron James joined the Los Angeles Lakers after opting out of the final-year of his contract with the Cleveland Cavaliers and becoming an unrestricted free agent. He was the most sought after player during the off-season.
The small forward signed a $154 million four-year deal with the second most successful team in NBA history earlier this month. Despite the long running saga coming to an end, talks have seized about his chances of winning the title and who he might recruit to play alongside him in the coming seasons.
Kevin Durant's name is the latest to be linked with a move to the Lakers, after it was revealed by Skip Bayless that the "King" himself had personally asked the Golden State Warriors about a move to Los Angeles. The former Cavaliers star was said to be keen to team up with the two-time NBA Finals MVP this coming season, but his request was turned down.
Durant became an unrestricted free agent this summer when he opted out of his contract with the back-to-back reigning champions, but his intentions were to remain with his current employers. He immediately re-signed with the Bay Area team on a short-term deal.
The new deal gives him the option to enter free agency again in 2019 and Bayless believes a move to the Lakers will be on his mind especially if he goes on to a third consecutive NBA title with the Warriors. James is said to be keen to play alongside Durant, who received glowing praise from the former Cavaliers star after Game 3 of the 2018 NBA Finals.
Talks of a potential union in Los Angeles gathered pace after Durant and James were spotted leaving a Los Angeles hotspot together, leading to speculation they could team up with the Staple Center-based franchise in 2019.
"I was told that LeBron did contact Kevin just to make sure, because he was a free agent, unrestricted, just to say 'hey, would you think about it [joining the Lakers]?" Fox Sports' Bayless said while talking on "Undisputed," as quoted by the Express.
"I was told Kevin said 'not this time but maybe next year, let's see how it all shakes out,'" he added.
Meanwhile, the Lakers are not the only team keeping tabs on the two-time NBA Finals MVP with reports suggesting that the New York Knicks are also interested in tempting Durant to leave the Warriors and move to the Eastern Conference.
It is certain that the Warriors forward will not have a shortage of suitors, should he decide to leave the reigning NBA Champions when his contract enters the final year in 2019.
At the moment though, Durant and Steve Kerr's Warriors are the favorites to win the NBA title in 2019 and make it four titles in the last five years.
© Copyright IBTimes 2023. All rights reserved.