Kevin Durant Rumors: Odds Of Brooklyn Nets Keeping Star Increase With No Trade Close
When reported last week that Kevin Durant wanted a trade, it seemed like a near certainty that the superstar would be sent to a new team this summer. Now that no such deal has come close to being completed, the chances that Durant stays with the Brooklyn Nets for the 2022-23 season have increased significantly.
Durant has +250 odds at DraftKings Sportsbook to start next season in Brooklyn. Only the Phoenix Suns at +150 are given better odds to have Durant on their roster when games resume.
Shortly after Durant's trade request went public, the Nets had +1000 odds to keep Durant. The Portland Trail Blazers and Memphis Grizzlies were given the same odds as Brooklyn. The Suns and Miami Heat were well ahead of the Nets as Durant's most likely team.
Even the Los Angeles Clippers were given a better chance than the Nets to have Durant on the Opening Night roster.
Brooklyn's enormous asking price could prevent a trade from materializing. The Nets want a return that is at least equivalent to what the Utah Jazz received in exchange for Rudy Gobert, and possibly more. The Minnesota Timberwolves sent Utah four future first-round draft picks and a first-round swap as part of the deal.
In addition to draft picks, the Nets are reportedly seeking an All-Star. There are even rumors that Brooklyn is asking for multiple All-Star caliber players in Durant trade talks. Unless the Nets can pull off a complicated three-or-four team trade, they probably won't be getting that type of offer anytime soon.
NBA insiders continue to suggest that both Durant and Kyrie Irving could enter training camp with the Nets.
The Toronto Raptors have seen their odds of acquiring Durant increase in recent days. Toronto is third with +350 odds to be Durant's next team, though the Raptors' unwillingness to part with Scottie Barnes would likely hold up any potential trade.
Brooklyn's high asking price might simply be a negotiating tactic until they take the best offer available this summer. NBA stars usually get what they want when it comes to trade requests.
Durant's situation is unique, however. He has four years left on his contract and is unlikely to stay home if the Nets decide not to trade him.
Durant is still viewed by some to be the best player in the NBA. The two-time NBA Finals MVP was in the early 2022 MVP conversation before a knee injury forced him to miss one-third of the regular season. Durant was still an All-NBA Second-Team selection, averaging 29.9 points, 7.4 rebounds and 6.4 assists per game.
If Durant, Irving and Ben Simmons are all in Brooklyn's starting lineup to begin the season, the Nets will be one of the NBA's top championship contenders.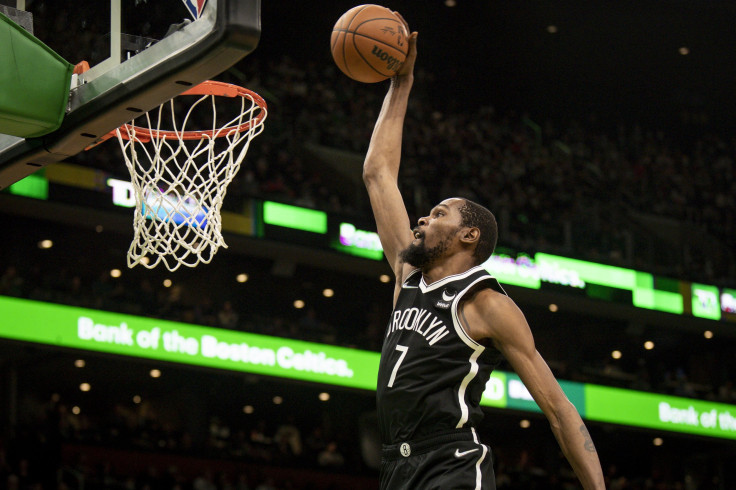 © Copyright IBTimes 2023. All rights reserved.