Kevin Durant Slams Steph Curry Brand Under Armour: 'Top Kids All Play Nike'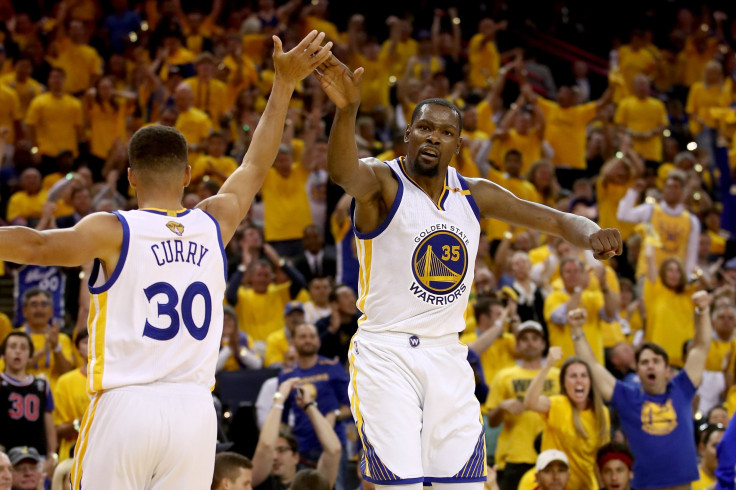 NBA All-Stars Steph Curry and Kevin Durant may have teamed up on the Golden State Warriors this year, but they are apparent adversaries in the sneaker world. Durant slammed Curry's Under Armour brand during a podcast interview Monday.
Durant appeared on The Ringers's Bill Simmons podcast, which aired Monday, and Simmons asked the All-Star forward why D.C.-area colleges like Georgetown and Maryland have difficulty recruiting top talent. Durant, who is a Maryland native, opted to take his college game to Texas instead of staying local. When asked why he went out of town, he said he "didn't want to stay home" before offering a more elaborate answer.
"I think a lot of kids, to be honest, they don't choose Maryland unless they play in an Under Armour system coming up," Durant told Simmons. "Shoe companies have a real, real big influence on where these kids go."
He added: "Nobody wants to play in Under Armours, I'm sorry. Like, the top kids don't, because they all play Nike."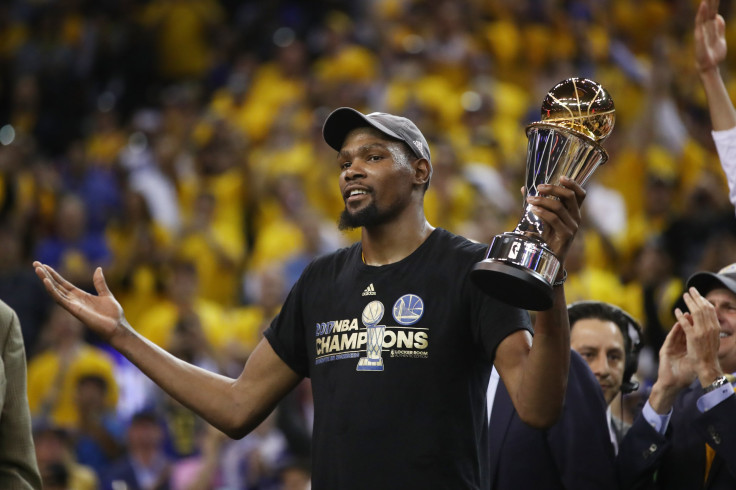 Curry has an endorsement deal with Under Armour worth an estimated $4 million annually. He also claimed equity stake in the company. When asked if Durant presented his theory to Curry, he scoffed.
"Nah, but come on man, everybody knows that, but nobody don't want to say nothing," he said. "The kids that played, that grew up in the Under Armour system, they go to Maryland."
Durant's comments might have affected the company's stock. Under Armour's stock dipped Tuesday, finishing the day down 3 percent at $16.43. To date, its shares are down 43 percent, MarketWatch reported Wednesday.
The Baltimore-based company gained popularity years ago when wearing athletic clothing casually, known colloquially as "athleisure," surfaced as a retail trend. The company struggled to keep profits afloat after the trend fizzled out.
The company reportedly announced it would be cutting jobs and closing stores this month, devaluing its stock. Over the past three years, Curry's signature shoe boosted Under Armour's sales, but demand for his current model, the "Curry 3" tapered off.
Durant, who turned down a potential Under Armour deal in 2014, signed a lucrative deal with Nike the same year worth an estimated $300 million over 10 years.
Nike revealed a new iteration of Durant's KD 10 shoe called the "KDX Red Velvet" Tuesday.
"With a style of play as smooth as velvet, KD is known for having the most fluid game in the game today," Nike said in a news release. "Effortlessly making defenders look helpless, always ready to cook his next victim. He dominates the game with unrivalled versatility, forever motivated by the sweet taste of victory. At the end of the day, winning is all that matters and anything else is just icing on the cake. The KDX 'Red Velvet' celebrates the smoothest player in the game and his undying quest for the sweet taste of victory."
The shoe is expected to release Friday.
© Copyright IBTimes 2022. All rights reserved.
FOLLOW MORE IBT NEWS ON THE BELOW CHANNELS